Artificial Intelligence is revolutionizing multiple industries and automating redundant tasks. Right from taking over customer service via chatbots to generating content-AI makes lives easier and more manageable for several individuals.
Along with industries like healthcare, IT, and finance, AI has also revolutionized the web design and development sector-making it easier to build websites with ease and much less effort.
This is where WordPress AI Plugins come into play. WordPress is one of the most popular and intuitive Content Management Systems (CMS) that facilitates website development and designing for site and business owners. And when WordPress is combined with AI plugins, it makes the admins work relatively fast, easy, and convenient.
WordPress AI Plugins can help optimize and leverage the website's capability in terms of designing and coding. These plugins make the process seamless-enhancing productivity and creativity for site owners.
Here is a list of the ten best WordPress AI Plugins you can use for your website.
1. Divi AI
Divi AI is a popular AI plugin in the WordPress industry that offers a powerful AI tool for establishing websites, generating content and images, as well as module optimization, making website management more efficient and quick.
It consists of two components inside the builder: a content generator and an image generator. As mentioned, it optimizes your website, so Divi AI uses your page's information and details by providing content to AI and helping acquire results.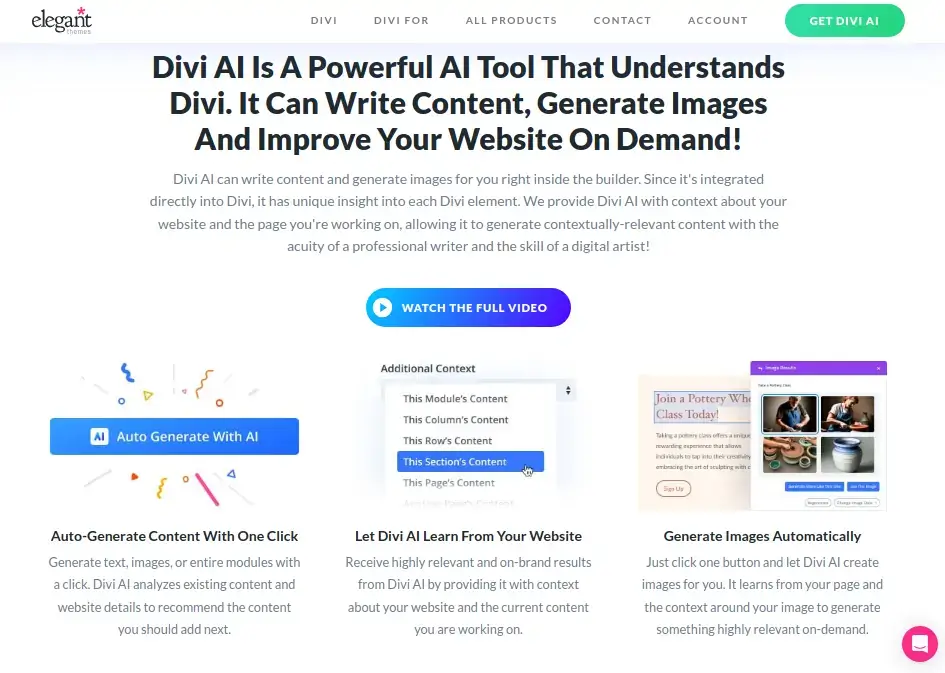 Divi AI Key Features:
It connects to more than 130+ plugins and 3rd party services.
It helps in establishing a simple no-code visual builder.
Gain access to various AI Modules and use them for your requirements.
Use compiling content generated and submitted by the user.
Pricing: Free Trial, 30-day money-back guarantee, and Paid plans start at $18/month when paid yearly.
2. Rank Math SEO
Rank Math SEO is a well-known and popular WordPress AI plugin that helps in managing the on-page SEO by optimizing the content, headlines, titles, images, and other on-page elements of the blog for search engines to improve and attract more traffic to the website.
It also assists in analyzing your page and finding your competitors so that it can provide information regarding competition and volume information related to keywords, which help your website rank higher.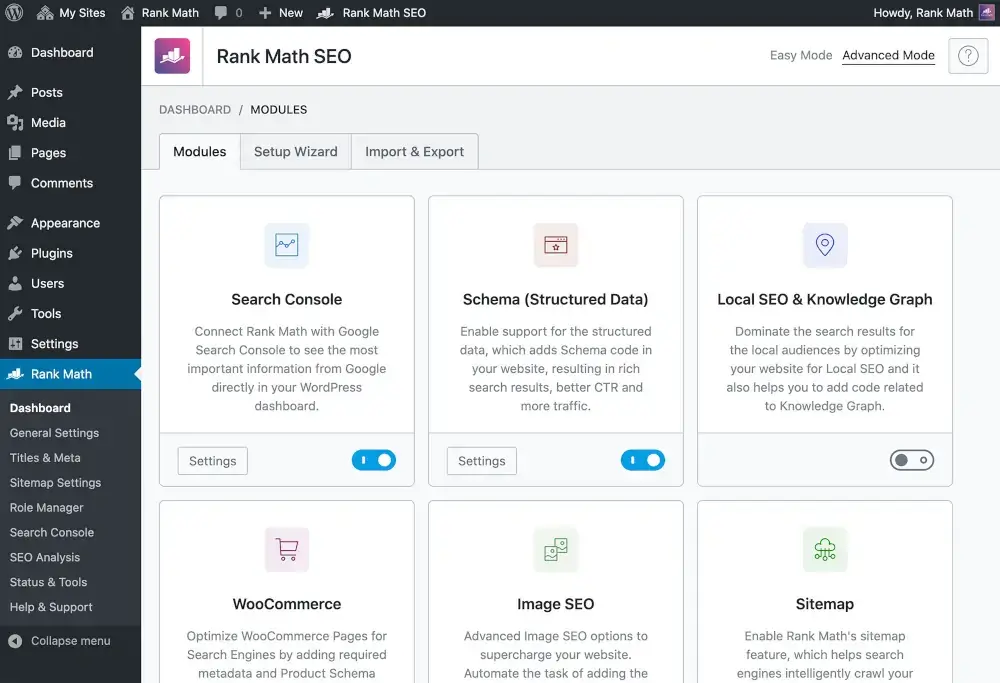 Rank Math SEO AI Key Features:
Helps in SEO Recommendations.
Improvize and suggest powerful keywords to help with additional keywords.
Headlines and content suggestions.
Dynamic Optimization suggestions.
Suggest Smart Link suggestions for citations.
Pricing: Free, 30-day money-back guarantee and Paid plans start at $69 per year.
3. Uncanny Automator
Uncanny Automator is a powerful automation plugin that allows you to connect over 100 plugins and devices, making managing the WordPress website much more feasible with seamless integration.
The plugin brings AI to the website and can be used to create content replies to the comments using chatbots.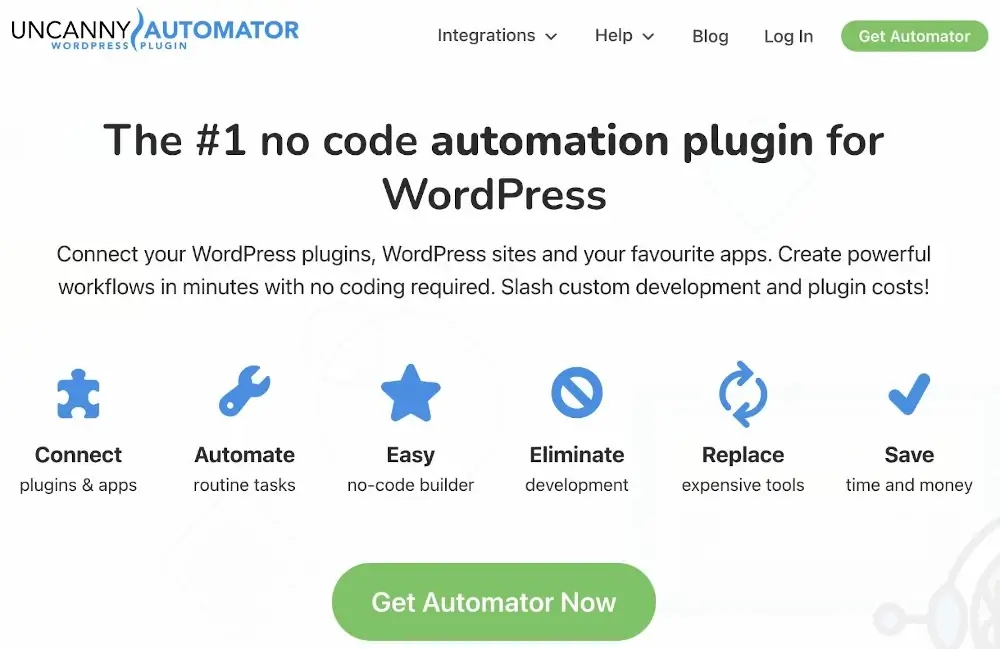 Uncanny Automator Key Features:
It connects to more than 130+ plugins and 3rd party services.
It helps in establishing a simple no-code visual builder.
Gain access to various AI Modules and use them for your requirements.
Use compiling content generated and submitted by the user.
Pricing: Free Trial, 30-day money-back guarantee, and Paid plans start at $149 per year.
4. Elementor AI
Elementor AI provides integrated solutions to create websites and can help develop and optimize new content using CSS coding, allowing you to customize your website per your brand image and requirements.
So, when it comes to fulfilling all these requirements for your website, Elementor AI is the best choice. It can also help you reach a global audience and translate your website into 20 languages.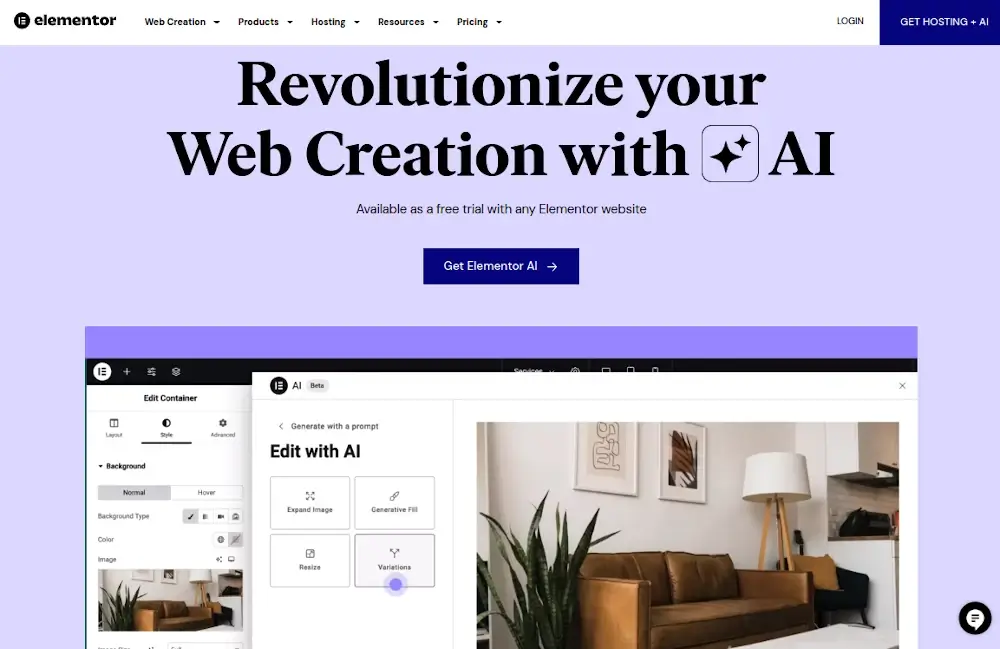 Elementor AI Key Features:
Helps in creating content and accessing multiple widgets.
Creates custom code in HTML and CSS.
Redefine existing content as well as create new.
Translate texts into various languages.
Modify images with proper prompts.
Pricing: It is available in two pricing packages: AI Starter, starting at $2.99/month (billed annually at $35.88), and AI Power, starting at $8.25/month (billed annually at $99).
5. AI Engine
AI Engine offers some of the best features, like the AI chatbot that assists with WordPress maintenance. It also allows you to add a ChatGPT-style chatbot to your website, allowing you to enhance user interaction, engagement, and experience.
The other features of AI Engine are creating relevant and appropriate images for blog posts and providing access to the Playground tab to use the custom code for a particular website.
Hands down, AI Engine is the best tool when it comes to accessing popular plugins like DaVinci and Microsoft Azure.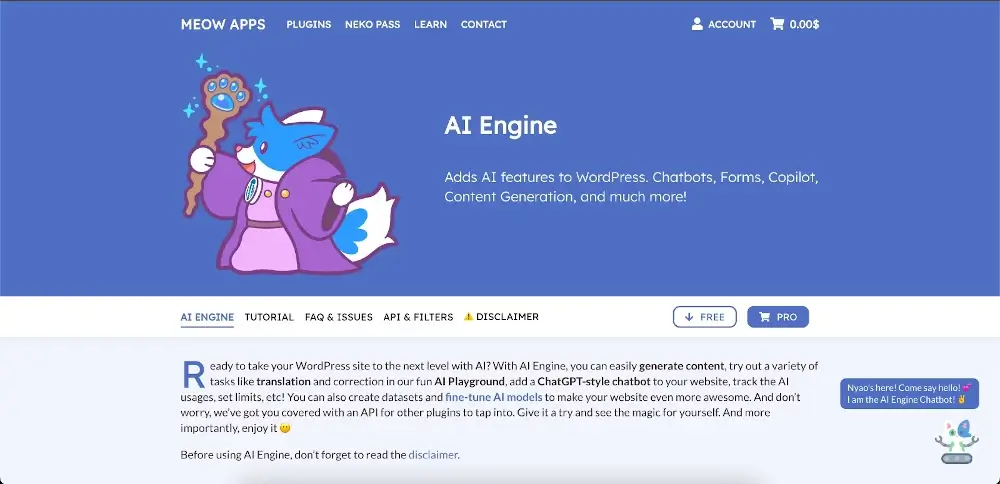 AI Engine Key Features:
It gives the ability to generate content.
Proficiency in using the AI model of your choice.
Create custom code snippets and edit images using AI.
Train AI to perform tasks.
Configure and tune the AI behavior pattern.
Pricing: Free and Pro plans start at $49 per year by providing access to additional features.
6. Voicer
Voicer is the best tool for readers who like to hear blog posts, as it can automate your text-to-speech and convert the text-to-speech using the Google Cloud Platform.
The plugin helps website owners with increased interaction; the website is much more accessible and compatible with other browsers.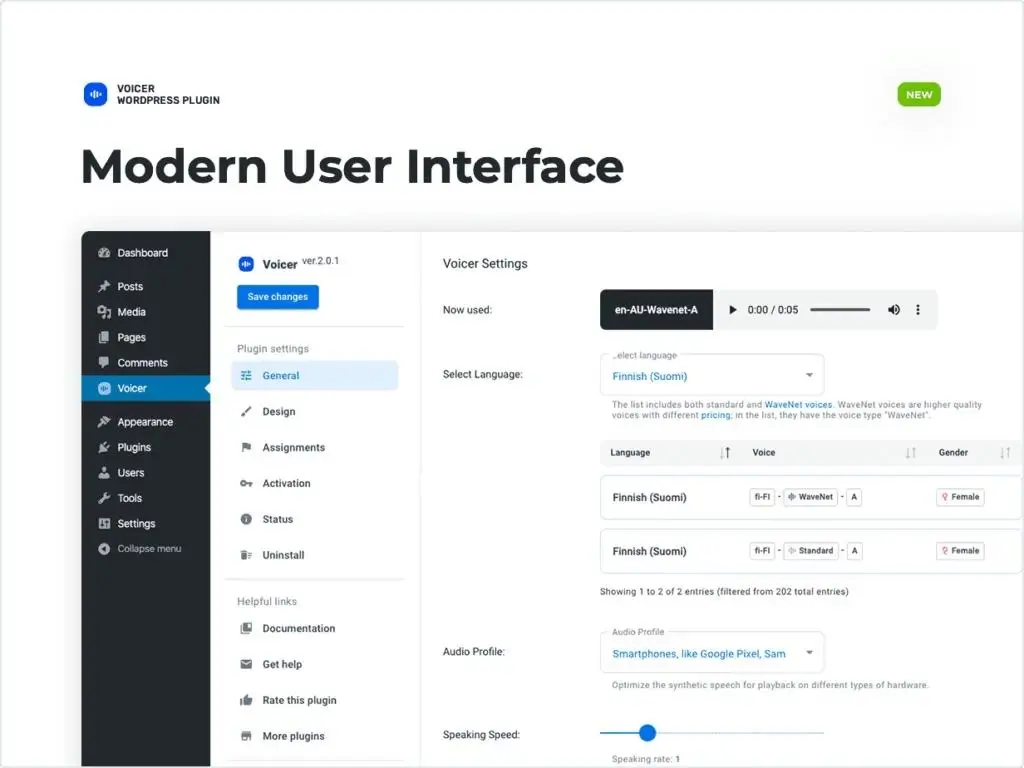 Voicer Key Features:
It Supports 150+ voices in more than 30 languages.
Access to multilingual sites using WPML and RTL.
Access to the selective muting of content during playback.
Compatible with Divi, Elementor, and other PLugins.
It provides complete control over the browser for output voice; it comprises playback, gender, and speech.
Pricing: Voicer only comes with a paid license option at $20 per month.
7. ShortPixel
ShortPixel is an AI plugin that optimizes WordPress images by helping your WordPress website run faster, perform better, and have a good user experience.
It is one of the most robust image optimization plugins available, and the powerful AI Engine does all the necessary things, like making the image a compact size.
However, it is essential to know that Shortpixel doesn't bring AI to WordPress directly since it functions by the AI engine, and hence, it makes it to the list.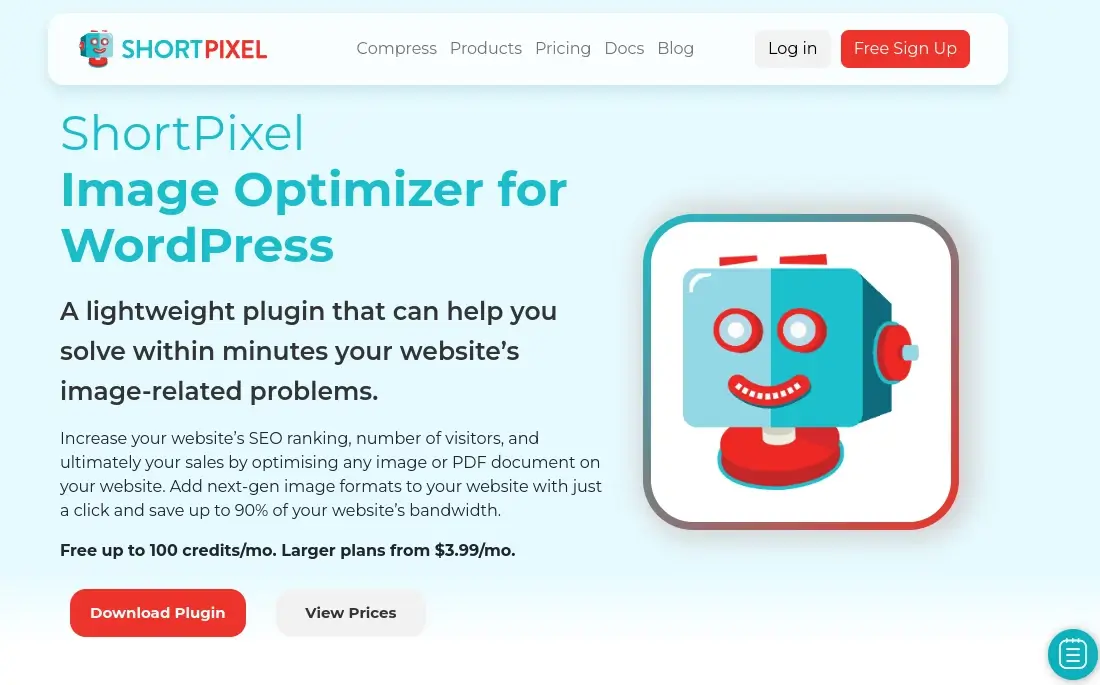 ShortPixel Key Features:
It helps in optimizing images for your WordPress websites.
Compress any JPG, PDF, or GIF Images.
Eradicated any EXIF Data.
Suggests Image Conversion.
It creates centered, cropped, and concise thumbnails using the SmartCorp Capabilities.
Pricing: Free Trial, Paid plan starts at $47.90 annually with additional features.
8. 10Web AI Assistant
10Web AI Assistant is a free and convenient plugin that helps write content from Gutenberg to Classic Editor, so anyone looking for assistance in writing content should get this plugin.
10Web AI Assistant allows you to create and generate engaging content titles, post ideas, brainstorm, and help paraphrase and revamp the content as needed.
It also provides easy access to 10 Web Dashboards, allowing you to generate content templates and explore the library.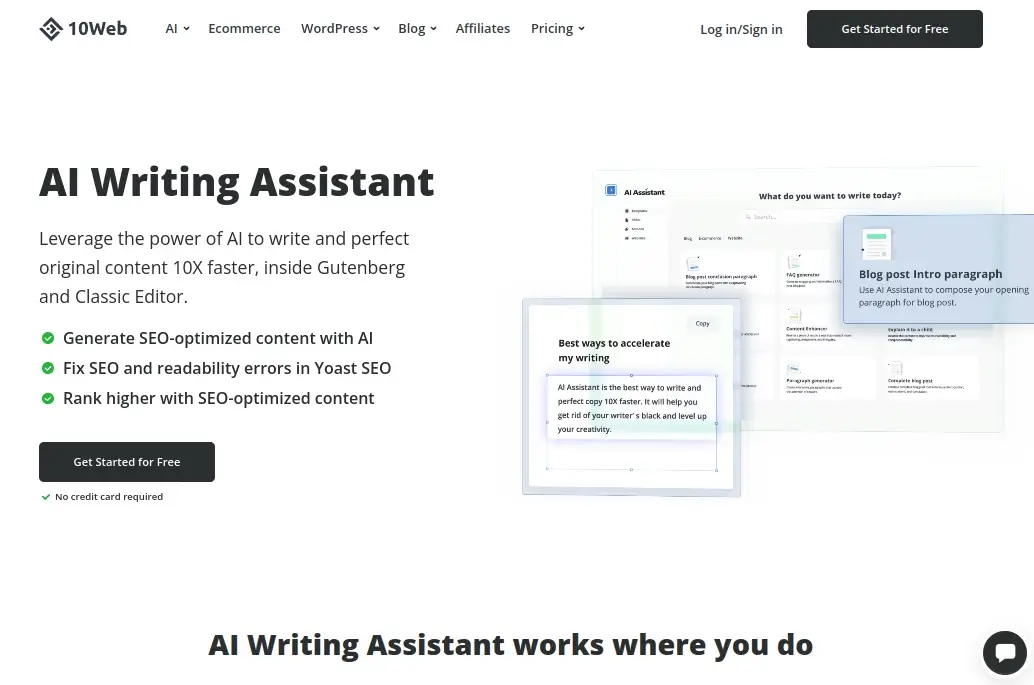 10Web AI Assistant Key Features:
Provides more than 20+ use case templates.
Generates content using just the title or heading.
Paraphrase Written content.
Useful for brainstorming.
Works proficiently with Glutenberg and Classic editor.
Pricing: Free Trial, paid plan starts $240 per year with access to additional features.
9. Link Whisper
Link Whisper allows you to automate internal linking on your WordPress website using an AI plugin that scans your entire website and suggests links that can be used as part of internal links, making it easier to create valuable internal links to boost SEO Ranking.
For any specific keyword needs, Link Whsiper's Auto Linking can automatically internal link using those targeted keywords.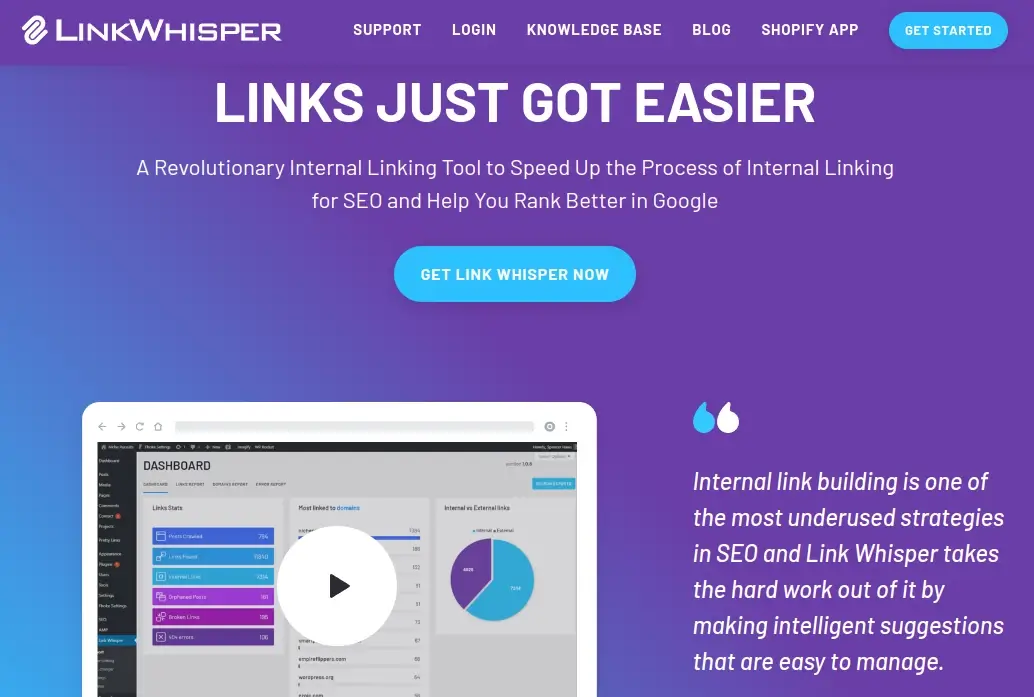 Link Whisper Key Features:
Suggest relevant Internal links.
Add relevant keywords for better linking.
Fixes broken links and 404 pages.
It suggests internal linking using the data/content available on other owned sites.
Pricing: It has a free trial but comes with limited features; to access a fully functional plugin, one must avail of the paid version.
10. Quttera Web Malware Scanner
Quttera Web Malware Scanner is one of the leading website security plugins that protects your website, especially from evolving malware threats. Given the numerous cybersecurity threats in the market, it is the need of the hour to keep your website secured and protected.
The Quttera scan engine scans the website for threats like malware, backdoors, and worms to ensure the utmost website security. It then reviews, investigates, and decides if it is safe or if you need to clean up your WordPress website.
Manual scanning has been a little challenging, so using this PowerFul AI tool, you can easily access wherever there are threats, and you can check how to fix them.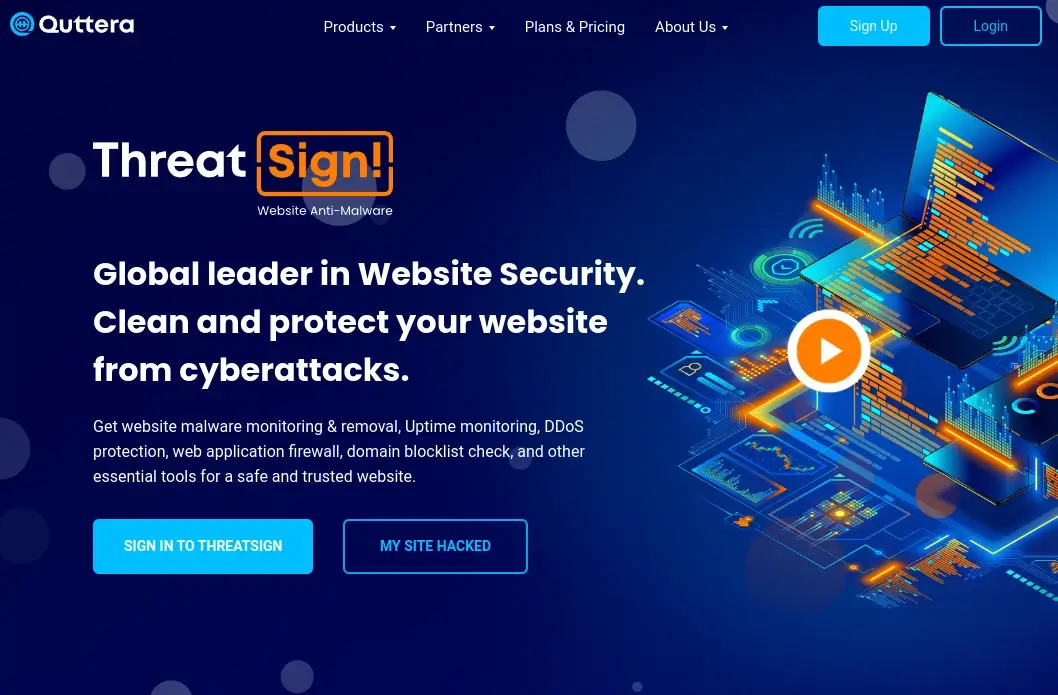 Quttera Key Features:
Single-click malware scan.
Best AI Scan Engine capable and identifies threats.
Detailed reports post-investigation.
Traces block on Google and other blocklisting authorities.
It defects external links, malware threats, and more.
Pricing: Free Trial offers limited functionality and access, while the paid version costs $10 per month.
Best WordPress AI Plugins FAQs
This FAQ section answers commonly asked questions about the best AI plugins for WordPress.
1. Which is the best WordPress AI plugin?
The top choice is Divi AI which gives you an insightful experience and assists you in generating content and images using AI.
2. Which is the best free WordPress AI plugin?
The best free WordPress plugin is Rank Math SEO, which allows you to generate AI-supported content while combining it with SEO free of cost. It is a valuable source if you want to enhance your website or develop or revamp content.
3. How can I integrate AI into WordPress?
Simply installing your website's WordPress plugins can help you generate content, while others can help you with images, detect malware and spam comments, and conduct keyword research.
4. How do I choose the best WordPress AI plugin for my WordPress website?
It is essential to find the right WordPress website plugin for your website by checking for the customer rating, latest updates, and version background and reviewing the AI plugins to ensure they meet your needs.
Choosing the right plugin that helps improve your site's experience is essential, instead of having too many plugins that slow down your website and hamper user experience.
5. Which is the best WordPress AI plugin for SEO?
RankMath is hands down the best WordPress AI plugin for SEO due to its AI content feature. The AI leverage assists in generating SEO-friendly content. It can generate long-tailored keywords, helping users optimize the posts for readers and search engines.
6. Which is the best AI WordPress plugin for image generators?
AI Engine is the best AI WordPress Plugin for image generators, as it allows users to generate images of choices by only giving it a precise prompt. It also provides the feasibility of uploading the image directly to the website or downloading it offline.
Conclusion
WordPress AI plugins are helpful as they allow you to manage your website conveniently by offering you different features like helping you create a robust internal link for your website, preparing a chatbot assistant, or just generally creating other types of content for your website in terms of blog or a simple copy.
If you need access to any AI model like Divi or ChatGPT, you can opt for an AI WordPress plugin connecting you to your site.
The AI plugin benefits you by improving your website's content quality and ranks, providing better customer support, user experience, and time savings.