The holidays can be an exciting time for ecommerce stores, especially ones that cater to parents and their children. To make the most of the season, it's important to know your audience and make things as easy as possible for them. 
Let's take a look at this year's online shopping trends for parents, and explore some ways you can use this data to maximize holiday sales.
Ecommerce marketing tool, Klaviyo, conducted an in-depth survey of shoppers, aggregating valuable information about their holiday buying habits in 2022. 
Inflation is impacting holiday shopping across the board, so it's no surprise that 74% of parents said it affects their spending decisions. So what does that mean for the 2022 holiday season?
Well, to start, parents are spending less on entertainment – 59% less on in-house entertainment and 70% less on out-of-home entertainment. 
They are, however, spending more in other categories: 
Food, beverages, and groceries (58% more)
Health products (57% more)
Fitness (52% more)
Jewelry (50% more)
Electronics (48% more)
When it comes to holiday shopping, half of parents said that they'll spend the same amount as they did in years past, while 32% will spend less and 17% will spend more – a pretty mixed bag. Most (42%) will split spending between online and in-person shopping. 
Fifty percent of parents typically spend $250 to $999 on holiday gifts, but 40% spend over $1000, more than almost every other demographic that responded.
How to be parents' holiday store of choice
Okay, so those are a lot of numbers. How can you actually apply this data to your online store? Here are seven ways you can take advantage of online shopping trends this holiday season:
1. Focus on reviews, validation, and social proof
Parents are becoming more and more selective when it comes to the products they introduce to their children, and they're spending less on entertainment as a whole. So your job is to convince them that your products should make it onto their exclusive gift list.
A great way to do this is by showcasing feedback from happy customers everywhere you can. Highlight reviews on your product listings and landing pages. Showcase magazines, websites, and publications that featured your products. Add your Instagram feed to your footer, with high-quality photos of your items being used by kids and parents.
To gather reviews, consider sending a review request email after your product is delivered to the customer. With Klaviyo, you can schedule an email to go out a few days after orders typically arrive on shoppers' doorsteps, giving kids time to play with your toy, wear your clothes, or taste your snack. You can even automatically insert a link to leave a review for the specific product they purchased, making it easy for busy moms and dads to provide feedback. 
2. Educate your shoppers
Along these same lines, take the time to truly educate parents about why your products are an excellent choice for their children. Are they all natural? Do they help develop a specific skill? Will they keep kids extra warm this winter? Can they make parents' lives easier?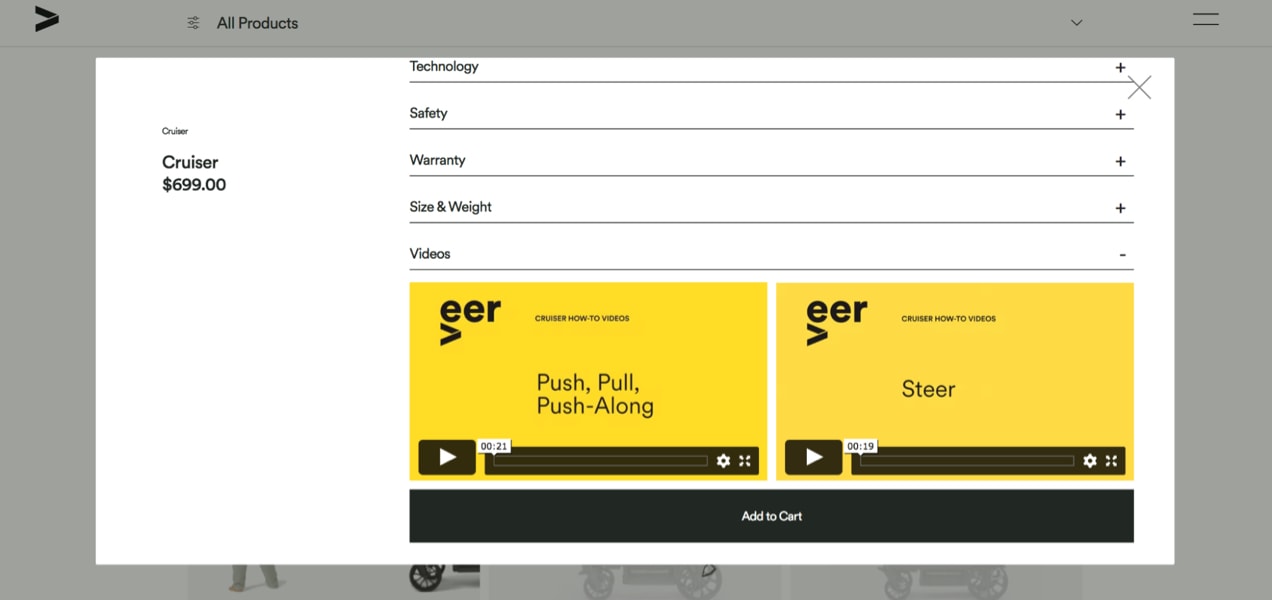 Veer adds lots of extra information on their product pages, with details about the technology, safety, warranties, and features of their wagons. They also pack in images and videos so that parents can truly visualize what they have to offer. 
There are a variety of ways you can do this. Publish blog posts showing all the ways kids can learn from your toys. Share an ebook with information about the importance of non-toxic plates and cups. Answer common questions on an FAQ page. 
Provide all the information shoppers need to make an educated decision about your products. 
3. Be specific in your marketing efforts
Data is more than just helpful when it comes to product decisions, it also guides your marketing efforts so you can resonate with customers at a high level. One of the most powerful ways you can do this is through segmentation – groups of contacts that have certain characteristics in common.
Let's say that you sell a variety of educational toys. You can tag those products based on the age range they're appropriate for, then use data from past purchases to email parents with kids who fall into that group. After all, someone with a one-year-old doesn't want to be weeding through lists of video games, bike accessories, or dart boards – but parents of ten-year-olds would love that!
This doesn't just apply to age, either. You can segment your email lists based on the latest online shopping trends or by attributes like clothing size, type of allergen, location, or average order size. The options here are nearly endless, and enable you to save your customers time and speak to their specific needs.
See this segmentation guide from Klaviyo for more possibilities.
4. Simplify the buying process
The holidays are particularly busy for parents who, let's face it, are already busy enough! There are family photos to take, parties to attend, holiday plays to watch, gingerbread houses to build, light shows to experience, food to bake – the list goes on and on. So if you can make buying gifts as easy as possible, you're more likely to win their business.
How exactly can you do that? Here are a few ideas:
5. Make it easy for shoppers to find what they're looking for
If it's difficult for parents to find the specific size, item, or category that they want to purchase, they'll go elsewhere. Start by making your navigation simple and intuitive. Stick with just a few items in your main menu, then nest secondary pages underneath so visitors aren't overwhelmed with options that don't apply to them.
If you have more than a few products, group them into categories based on data from online shopping trends. You can even include the same items in multiple categories to make things easier. For example, you might group books by genre, format, and age range. 
You can also add filters to your store to help customers narrow down their choices. Magna-Tiles has filters for brand, category, price, product type, interests, and colors. 
Finally, add a search bar to your main menu or footer – somewhere it's highly visible. You can use a tool like Jetpack Search to display hyper-relevant results, auto-correct spelling mistakes, and even let shoppers filter pages based on categories, tags, dates, and more.
6. Take an omnichannel approach
An omnichannel approach connects online and offline interactions so customers can shop and engage seamlessly on a variety of platforms – in-store, on your site, on social media, etc. And since the majority of parents plan to split their buying between in-person and online, this is more important than ever.
There are lots of different ways you can make the most of omnichannel ecommerce, including:
Offering top-notch support across all of your channels.
Unifying payments both online and off so that all purchases are connected to a single customer.
Making it easy for shoppers to return products both online and in-store.
Using a CRM to aggregate all the information and history around each customer.
Learn more about omnichannel ecommerce.
7. Offer multiple purchase options
During the busy holiday season, do whatever you can to meet customers where they are. People prefer all different sorts of payment methods. Some would rather pay using a credit card, while others might like to reserve their item online and pay in cash when they pick it up in your store.
Digital wallets – like Apple Pay and Google Pay – make the checkout process faster, allowing shoppers to pay using an account they already have rather than hunt down their credit card and enter in all of their information. WooCommerce Payments lets you accept all of these payment methods through one, seamless solution.
And to help parents who might be spending quite a bit all at once, you may want to offer buy now, pay later solutions for larger purchases. They can pay for their items in installments, but you don't have to worry about any liability. 
Jumpstart your holiday marketing efforts 
If you want to reach parents this holiday season, you'll need to understand the latest online shopping trends and relate to parents' needs as thoroughly as possible. WooCommerce and Klaviyo are here to help.
WooCommerce provides powerful tools to simplify checkout, accept a variety of payment methods, and make finding the right products easy. 
Klaviyo takes care of the marketing piece, helping you send hyper-personalized emails, automate your marketing efforts, and learn more about your customers.
Ready to jumpstart your holiday marketing efforts? Get started with Klaviyo.