17
Oct
2023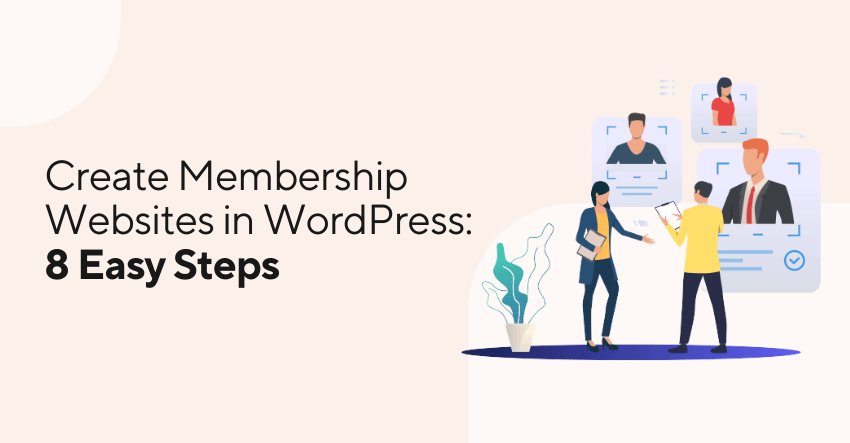 Building a membership website is an exciting way to generate recurring revenue while providing premium value to your users. But it takes the right tools and strategy to create one successfully.
In this comprehensive guide, we'll explore how the WordPress plugin SureMembers can empower you to easily build a fully functional membership site.
Whether you're a blogger looking to monetize content or a coach running an online course, SureMembers has everything you need to create members-only areas, accept payments, manage users, and ultimately build a thriving membership business.
Let's dive in!
Types of Membership Sites You Can Build
As memberships and subscriptions became commonplace, businesses across industries started creating their own subscription products or services. These membership sites can be categorized in the following types.
1. Premium Content Sites
This is the most common membership site model. Users pay a subscription fee to access premium content.
Premium content can take many forms:
Tutorials and courses
Newsletters
Podcasts
Virtual workshops & events
Ebooks and downloads
Educational videos
Discounts and coupons
Job boards
Essentially, you deliver value to members by providing exclusive content they can't get anywhere else.
Pat Flynn's Smart Passive Income is a perfect example. Pat provides courses and other premium content to paying members.
With a membership, you can easily restrict access to blog posts, videos, downloads, and other content to only logged-in members. This lets you monetize the content that you're already creating.
2. Online Communities
Another popular model is building a community membership site. Members pay a recurring fee to join and participate in an online community.
Typical examples include:
Forum sites focused on specific hobbies, interests, and lifestyles
Social networking groups and alumni associations
Coaching and support communities
The value comes from the ability to develop relationships, get advice, and interact with like-minded people.
You can set up private discussion forums visible only to paid members, add profiles so members can learn about each other, and segment forums by membership level for tiered access.
A sense of community and belonging is often powerful enough to be able to charge a fee for access.
3. Coaching & Online Courses
Selling access to online courses and coaching programs is a rapidly growing membership model.
For example, you could sell:
Video courses on skills or hobbies
1-on-1 coaching and mentoring
Yoga, cooking, or exercise classes
Access to live webinars and Q&A sessions
A membership plugin makes it easy to create tiered membership levels that offer graded access to training content and coaching.
You can drip course content over time to encourage members to stick with your program month after month. Integrated payment processing seamlessly handles subscriptions and one-time payments.
You can offer a comprehensive health coaching program or an online music school. SureMembers is highly versatile as it can handle niches, particular interest sites, large online course platforms, and everything else you can think of.
Key Features to Look for in Membership Plugins
Running a successful membership site requires a feature-rich plugin that can handle all aspects, from access controls to analytics. Here are some of the most important capabilities to look for:
Robust Access Management
Managing who can access premium content is the foundation of any membership site. A powerful plugin should provide:
Restricting access to individual content items (posts, pages, videos, files)
Ability to limit access by membership level, enrollment period, completion of milestones, or other advanced rules
Bulk editing permissions for entire categories, post types, or sections of the site
Default access settings to automatically apply to new content
Conditional logic for fine-tuned access control
Automated Content Dripping
Releasing new content on a regular schedule is key for engagement, but time-consuming to manage manually. A plugin that can automate content dripping removes this burden. Useful features include:
Scheduling content releases based on set time intervals (daily, weekly, monthly, etc)
Ability to drip content only after users sign up or reach certain milestones
Custom drips for different membership levels or segments
Flexible options to delay, schedule, and configure complex dripping rules
Customizable Member Forms
Membership sites should align with brand identity. Look for the ability to fully customize key forms for usability and aesthetics, including:
Modifying colors, fonts, and styles of all elements
Editing field labels, descriptions, messages, and layout
Reordering fields and sections
Adding custom CSS and HTML as needed
Designing new forms from scratch for registration, login, account management, etc.
Integrated Payments
Hassle-free payment collection is essential for converting visitors to paying members. Seek plugins that integrate directly with leading gateways like Stripe, Braintree, PayPal to enable:
Flexible subscription pricing and billing schedules
Coupon codes, taxes, payment retrying
Ability for members to pause, cancel, or update subscriptions from their dashboard
Powerful Analytics
Monitoring the success of membership requires tracking metrics like enrollments, revenue, churn, traffic trends, and more. Robust analytics and reporting allow you to:
View essential stats like revenue, members, churn, and traffic at a glance
Drill down into detailed reports on members, subscription plans, and transactions
Gain insights to optimize conversion rates, pricing plans, and content strategy
Automate sending of key reports via email
With these features, a membership plugin gives you the tools to build a thriving community site that keeps members engaged over the long-term.
Why Are We Using SureMembers for Our Membership Site?
With WordPress being such a popular platform, there are many membership plugin options out there. So why are we picking SureMembers to create a membership site?
Here are some of the key advantages that make it a fantastic choice:
1. Easy-to-Use Interface
SureMembers stands out for its highly intuitive user interface. Even those without much technical know-how can easily navigate the settings and options.
The dashboard makes it simple to configure all aspects of your membership site with just a few clicks.
For example, setting up a new membership level is as easy as:
Navigate to Memberships > Add New Membership
Enter a name, description, and pricing
Click Save
With just 3 steps, you've created a new membership tier!
This simplicity makes SureMembers accessible to beginners and experts alike.
2. Affordable and Transparent Pricing
Pricing is another major selling point. SureMembers plans start at just $99 (discounted to $69 right now) per year for all features for a single site.
There are no surprise fees or upsells. You get full access to capabilities like content restriction, automated drip content, payment integration via SureCart, and more.
Compared to other paid membership plugins, SureMembers offers exceptional value and transparency with its pricing.
3. Seamless WordPress Integration
Since it's designed specifically for WordPress, you can expect seamless integration. SureMembers will play nicely with your themes, other plugins, and customizations with no compatibility issues to worry about.
For example, features like logged-in content restriction works flawlessly with popular page builders like Elementor. Payment for membership works perfectly with SureCart.
Being purpose-built for WordPress also means you get the full power of a customized WordPress back-end with a dashboard and admin area.
4. Top-Notch Customer Support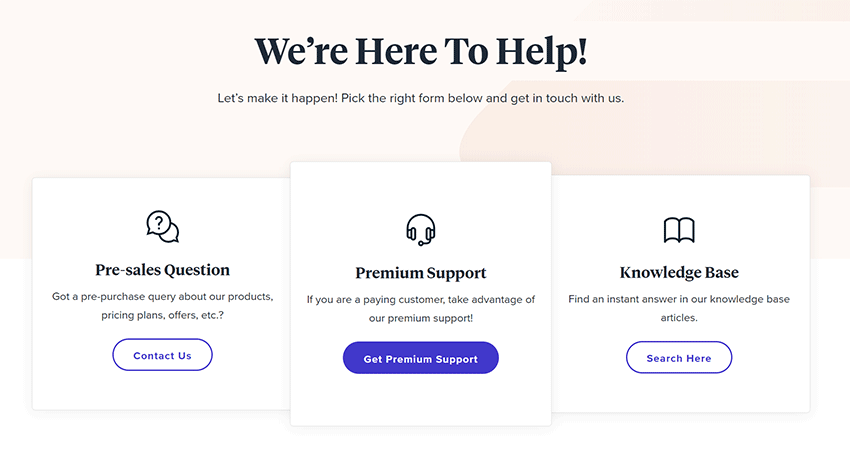 Stuck on a configuration issue? Have a question on how a certain feature works? SureMembers offers exceptional customer support.
Submit a ticket through the site, and you'll promptly get a response from a friendly and knowledgeable support team. They really know the platform inside out and are happy to help troubleshoot any challenges you encounter.
For many site owners, quality support is just as important as the product itself. You want to know someone has your back if needed.
5. Powerful Feature Set

Of course, features are what enable you to build a fully-functional membership site.
SureMembers comes packed with all the essentials like:
Content restriction based on membership level or time enrolled
Discussion forums for member interaction
Members-only file downloads
Progress tracking and content drips
Custom registration and login forms
Coupon codes and subscription management
Admin dashboard and reporting
We'll explore some of these features in more detail later in this guide.
Suffice to say, SureMembers provides every tool you would need to create a diverse range of membership sites with WordPress.
Setting Up Your Membership Website with SureMembers + WordPress
Now, we assume you've already purchased a domain and set up hosting with WordPress. If not, you may want to read the beginner's guide on creating a new website. Once you have that ready, setting up your membership site is simple. Here's an overview of the steps involved:
Step 1: Installing SureMembers
Installing plugins on WordPress is quick and easy:
Go to suremembers.com and click Get started.
Choose a subscription plan and enter your payment details.
Visit your SureMembers account dashboard.
Find and download the latest version of the SureMembers WordPress plugin.
Log in to your WordPress dashboard.
Go to Plugins > Add New and click Upload Plugin.
Upload the downloaded zip file and click Install Now.
After installation completes, click Activate.
That's it! SureMembers will now appear in your list of installed plugins.
Step 2: Configuring SureMembers
Before building your membership website, you'll want to configure SureMembers:
Access the SureMembers settings from the WordPress dashboard sidebar.
Work through each section: general settings, payment gateways, content restrictions, and so on.
Customize the options to match your membership structure.
Take the time to thoroughly configure SureMembers before moving forward. This will provide the supporting framework as you build your membership site.
Use this guide to understand the different configuration options available in SureMembers.
Step 3: Creating the Membership Site
Now, the fun part—creating membership levels, content, and pages!
Here are the basics:
The process will vary based on your specific membership site and offerings, but it's simple and won't take long.
Step 4: Content Creation and Protection
Regular content creation and restricting access to premium content is essential for any membership site. SureMembers gives you robust tools to control precisely who can see what.
Set Up Automated Drip Content
One powerful feature is scheduling content delivery through automated drips. This sends new content to members over time based on your specifications.
You can configure drips in different ways:
Release content on set dates after sign-up
Unlock content only once members reach key milestones
Create complex drip paths tailored to membership level
Restrict Content by Membership Level
You can limit specific posts, pages, or categories only to be visible to logged-in members at a particular subscription level.
For example, make beginner content viewable only to Bronze members, while Gold members also see advanced content.
This lets you get granular with tier-specific exclusive content to enhance your offerings.
Where drip content keeps members engaged month after month, combined with restricted access, makes your subscribers feel valued and keep coming back for more..
Step 5: Customizing User Experience
A seamless, tailored user experience helps retain members. SureMembers enables deep customization of key touchpoints.
Customize Login and Registration Forms
Make an impression from the start with branded, polished signup flows. SureMembers' deep integration with WordPress allows you to easily customize default WordPress forms or build your own from scratch using any page builder you choose.
SureMembers also works with custom CSS-styled forms, change labels, and adapt validation—no coding expertise is required.
For added security, you can add a captcha and configure email notifications.
Personalize Member Dashboards
You need a public forum and a complete personal dashboard for your members. They must be able to log in to their accounts, view notifications, send messages to other forum users, and even configure their subscriptions.
SureMembers provides a comprehensive dashboard for your users where they can see and edit:
Profile details
Subscription status
Latest activity
Links to content
You can even add custom sections to display specific information about the users and personalize their experience throughout the website.
Step 6: Payment and Checkout Process
SureMembers makes collecting membership fees seamless. It integrates with WooCommerce and SureCart, enabling all major payment gateways and easy customer payments.
Here's an overview of how payments work with SureMembers.
Integrate SureCart for Payment Processing
SureCart is the ideal complement, giving you robust payment options optimized for memberships and subscriptions. It supports major gateways like Stripe, Mollie, PayPal, and Paystack, with more options coming soon.
You can easily connect payment plans to your membership levels and customize checkout with coupons, upsells, taxes, surveys, and more.
Configure Recurring Payments
If you want to create a recurring subscription, SureCart has your back. It makes it simple to bill members automatically and regularly.
You can offer both one-time and recurring memberships.
Choose from flexible options for billing cycles – weekly, monthly, annually, or custom. Pause, cancel, or extend memberships as needed. Add trial periods to encourage sign-ups.
Robust payment processing and subscription management keep your cash flow healthy.
Next, let's discuss how you can monitor the performance of your membership site.
Step 7: Analytics and Reporting
Once your membership site is up and running, you'll want to monitor key metrics closely. SureMembers has built-in analytics and reporting to help analyze activity.
Access Analytics Dashboard
Access the main analytics dashboard for an at-a-glance view of your membership site's performance. Charts and graphs detail visits, enrollments, churn rates, and more.
Filter statistics by date range and membership level. See total revenue and average revenue per member. Identify trends and opportunities.
Dive Into Detailed Reports
Beyond the main dashboard, you can also run detailed reports with specifics on individual members, subscriptions, transactions, and more.
Export reports to CSV or PDF. Dig into the raw data on members, renewals, logins, and sales. Identify issues and fine-tune your offerings.
Robust analytics empower you to continually refine your membership – from pricing to content.
SureMembers FAQs
Let's wrap up with answers to some frequently asked questions about using SureMembers:
How do I create a membership website?
You can create a membership site by choosing a platform like WordPress, installing the SureMembers plugin, and configuring settings based on your membership structure. Set up forum pages, create content, and integrate payments to create the membership experience to add extra value.
What is the best platform for a membership site?
WordPress + SureMembers is the best platform for membership sites thanks to its flexibility, wide range of plugins and themes and ease of use. Most web hosts have optimized WordPress hosting plans.
How do I get people to join my membership site?
Use every marketing tactic you can think of to get people to join your membership site. Consider email campaigns, social media advertising, affiliate partnerships, guest posts, organic social sharing, etc. Quality content and perks will drive referrals.
Ready to Build Your Membership Site?
Creating a membership site is an ambitious yet rewarding endeavor. It allows you to monetize your knowledge, connect with an audience, and build a long-term asset.
However, bringing your vision to life requires the right technology and strategy, and SureMembers provides the ideal toolset to make it happen.
With core features like content restriction, member management, subscriptions, and automated content delivery, SureMembers enables you to build a fully functional membership site on WordPress quickly.
It's easy setup, intuitive interface, stellar support, and affordable pricing make it accessible for everyone, from new site owners to seasoned developers.
While any successful membership site requires careful planning and quality content, the right software makes the execution far simpler. SureMembers handles the complexity behind the scenes, empowering you to focus on what matters—delivering value to members.
About the Author:​ Sujay Pawar​
This guest post is written by Sujay Pawar. Sujay is the CEO and co-founder of Brainstorm Force, the company behind Astra. He's passionate about the online space and writes articles to help entrepreneurs and freelancers succeed online. A father, a YouTube addict, and the brain behind numerous world-class products, you can connect with him on Twitter @sujaypawar.