With the latest version of MailPoet, we've streamlined the way you can manage your MailPoet account through your WooCommerce dashboard. MailPoet is also available in the Woo Marketplace, with plans that you can purchase and manage on WooCommerce.com alongside your other purchases from the Marketplace. 
The benefits of email marketing
According to HubSpot, 99% of consumers check their email every day. Email marketing is a tried and true tactic that keeps shoppers engaged with your brand. Email marketing strategies can help you build brand awareness, drive new sales, build repeat business, develop loyal customers, and maintain a sense of trust and credibility for your store. 
Email marketing is also a great way to track your audience's interest over time. It is: 
Measurable: Track metrics in your store dashboard with MailPoet.
Testable: Divide audience segments in half and change one element of your email to see what messaging is most effective.
Affordable: Some providers, like MailPoet, help you get started for free.
Targetable: You can segment audiences based on any factor available to you.
Almost universal: Email is widely available and highly accessible, with many folks keeping their inbox (and their smartphone) within reach at all times.
Timely: Emails can be sent and received at any time of day, and with short notice. 
How to set up an email marketing strategy
1. Define your goals
To be effective, the goals for your email marketing strategy should be clear, specific, and attainable. For instance, you should know exactly what you want to achieve, the audience that your strategy will appeal to, and how you'll measure performance and success. 
2. Acquire subscribers and build your list
Encourage shoppers to sign up for your marketing emails by offering a one-time discount, or letting them know what they'll receive as a benefit for signing up, such as sale events and promotions. Returning customers can be incentivized with loyalty programs and their relevant communications. When creating incentives for new subscribers make sure the offer is valuable to the shopper, compelling and exciting, and that you can deliver what you promised.
3. Choose an email service provider that suits your needs
Most email service providers (ESPs) include an email builder that will help you create beautiful emails without the need for a developer. MailPoet streamlines the process with WordPress email templates that provide a starting point for you to customize for your store. MailPoet's email editor uses a visual interface to help you select and apply your store's font, branding, colors, and imagery to a custom or templated email layout.
4. Segment your audience
As your email marketing strategy — and audience — expands, it might not be effective to send every email to every subscriber. You can build different emails for different subscriber segments. An audience can be segmented by demographic, location, purchase history, interests, or lifetime customer value. With MailPoet and AutomateWoo, you can set rules that will continually add and remove people from different segments as their information changes. 
5. Decide on your email marketing campaigns
What is an email marketing campaign? A campaign is a series of emails on the same subject or triggered by a singular event. For example, you might send a series of welcome emails when a shopper becomes a subscriber. Or, an email marketing campaign could be a short series of emails promoting a sale or shop update. Campaigns typically have a start and end date, unless they are evergreen, in which case the campaign purpose remains the same while the email content changes over time.
6. Automate your emails
Automation can save lots of time when using email to keep in touch with your customers, and it can help you add a personalized touch to your interactions. For example, you can automate email sends for customers' birthdays, abandoned carts, product stock notifications, or an entire campaign. Automated email marketing also ensures that your customers hear from you on a consistent schedule and don't go too long between touches.
7. Measure your results and update your strategy
One of the best things about email marketing is the data it provides. For example, MailPoet's integration with WooCommerce combines the data from your store with your email data to give you a thorough picture of what your email subscribers respond to. You can measure the success of your campaigns by looking at open rates, click-through rates, and sale attributions. 
What is MailPoet?
MailPoet is an email service used by over 600,000 websites. With MailPoet, you can create and send emails to your customers directly from your store's WordPress dashboard using a drag-and-drop visual editor. MailPoet integrates with Woo to leverage your store's data for automated email campaigns that can help grow your business.
With MailPoet, you can:
Build and maintain email lists.
Create behavior and order-based segments and send them to the right audience.
Run email marketing campaigns.
Customize your store's transaction emails.
Automate emails to help drive more sales.
MailPoet also offers additional features, like built-in analytics that provide relevant data like email opens, clicks, and attributed sales, so you can continue to improve your email marketing with each send.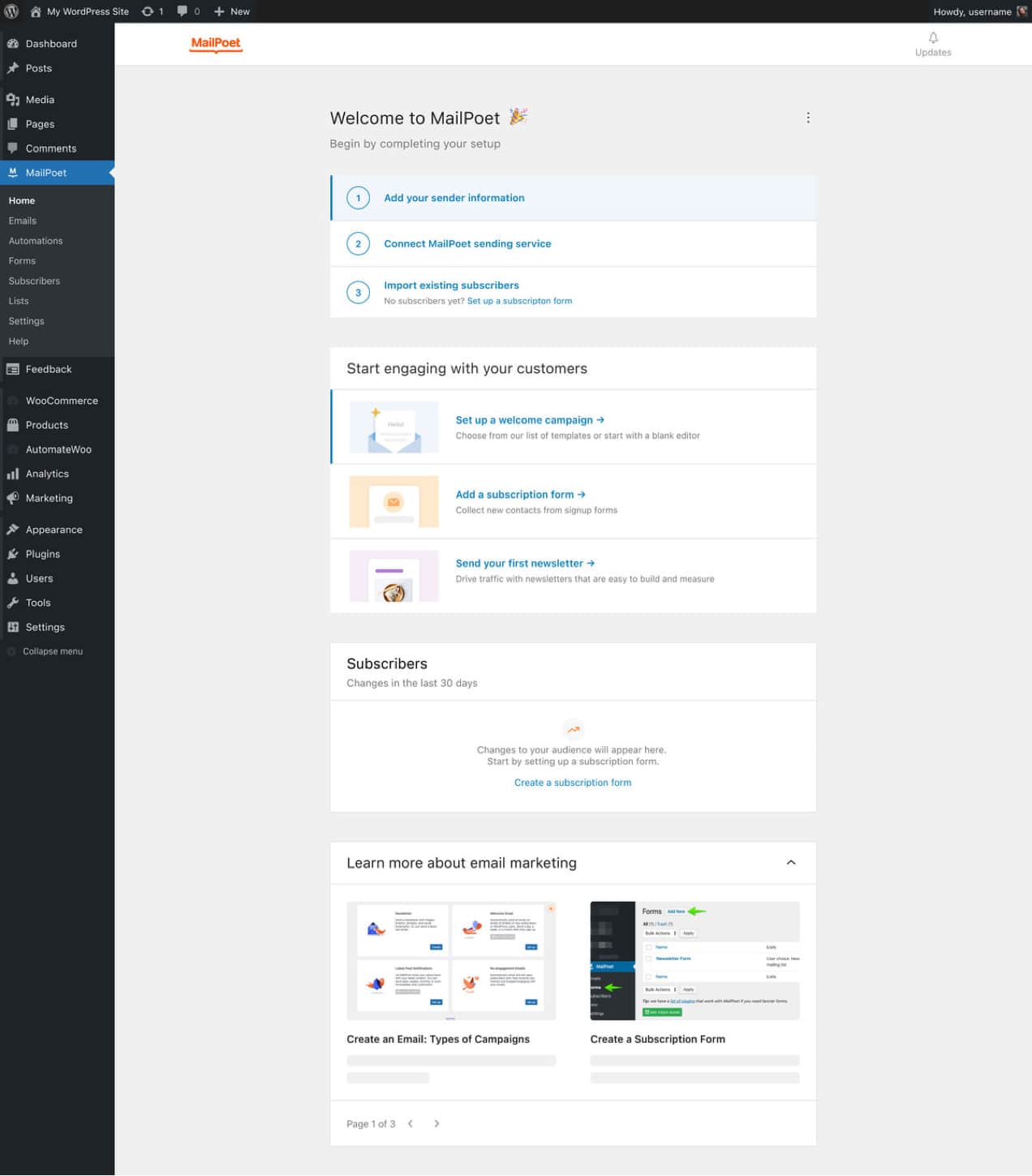 Launch your email marketing strategy with MailPoet
Head over to MailPoet in the Woo Marketplace to get started for free. For more MailPoet power, paid plans start at $10 per month. You can change or cancel your plan at any time. 
Once you install and activate MailPoet on your website, it will guide you through the setup and provide marketing suggestions to help you grow your business. For an even deeper dive, MailPoet's documentation has the answers.