A domain name is like a street address for an online business. It tells people where they can find your store. That's probably why it's also called a web address. But it's so much more — unlike most street addresses, your domain name can reflect or even perfectly match your store's name. It's an extension of your brand or, sometimes, is your brand itself. 
The decision of a domain name is as important as choosing a location for a physical storefront. You want to be found easily and present yourself in a tasteful way that makes sense for your industry and customer base. You want to go where the customers are and where the competition isn't.
If you're just starting your store, or looking to add a digital presence to your brick-and-mortar storefront, read on for tips on choosing a domain name that will serve you well for years to come. 
What is a domain name? 
A domain name, also known as a URL (Uniform Resource Locator) or web address, is what a visitor types into their browser to find your website. It starts with www and usually ends with something like .org, .net, or the most popular version — .com. 
You'll associate your domain name with a server (your host) — the place where your site files are actually kept. When someone types in your domain name, it tells the visitor's computer where to go to find your site. 
So a domain name and hosting account are separate things, but you'll need both to take your site online. You can purchase them together or separately — you'll just need to enter some settings so the two can communicate. 
Where can you buy a domain name? 
Many hosts offer domain buying services or include a free name as part of their package, but you may find it easiest to visit the domain buying platform on WordPress.com. You can search for available names and select from common endings (.com, .net, etc.), along with more than 350 unique options like .blog, .store, and more.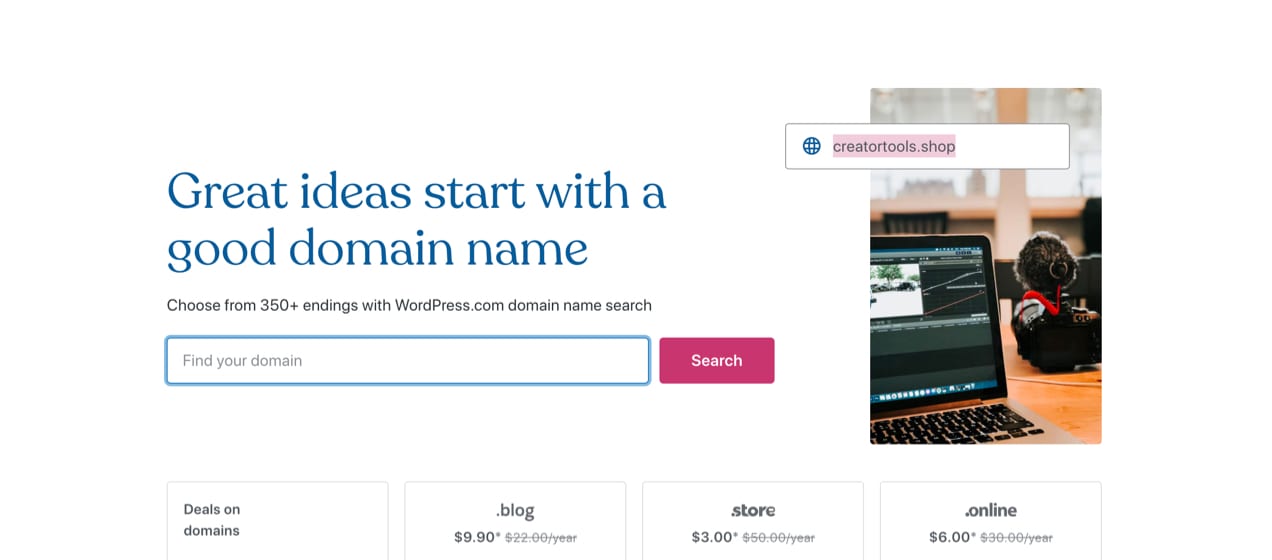 How to choose a domain name
Choosing a domain name is, in essence, the same as naming your business itself. Just like you wouldn't name your new company Coca-Cola because the name is trademarked and already recognized for something else, you'll need to choose from options that are available and affordable. 
This post isn't about how to brainstorm ideas, but rather, how to sort through your options to make the best decision from the possibilities you discover. 
Overall, you should create a wide list of options and then narrow it based on this ultimate goal: something that's easy to remember and communicate. The end of this post will share details about five areas that determine if a domain fits this goal.
Start your list with names relevant to your company and purpose 
You want a domain that includes your business name or closely relates to your industry. If your business is completely online, you should consider available domains before choosing an official name for your business. The decision goes hand-in-hand. 
If you already have a physical store that you're looking to build a website for, you may need to get creative to find an option that's both associated with your current name while meeting the primary objective of something that's easy to remember and communicate. 
Check for availability
Once you have your first set of ideas, you can search for the domain's availability. If you already have a business name, you can start with this step to see if it's available. 
If one of your best ideas, or your existing business name, is available with a .com ending, you've likely found your winner. Though, you should still go through the checklist at the end of this article to ensure it meets the ultimate goal of a good domain name. 
But most likely, your best ideas will already be taken, only be listed at a high price, or will only be available as a variation of the original (by adding on words, choosing an alternative ending, etc.). If that's the case, don't be discouraged. Again, it's the most common scenario. Use the rest of this guide to help you filter through more ideas until you find the best option.
Consider the price
Simple, popular names are usually owned by someone already. If they're not using it, they might list it for sale. You'll have to consider the price and its importance to your company. 
The prices for domain properties, like physical ones, vary dramatically because they're set by the owner. The seller may want a few hundred dollars or, for a name like eCommerce.com, tens of millions. 
A domain name is incredibly valuable, so like with any business investment, don't shy away from making the purchase if it's within your budget and is the perfect fit. 
How to narrow your domain name options: 
There are dozens of considerations when choosing a name, and they all have to be viewed in light of one another. Just like with any business decision, you'll need to narrow down your list and weigh the pros and cons of each URL. 
To ensure it's easy to remember and communicate, choose a domain that: 
1. Is short
Avoid long names like, "RebeccasLouisianaCrabShackOffTheCornerofMainAndThird.com."
Most one-word domains are spoken for or are listed at exorbitant price points. Adding a few, simple words to your domain of choice could be a good move. But make sure it meets the other objectives in this list as well. 
DRYFT, for example, is a retailer offering fishing gear and clothing. They added the word "fishing" to their domain name — dryftfishing.com — keeping it simple and easy to remember.
2. Ends in .com, if possible
This is the most common ending and what many visitors will type by default. A different ending might be available or less expensive, but keep in mind that potential visitors may abandon their search or end up on a competitor's website because they type in .com first.
Some online stores, however, do utilize alternate endings if it fits seamlessly with their brand. Certified Comic Shop, for instance, uses the URL certifiedcomic.shop, a creative way to establish their brand online.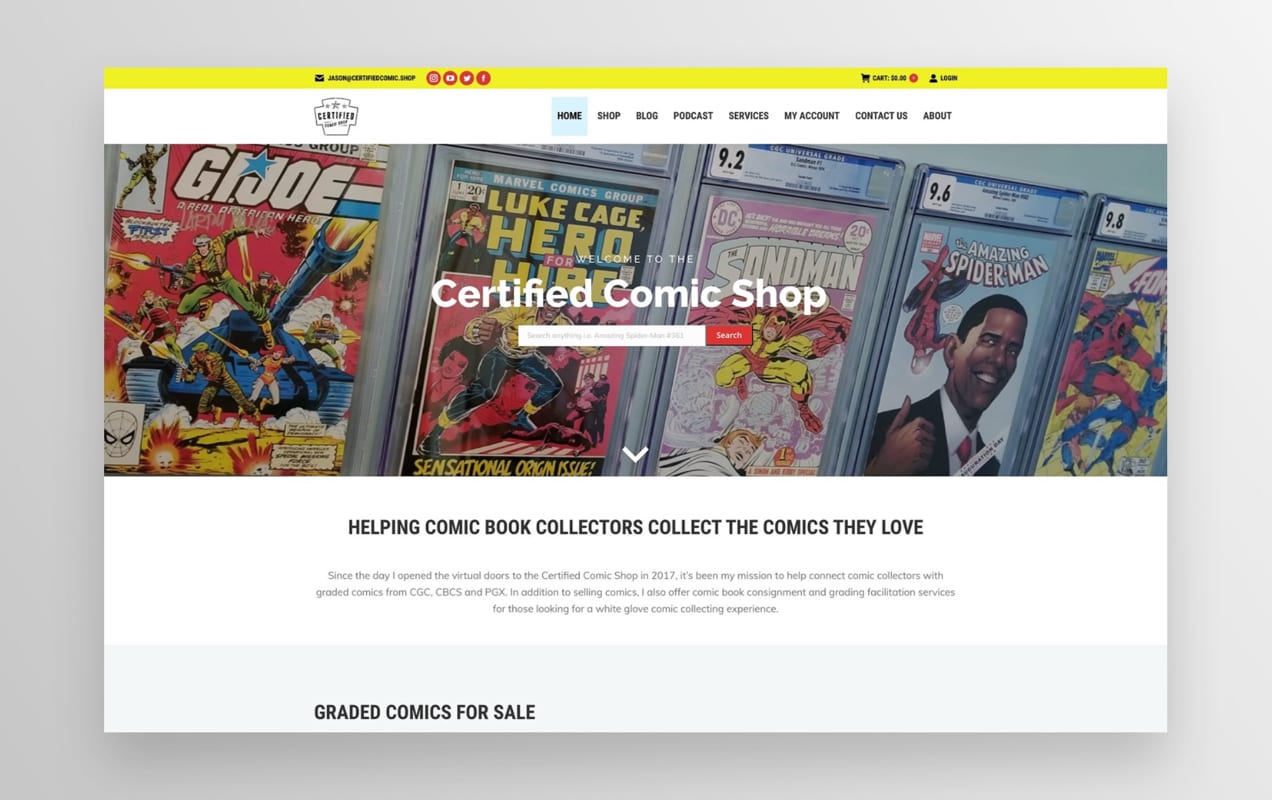 3. Is easy to spell
Names like "Kathryn" can also be spelled "Katherine," "Catherine," or "Katheryn." So a name like, "DessertsByKathryn" is hard to communicate audibly. You'll have to also purchase all of the spelling variations or clarify how it's spelled every time you say it — something that's not necessarily realistic. 
4. Doesn't include a hyphen or number and is easy to say 
Similar to finding a domain that's easy to spell, you don't want to include other elements that are confused when said out loud.
A hyphen is one great example. Though adding one might make a domain available, many people are still going to end up at the wrong destination. Numbers also cause confusion because they can be spelled out (twenty three) or entered as digits (23).
2 Hounds Design knew that people could interpret their name two different ways. So while their primary domain name is 2houndsdesign.com, they also purchased twohoundsdesign.com and redirected it to their site.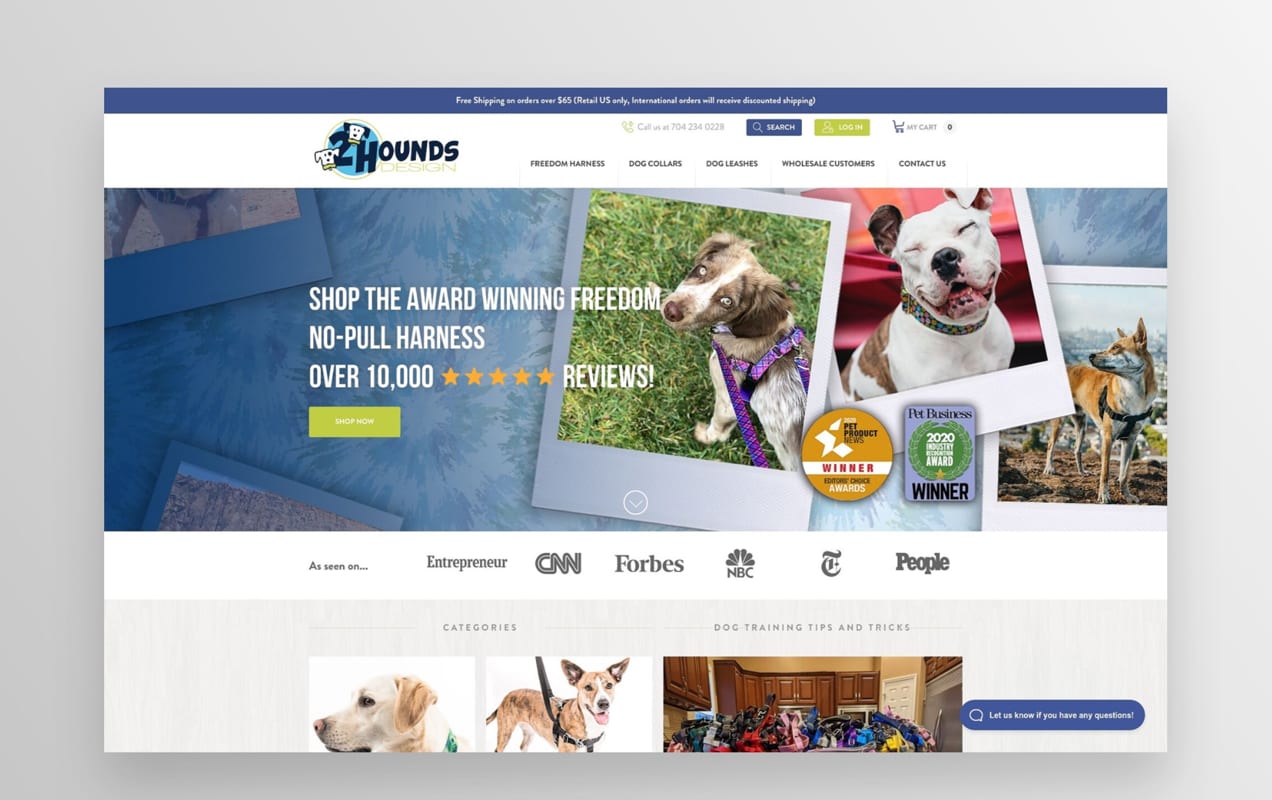 5. Isn't easily confused with something offensive
The only thing worse than accidentally sending visitors to a competitor is offending them. If a common typo or alternate ending sends your visitors to a site they'll find off-putting, it's just another reason to pick a new option.
Do a gut check: Are you proud when you say it out loud? Could you see yourself saying it on television, to a respected family member, or in front of a fortune 500 board member? 
Share it with a group of peers or a test audience. Ask them to be creative and see if there's anything "dirty" or "offensive" they can do with the name. They may discover a blind spot or know a pop culture reference that you're unaware of. It could save a lot of embarrassment.
Tell them the name and ask them to type it out. Did they spell it correctly? Return to them a few days later and see if they remember the name. 
Found your perfect domain? There's one more thing
Now that you've found the perfect domain, go ahead and fend off competitors by soaking up the market. Does your domain end in .com? You might as well get other endings like .net and .org. Did you pick a name that could be misspelled? Snap up the other versions before competitors swoop in, then redirect them to the primary URL.
If you found a good domain name that's cheap, go out of your way to secure as many variations as possible to protect your investment. 
Build your dream brand
Creating the store you always wanted requires more than just great software like WooCommerce. You need all of the elements to come together for a wonderful shopping experience and efficient backend operations. 
When it comes to branding, a good name and beautiful logo are essential. But online, a great domain name is like the perfect store location on Main Street. It can make or break your success. Take your time and weigh your options carefully. The perfect domain for your store is out there!