Sharing your posts on social media is essential if you want to increase traffic to your website. However, reposting content across all your channels can easily steal a few hours of your week. Being able to automatically post to Facebook and Twitter from WordPress could significantly improve your workflow.
Luckily, there are a few excellent tools that you can use to accomplish this. You'll be amazed at how much time it can save you in the long run. Whether you want to automate your posts or schedule them, there's a plugin to suit your needs.
In this post, we'll show you three easy methods that will let you automatically post to Facebook and Twitter from WordPress.
Let's get to it!
Why you may want to automatically share WordPress posts on Facebook and Twitter
If you scroll through your Facebook feed right now, chances are you'll come across automated content. Successful businesses are active on their chosen social media channels, and they post consistently to appeal to the algorithms.
Without automation, resharing blog content could easily become a full-time job, especially as your editorial calendar grows. Apart from the distinct advantage of increased efficiency, automating your social media posts can also help you with:
Growing your audience: Consistent content creation can help you spread brand awareness and reach new leads.
Engaging your readers: Creating a dialogue with your audience is easier than ever, thanks to the engagement opportunities on social media.
The channels you choose to focus on will depend on your audience. However, Facebook and Twitter are still leading players in this area, so establishing your presence on these platforms is vital.
How to automatically post to Facebook and Twitter from WordPress (3 methods)
Now that we've covered some of the benefits of sharing your blog content on social media, let's look at three different ways you can automatically post to Facebook and Twitter from WordPress.
Method 1: Post new content to social media automatically
Perhaps the most convenient way to post your blog content to social media is to automate the process entirely. This section will show you how to do so using Jetpack or Zapier.
Jetpack
Jetpack is a must-have plugin for any WordPress user. This multipurpose tool will supercharge your website with a myriad of useful functions:
One of these is its 'Publicize' feature, which enables you to share your posts on your social media networks automatically.
If you're not already using Jetpack, install and activate it from your dashboard to get started. Once you've synced it with your free WordPress.com account, go to Jetpack > Settings > Sharing, and toggle on the Automatically share your posts to social networks setting:

Next, navigate to Tools > Marketing > Connections, and connect your website to your preferred social media networks. You'll need to log in to these accounts and authorize each connection:
From now on, whenever you publish a post it will automatically be shared on your selected accounts as well.
Zapier
While Jetpack is an excellent tool for automating social media posts, those who juggle many daily responsibilities might prefer Zapier. This handy tool lets you connect multiple apps, streamline your repetitive tasks based on 'triggers', and manage them from a centralized control panel: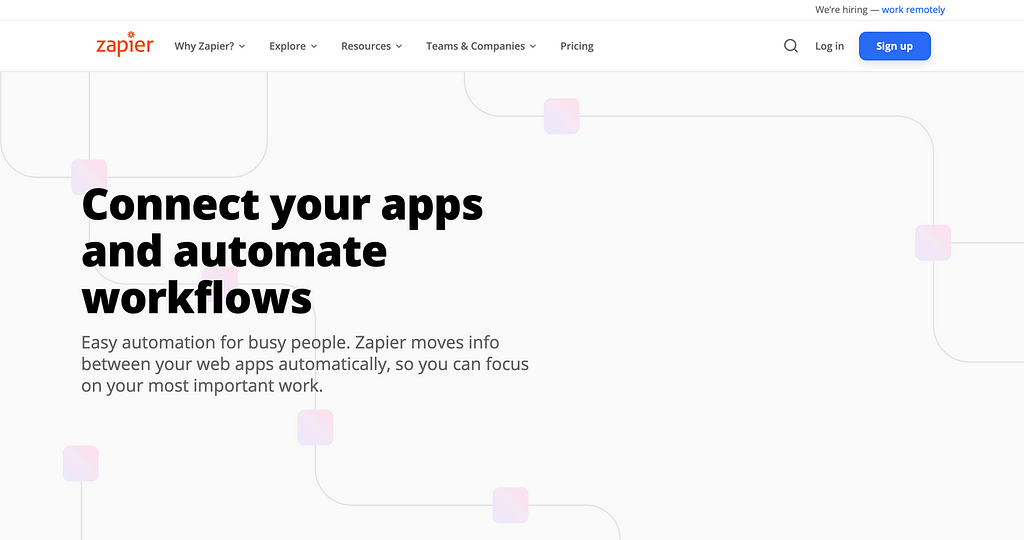 All you need to do is sign up for a free account. You will then be asked to set up your workflows (called 'Zaps') and select relevant apps. There are plenty of different scenarios to choose from, and new integrations are added regularly as the platform grows: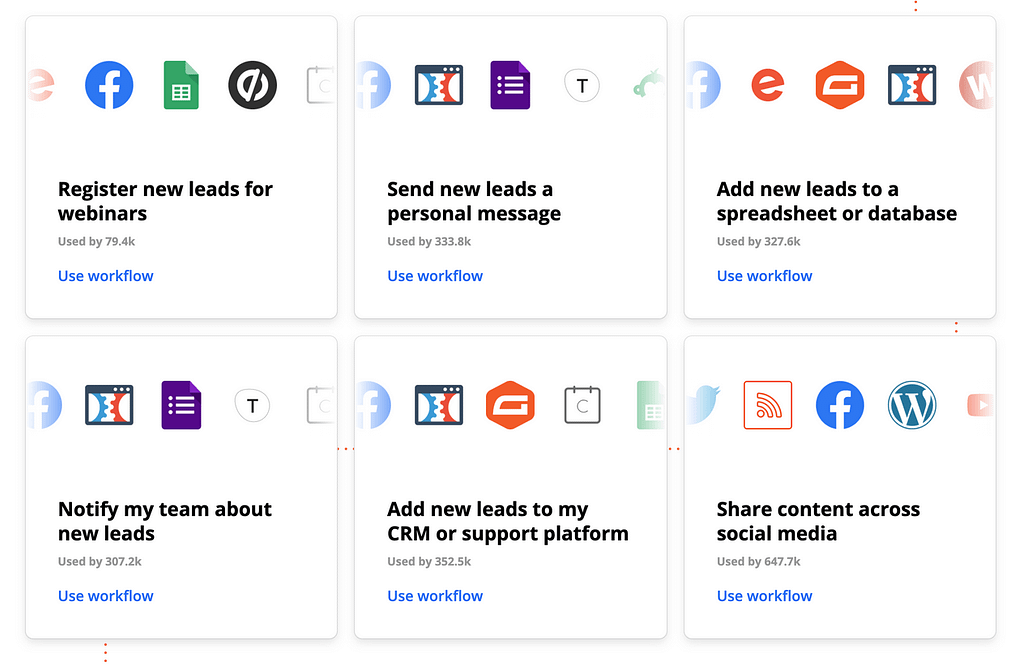 Creating your Zaps is a breeze with a super intuitive setup screen. Simply pick your workflow, then follow the instructions in each window: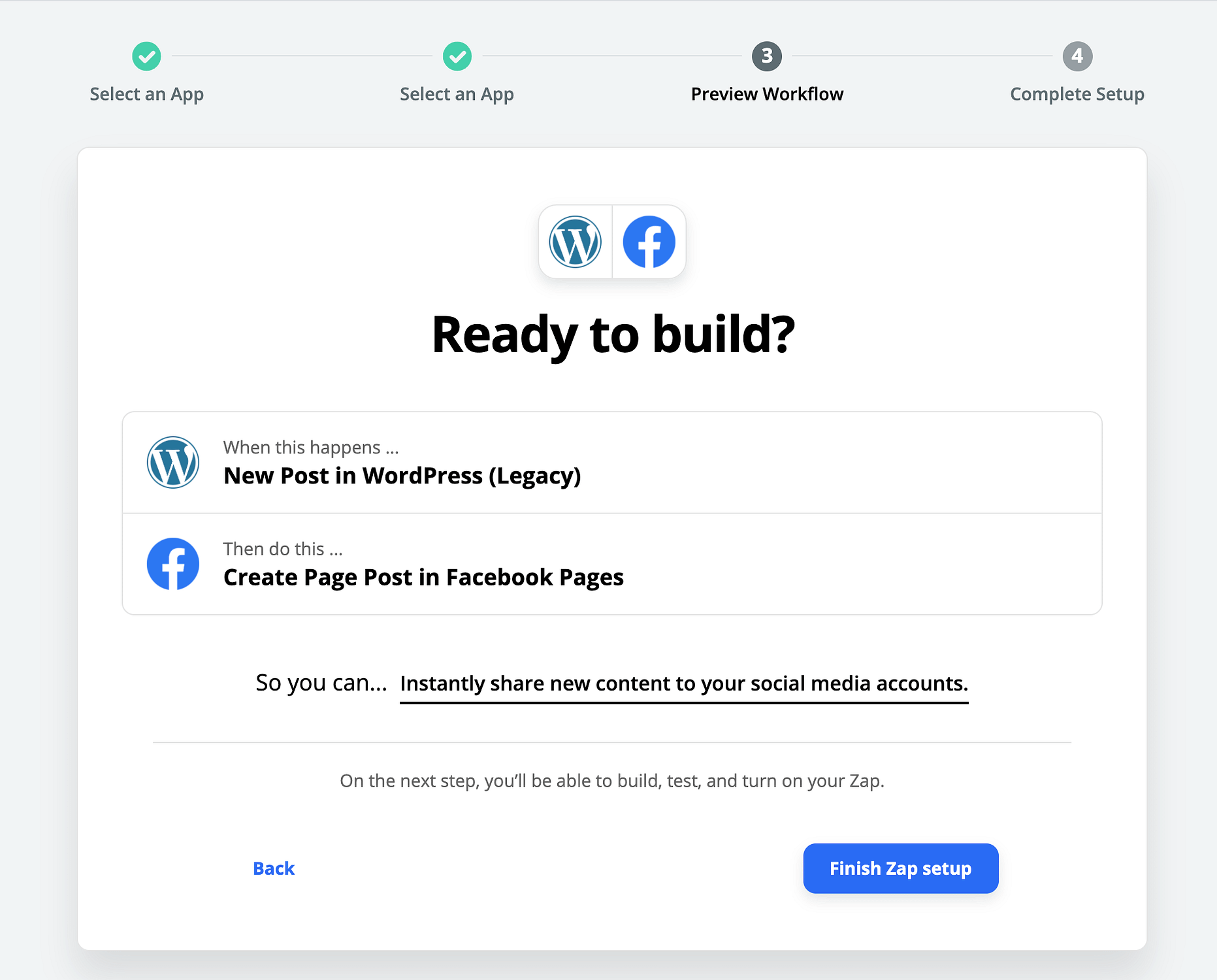 Log in to your selected accounts to connect the apps to your WordPress site. You can then set up a trigger so that your posts are automatically shared to your social media networks upon publication.
👉 Learn more about using Zapier with WordPress
Method 2: Share old content from your archives
Sharing your new content on social media is cumbersome enough. Resharing your archived posts on top of that is even more time-consuming. However, it can go a long way towards regenerating interest in older articles and driving traffic to your site.
Luckily, with Revive Old Posts, you don't have to worry about it. This handy WordPress plugin lets you share old content on autopilot:
All you need to do is install and activate it, then select your social media platforms. Next, configure your settings to determine the intervals between shares, the minimum or maximum age of posts, and post formatting: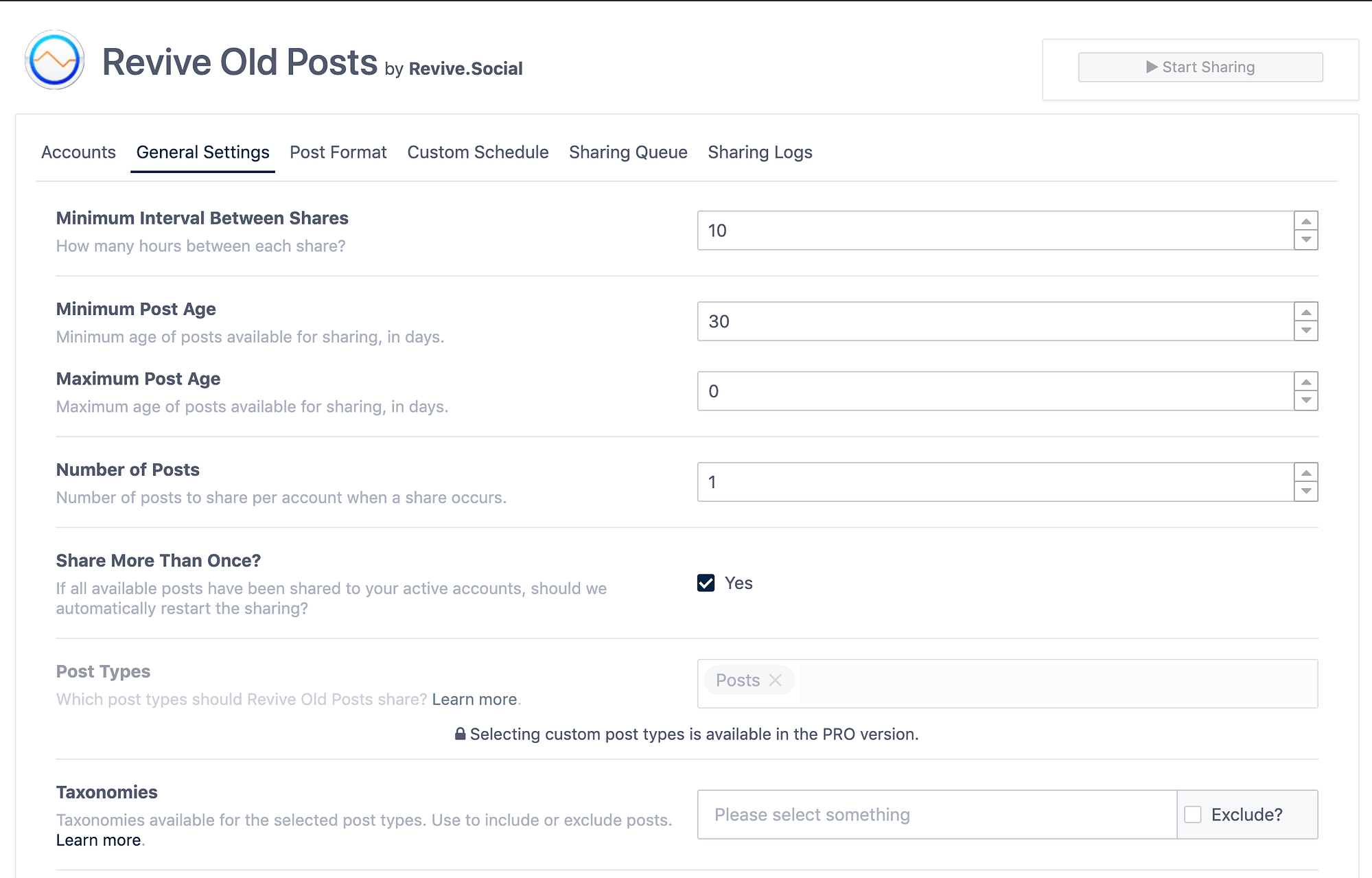 Finally, sign in to your chosen social media channels and authorize the plugin to post on your behalf. You can click below to read our full Revive Old Posts tutorial for more detailed instructions.
Method 3: Schedule your automated social media posts
Our last recommendation will appeal to social media marketers who want to be more strategic about their content distribution. Buffer and CoSchedule enable you to schedule your posts and also come with handy analytics reports and editorial calendars.
Buffer
To use Buffer, you'll need to sign up for an account and connect it to your Facebook and Twitter profiles: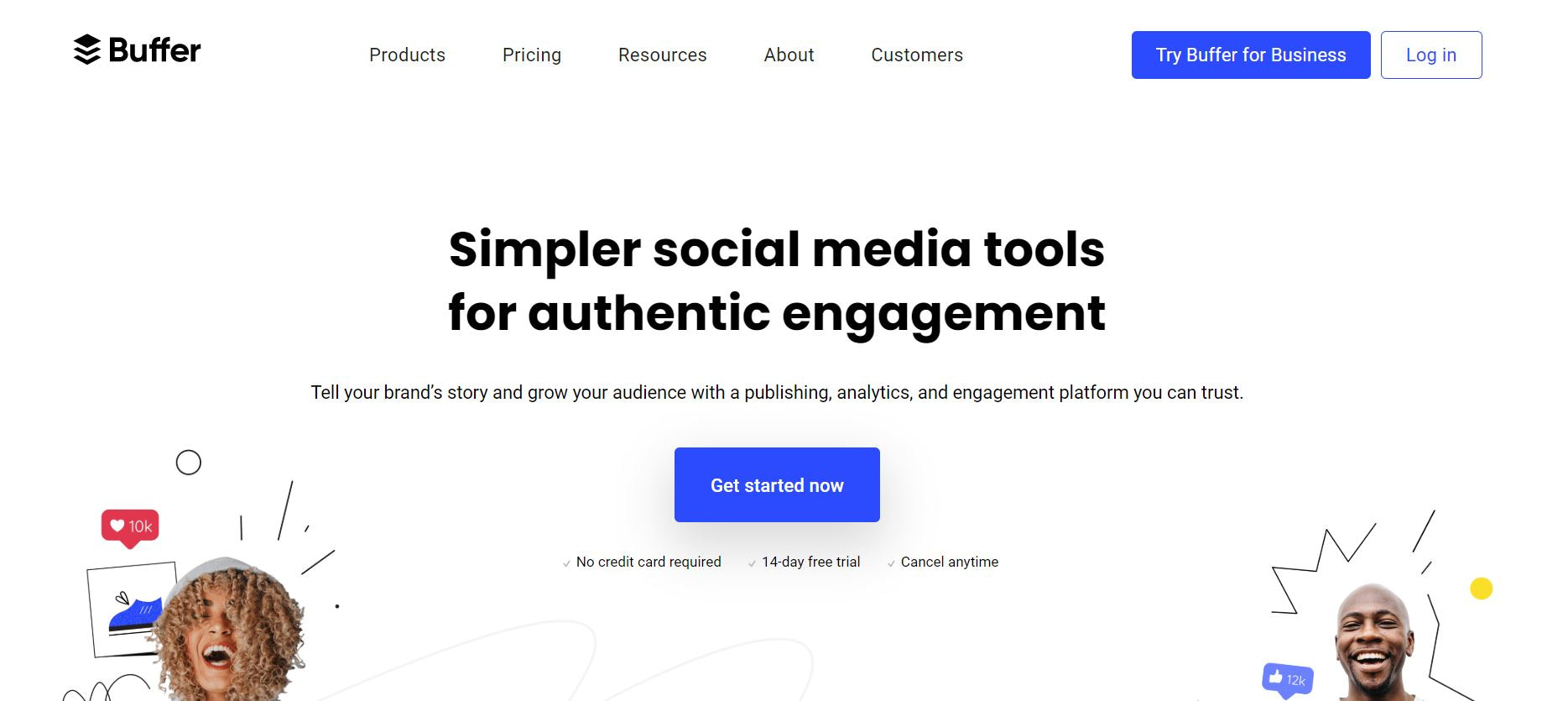 Buffer has a limited free plan that supports up to three social media accounts and up to 10 scheduled posts at a time.
For higher limits and more features, you can consider a paid plan, which you can try for 14 days for free. After that, pricing starts at $15 per month for the Publish tool. You can also sign up for the Analyze feature, which gives you access to advanced social media insights.
Once you've set up your account, go to your dashboard and install the WordPress to Buffer plugin.
Then, head to WP to Buffer > Settings, and click on Authorize Plugin. Follow the prompts to log in to your Buffer account and connect it to your WordPress site: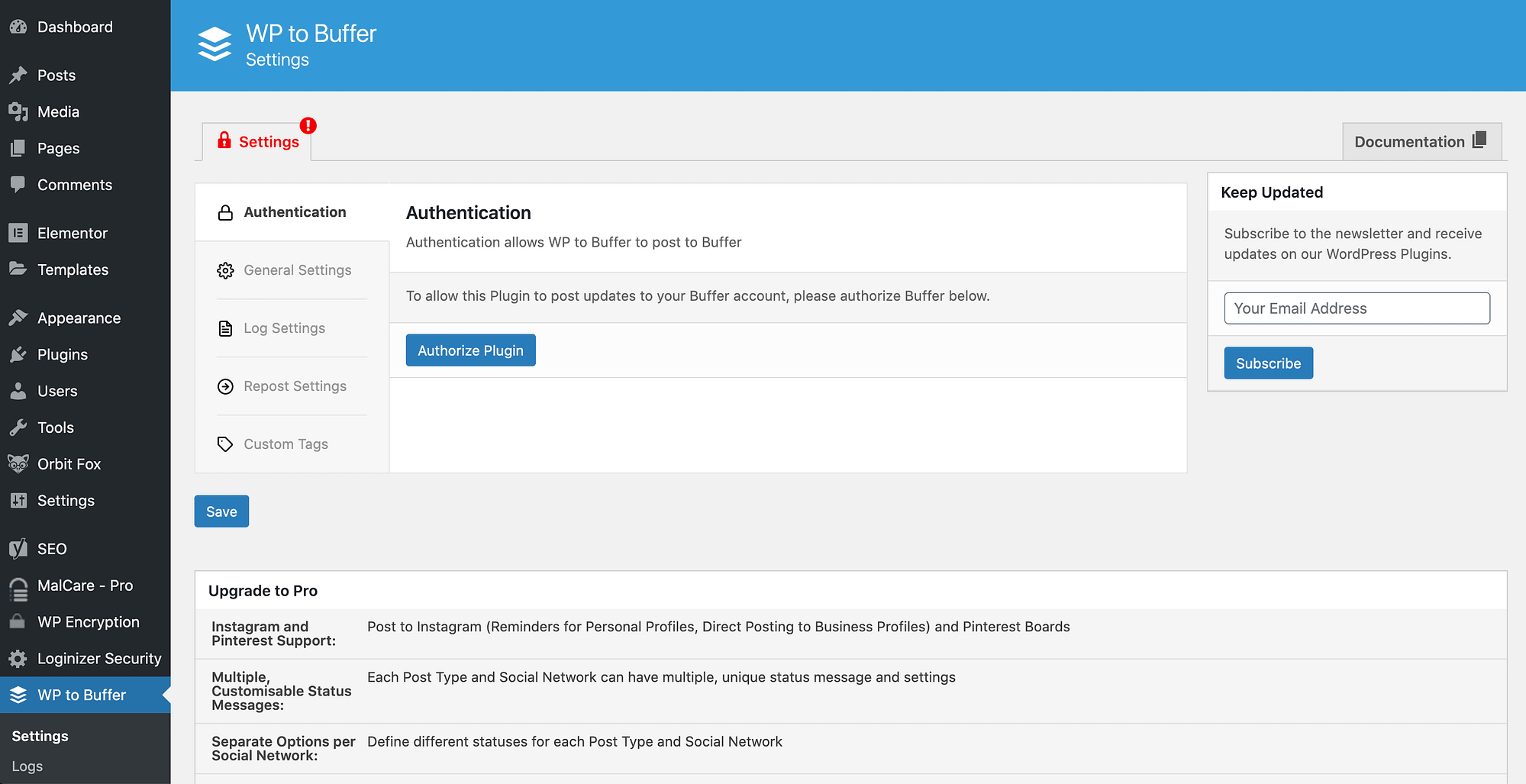 Next, navigate to Posts to create a default message that will be shared when you publish new content. Each time you post, it will be added to your Buffer queue: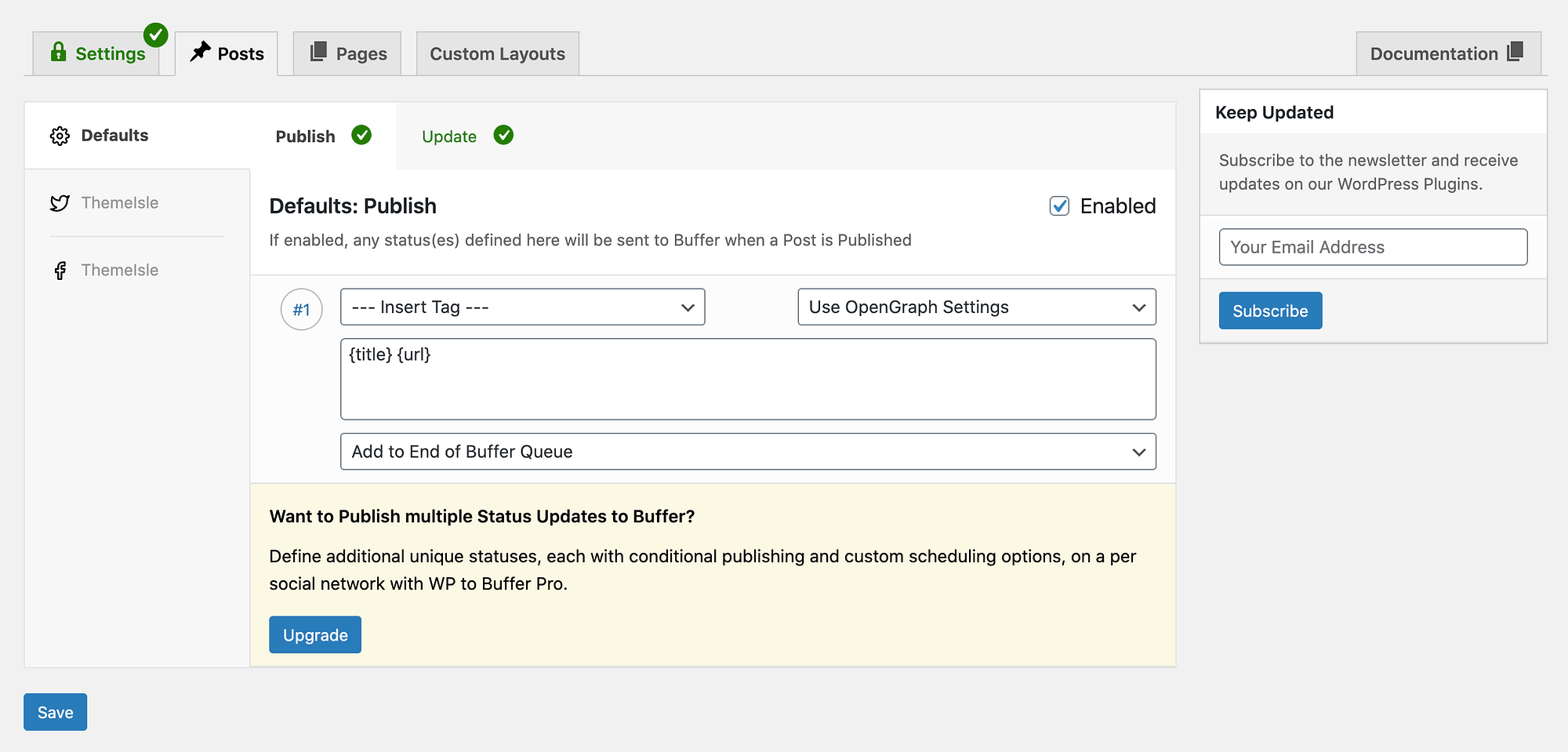 CoSchedule
Similarly, CoSchedule is a premium platform that offers a 14-day free trial. Pricing starts at $14 per month for the Blog Calendar plan:

To use it, you'll first need to create your CoSchedule account. When signing up, the platform will ask if you use WordPress. Click on Yes, then enter your website address and follow the prompts.
Once you've connected your site, CoSchedule will automatically sync your latest drafts, published posts, and scheduled posts: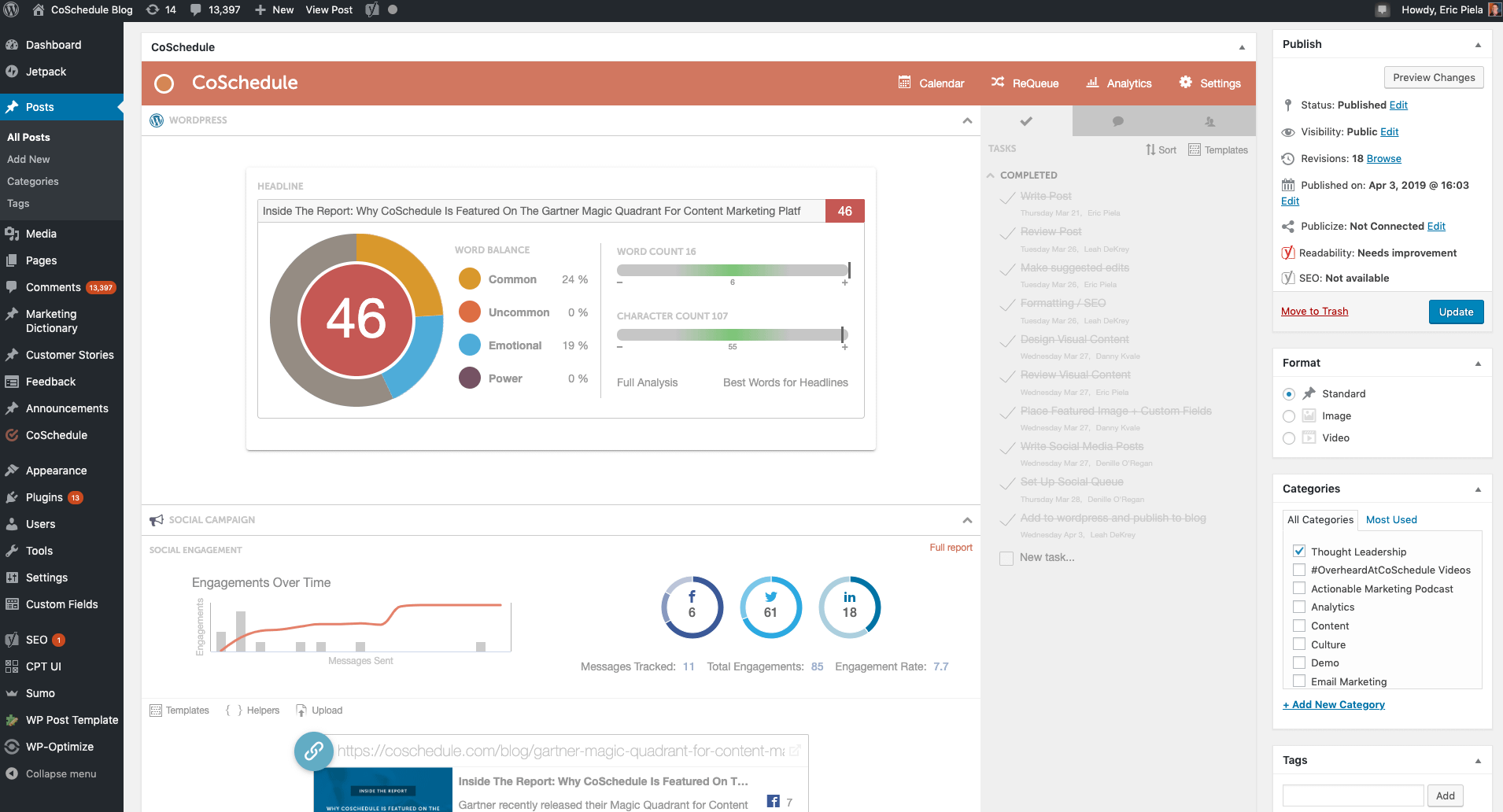 You can also install the official CoSchedule plugin and connect your social media accounts via your dashboard: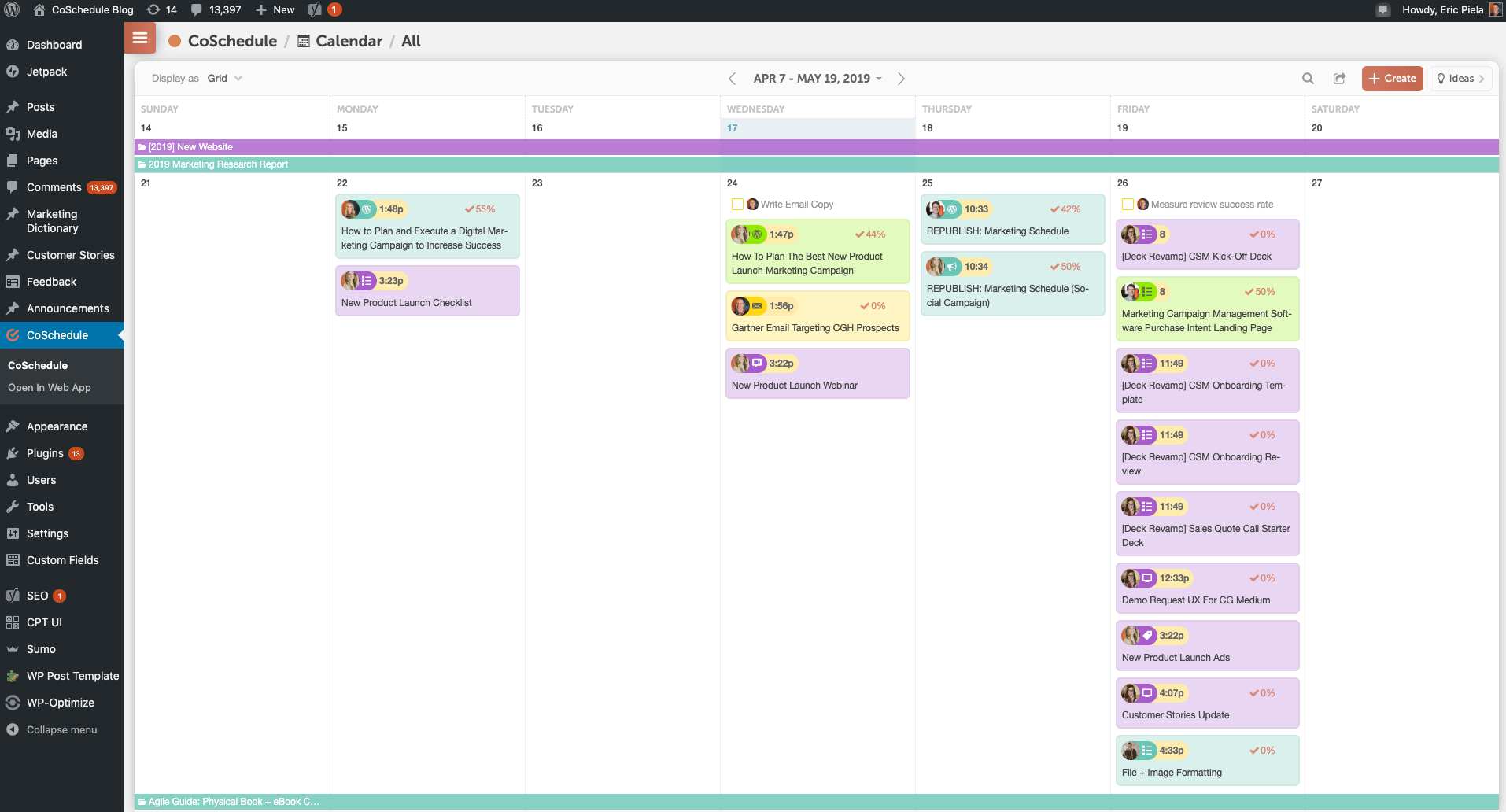 You can schedule and publish social media posts for any connected accounts right from your CoSchedule blog calendar.
Conclusion
If you're publishing new posts every day, sharing your content on social media can become a mundane task. Automating your posts could be a life-saver, letting you focus on your other core responsibilities.
In this article, we've shown you three easy methods for automatically posting to Facebook and Twitter from WordPress:
Reshare your archived content with Revive Old Posts.
Schedule your social media posts via Buffer or CoSchedule.
If you want to go even further, check out our guides on how to fully integrate your WordPress site with Facebook and with Twitter for maximum exposure.
Do you still have any questions about automating your social media posting? Ask us in the comments section!
Free guide
5 Essential Tips to Speed Up
Your WordPress Site
Reduce your loading time by even 50-80%
just by following simple tips.