Learning how to sell online courses can help you generate passive income, advance your career, or start your own business.
Whether you sell products and services online or have a physical location, you're likely looking for ways to increase revenue. If you don't own your own business, you may be feeling that itch to turn your skills and interests into a rewarding stream of extra income or even a full time career. 
With more of life turning digital, people are looking online to learn new hobbies, improve themselves, and start businesses. You can meet this growing need and make extra money by selling online courses.
Online courses are a great option for anyone that can teach a new skill: cooking, exercising, painting, playing an instrument, writing, meal prepping, and more. Since courses don't require physical product development or shipping, they're affordable and fast to create, and can generate passive income for years to come. 
This mega-guide will take you through the entire process of selling online courses, from ideas to launch to marketing. Be sure to bookmark this page and return to it as you work to launch your course.
What are the benefits of selling courses online?
The demand for online courses has boomed in recent years. 
Traditional learning environments are often time-consuming and expensive. But an online course is usually fast and convenient, and directly addresses a specific need, problem, or desire for learners. 
For that reason, there's an inherent appeal for potential students. People who have no interest in returning to a formal classroom will happily take an online course if it's about something they enjoy or if there's a specific, tangible benefit to their lives.
You or your business can meet this demand by turning your core competencies into a new revenue stream that positively impacts communities without adding mountains of overhead or investing in expensive infrastructure. Here are some of the benefits of selling courses online: 
1. Better margins and passive income
Selling an online course generally has high profit margins because the barriers and costs to create and sell online are much lower than in a physical setting. So, you'll spend far less money creating the course, and you'll make more money selling it.
Plus, this is passive revenue, for the most part. Once you create the online course, it's available forever. While you may occasionally need to update content and, of course, respond to students, you won't have to craft new products for each and every sale.
2. Wider audience reach
Many businesses are restricted by location. You serve customers who come into your store, office, or practice, or who attend your local workshops.
But when you sell online courses, you can engage audiences around the globe. A successful online course will reach a whole new group of customers who could never have done business with you through your physical location.
3. No physical product
Online courses tend to be digital in nature, containing videos, audio files, PDFs, and other interactive elements. That means you don't need any manufacturing processes, or even a printing shop. Your product exists online only.
Some online course creators will also choose to send something in the mail, such as a welcome package that might include a workbook, treats, tools, or even branded merchandise. All that is great because it only serves to deepen the bond between you and each person taking your online course.
But you don't have to do any of that to create and sell online courses. Your courses can remain entirely digital, and you can still engage wide audiences and find success.
4. Greater industry authority
If you have an existing online business, take a look at your competitors. How many of them sell courses online? Probably only a few. Online course creation identifies your business as having greater authority, expertise, and influence than your competitors. It makes you stand out. It's a differentiator.
And one perk of being seen as an industry leader is that you can charge higher prices for your other products and services.
If you don't have an existing business and you're creating your first class to share your passion, skills, or expertise, a successful online course can lead to other opportunities. Someday, you could be asked to speak at conferences or go on to create a related ecommerce business based on the trust you've gained from happy students. 
Demonstrating your abilities and helping others is a great jumping off point for any future endeavor.
5. Unique branding opportunities
A lot of companies can create new widgets, but your online courses represent you. They're unique to your name, your brand, your personality, your values, and your identity. No one else can create quite the same thing as what you put in your course, because they're not you.
Online courses offer a way to express your personal brand in ways no one can duplicate.
Who can sell online courses?
Whether you work from home, own a physical storefront, or have never ventured on your own before, online course creation is a dynamic industry that almost anyone can tap into. 
You can sell online courses and workshops by themselves or in combination with existing products and services. Here are just a few possibilities:
Let's say that you teach art classes and workshops in a physical storefront. That means, you're completely dependent on local customers. To generate extra revenue, you could sell online courses about painting, some geared towards kids and others towards adults. You might include quizzes on color theory, printable painting templates, and videos walking students through techniques. You could even sell courses online that include a physical kit with everything they need – paint, paper, brushes, and more. Not only would this supplement your income, it would open up more recurring revenue opportunities.
Here's another example: Maybe you're a chef/owner at a restaurant, and you're looking for ways to generate extra revenue. You could offer online cooking classes that customers can use to improve their skills. Film videos of yourself preparing dishes and provide downloadable recipes. If you don't want to give away recipe secrets, you could also focus these courses on techniques such as cutting, searing, braising, and various other cooking skills that people want to learn. You might offer one series about baking bread and another about summer grilling to meet the varied needs of your customers.
Or perhaps you're a tutor and have expertise in various subjects that students need help with. You could create an online course for third grade reading or high school SAT prep. Include fun quizzes, downloadable worksheets, and printable activities that keep kids on track. Not only will students benefit from the extra study time, parents will love the help.
The options are endless! Whether you work in food, education, nutrition, music, art, or any other industry, creating online courses is a perfect way to make some additional income.
How do I determine the topic of my online course?
You know your business and your industry. You're an expert. The challenge is, how do you draw from that reservoir of knowledge and experience to find the course topics that your audience will jump at the chance to learn?
Here are a few ways to figure out the topic of your first online course. And keep in mind, the best course topics will emerge as you work through more items on this list.
1. Identify the audience for your course
You might have a diverse group of customers, products, and services, but it's unlikely that any one online course will appeal to all of them. Decide on which slice of your customers or leads you want your first online course to target, and build it out from there.
How do you decide which segment of your audience to choose? Use the other items on this list.
2. Solve problems and meet needs
This is probably the single most important feature of a successful online course. Your targeted audience has needs they want to meet and problems they want to solve. If your course can promise solutions to those needs and problems – and deliver on that promise – it will be a big seller and will produce hordes of raving fans.
What kinds of problems and needs can your course meet? It depends on your industry – to a point. Within just about any industry, people tend to look for a few common underlying solutions. They want it:
Faster
Better
Easier
Healthier
More efficient
Less stressful
People want to save time, save money, make money, reduce stress, and be happier and healthier.
You can look for topics within your industry that deliver those sorts of core benefits, and build an online course around them.
Whether you're teaching someone how to play an instrument, plant a vegetable garden, start an ecommerce business, build a coaching program, or market a new diet or fitness plan – those underlying benefits are what motivate most people to pay to learn your system.
They don't just want to plant a garden. They want to plant it and reap a bountiful harvest without having to bother with it too much. They don't just want to start a business. They want to generate wealth sooner and easier. They don't just want to start a coaching program. They want to start it without getting stressed out by all the technology and marketing.
Your course needs to promise and deliver the things people really want. By and large, those are the things they really want, regardless of industry.
3. Check your competition
Whatever industry you're in and whatever course topics you're considering, someone else is probably doing something similar. Spend some time searching online for other online courses in your niche. See how they market their courses, how they're pricing them, what testimonials say about them.
And look to determine the problems and needs each course is addressing.
Can you create online courses based on what you see working elsewhere? Don't make the mistake of thinking that because someone else already has the idea that you can't do something similar.
A successful and profitable online course depends on your ability to reach and engage an audience. Your competition has not reached and engaged everyone with any interest in the topic of your course. There are always more fish in the sea.
4. Consider profitability 
Speaking of money, your topic also needs to be something that people will actually pay for. This goes back, in part, to solving problems and meeting needs.
But some problems and needs – though real – won't motivate someone to spend money on an online course.
Your course topic thus needs to be something with a high enough perceived value that a large number of people will want to pay money to learn it. Furthermore, they must believe that your course is better than the endless free online content available on the internet. They must believe your course delivers greater value and a better experience than just reading a book on the topic.
Much of this comes down to how you package and market it.
This is why online courses that promise to help people make more money tend to be big sellers. Because then, you can market it as an investment. For courses teaching a skill or hobby that may or may not lead to higher income for the students, you probably can't charge as much as a money-making course. But if the skill or hobby is in great enough demand, you can still make a healthy profit on courses in those industries.
And remember, people don't take online courses just to make more money. That's only one reason.
If your course helps people save time, or makes their lives easier or less stressful – that's worth spending money on. If it teaches a skill they can use to impress friends, relatives, or co-workers, that's worth spending money on.
If they can learn in a couple of months what would take a year to learn somewhere else, and at much higher cost, your course now becomes a bargain and a convenience. Now you can justify a higher price. 
5. Ask your audience
One of the best marketing truisms is to simply ask your audience what they want, go make what they asked for, and then sell it to them.
If you have an existing audience, send out an email survey, or use social media, and ask them what they want to learn. What is bothering them? Stressing them out? Frustrating them? Holding them back? What do they wish they could learn and apply to their lives that could be taught as a sequential, organized, focused online course platform?
When you ask something like this, there are two ways to go about it.
First, give choices. Maybe you have several possible online course ideas but aren't sure which one to create first, or which ones would be in the most demand. By suggesting several possible topics to your audience, one or two might garner the greatest enthusiasm. If so, now you know which course to create first.
The second approach is to ask about just one possible course topic, and find out if this is something your audience wants to learn about. With this approach, ask a few additional questions in the survey, things like: 
Why do they want to learn about this?
How would it help them?
What else have they tried in the past, and why hasn't it worked?
How much would they be willing to pay, within a range, for a course like this?
6. Create a video and measure the reaction
A video enables you to test the waters a bit more than a survey does. One problem with surveys is that sometimes, people will say they want something, but when given the option in real life, they opt out.
But if you create a video that delivers a bite-sized version of the online course you have in mind, now you can see how people respond. Does it attract a lot of traffic? Do people comment, and if so, what do they say?
With a video that delivers high value content, you can get a better sense of the demand for particular topics of online courses.
If you have several online course ideas, you can make a video based on each one. Like the survey approach, a couple of videos might generate a much more enthusiastic response than the others. Create online courses for those topics first.
How to choose an online course platform
The platform that you use to sell courses online is the foundation for your entire business. It impacts everything from your student experience to your ability to reach and convert new learners. As you can see, it's important that you choose the right fit for your business. 
What is WordPress, WooCommerce, and Sensei LMS?
Before we explore some considerations for your online course platform, let's take a minute to introduce WordPress, WooCommerce, and Sensei LMS, along with how they work together.
WordPress is a free content management system (CMS) that provides everything you need to build and design a beautiful, functional website. It's powerful and flexible, and designed so that anyone can construct a site, even if they have no development experience whatsoever. So it's no surprise that it powers 43% of the web.
Sensei LMS is a learning management tool for WordPress. It's an add-on that includes the functionality needed to create online courses. You can add content like images, videos, and downloads to your classes, create quizzes, manage and grade students, and more. While the base version is free, you will need Sensei Pro to sell and monetize your courses.
WooCommerce is a free plugin that adds ecommerce functionality to your WordPress site. It allows you to charge for your courses, provides a cart and checkout experience, and more. It also offers a variety of free and premium extensions that include powerful marketing, subscription, membership, and payment tools, among many others. 
You can combine these tools into one online course platform to generate regular, passive income. They also give you the ability to:
Break up courses into modules and lessons. Make your courses more digestible by categorizing content into smaller groups.
Embed videos from outside sources. Include instructional videos from YouTube, Vimeo, or another solution by simply pasting an embed code into your course. 
Leverage the power of quizzes. Use quizzes to strengthen key concepts and evaluate students' progress.
Protect your courses. Ensure that paying customers are the only ones who can access your courses.
Communicate with students. Send messages back and forth with students directly from the WordPress dashboard and answer any questions they have.
Deliver helpful feedback. Add notes to each incorrect answer when grading quizzes so students know how to improve. 
Sensei LMS is backed by the WooCommerce support team, which is available to answer any questions you may have, and provides detailed documentation to walk you through the setup process.
Organizations across the globe are successfully combining these tools to deliver popular courses to wide audiences. 
AdvantageLearn.com, for example, is a South African education company that uses Sensei LMS to provide educational support to students. Parents can purchase a class – like Maths Online, geared towards grades 8 through 12 – and gain access to video lessons, practice questions, progress tracking, and online support from teachers. This is an excellent way for students to keep up with their skills and continue learning from home.
Considerations for choosing a learning management system
Now, let's explore some factors to consider when choosing an online course platform, as well as why WooCommerce and Sensei LMS are the best choice for most sites.
1. Price
LMS platforms vary in price and pricing structures. Some bill monthly or yearly. Some charge based on the number of students you have. Others have several different pricing tiers based on the features that you need. As you can see, this can get complicated quickly and, in some cases, costs you more as you find success.
Sensei LMS Pro is $149 per year, with no additional fees for the number of students you have. This includes all the functionality you need to create your courses and sell them online.  
2. Content ownership
Some platforms can take down your site and courses at any point, without warning, if they decide that you've violated their terms and conditions. All of your hard work – gone!
But since WooCommerce is an open-source tool rather than a proprietary platform, you have full control and ownership over your entire site. You can do whatever you'd like with it, move it to any hosting provider, and rest easy knowing that your content is safe in your hands.
3. Ease of use
Make sure you choose a platform that fits your level of technical experience and knowledge. Even if you choose to hire a developer to build your website, you should be able to create and list your courses, respond to students, design quizzes, and make changes to pages without a ton of hassle and time.  
WordPress' built-in block editor allows you to drag and drop pieces of content (blocks) anywhere you'd like to build and edit your pages. Place paragraphs, images, videos, columns, quizzes, interactive graphics, checklists, flashcards, and more simply by clicking and dragging. Then, edit settings for design, layout, and functionality to make your site completely yours.
You'll use this same editor to create your online courses, too. Add media, progress bars, signup forms, contact buttons, documents – everything you need to build interactive, engaging classes.
If you get stuck, there's extensive documentation and top-notch support available.
4. The student experience
If a student has an excellent experience, they're much more likely to purchase additional courses, leave a positive review, and tell their friends and family members about your classes. So, of course, this is key!
All Sensei LMS courses are self-paced, so students can complete them on their own schedule. They can start a class, pause if needed, and come back whenever they have more time. This ends up being more flexible and convenient for online learners. 
Sensei LMS also enables you to organize your course content in a way that's easy for students to navigate and understand where they are at any given time. You can use modules and lessons to break up each course and keep things manageable. 
You can also add interactive and visual elements, like images, videos, graphics, audio, and downloads, which all help students stay engaged. 
5. Flexibility with site design and course creation
Your audience is very unique to your specific online business – your courses should be too! The LMS platform that you choose should enable you to create custom pages, posts, and classes just for your site. 
With WordPress, you can choose from a range of themes with layouts and templates that you can use as starting points for your site's design. Then, you can use the block editor to customize content as much as you'd like.

And Sensei LMS includes beautiful templates that are great for any type of student.
6. Scalability
As you grow your business, you don't want to have to switch platforms. So find one that's designed for any volume of students, site visitors, and sales. 
Can WooCommerce scale? Yes, absolutely. It was built with growth in mind, and allows for an unlimited number of courses, students, and orders. The code was built to handle large volumes of sales and spikes in traffic. 
7. Support
Of course, it's important that you have excellent support from your platform of choice, just in case you run into any problems. Sensei LMS offers a support ticket system, with staff that knows not just their own tool, but also WordPress and WooCommerce.
You can also take advantage of extensive documentation, a WooCommerce Facebook group, support forums, and even in-person and virtual meetups. The WordPress community is like no other, made up of people who love what they do and love to help others. 
8. Integration with external tools
If you want to use third-party tools for tasks like marketing, analytics, and accounting, then it's imperative that your online course platform integrates with them. WooCommerce offers lots of extensions that allow you to seamlessly connect to tools like Google Ads, Mailchimp, Quickbooks, Google Analytics, Facebook, and more. See the full extension library.
Don't see your platform on the list? You can take advantage of the WordPress REST API and hire a developer to create a custom integration.
How do I sell a course online?  
Ready to start selling courses online? First, you'll want to take care of some initial tasks like finding a domain name, choosing a host, installing WordPress, choosing a theme, and creating your first pages.
Once you've done that, you can create your courses! Here's how:
1. Install and set up Sensei LMS
In your WordPress dashboard, go to Plugins → Add New. There, you can search for "Sensei LMS," then click Install Now → Activate.
You'll be met with a setup wizard that will walk you through all the initial steps you need to get started.
2. Create your first course 
Now, go to Courses → Add New. You'll see a new page that uses the WordPress block editor, which should be familiar to you if you've created the other pages on your site. There are now some new blocks available, thanks to Sensei LMS, several of which have already been added to your page: 
The Course Signup block, which allows someone to enroll in your class.
The Contact Teacher block, which links to a form so a potential student can reach out.
The Course Progress block, which shows students where they are in the class.
The Course Outline block, which displays the lessons and modules that make up your course.
You can customize the settings by selecting a block and clicking the gear icon at the top right. In the panel that opens, you can change button colors, add a border, and more.
You'll use the Course Outline block to build your course as well. In the Course Outline block, decide to create either a lesson or module (a set of lessons) and click the corresponding button.
You can then set a name for your module or lesson. Click the + icon to add as many as you'd like for your course. 
To add content to each lesson, click on one and, in the box on the right-hand side, choose Edit Lesson.
For each lesson, you can use the Block Editor to add everything from text and videos to downloads and images. A few blocks are added by default. The Lessons Property block, for example, allows you to set the course difficulty and the length of time a student can expect to spend on it. You can customize these however you'd like, or remove them altogether.
Want to create a quiz? You can use the Quiz block to do so. 
Once you add it to your lesson, you can set the questions. There are a variety of question types you can choose from, including multiple choice, true/false, single line, and more.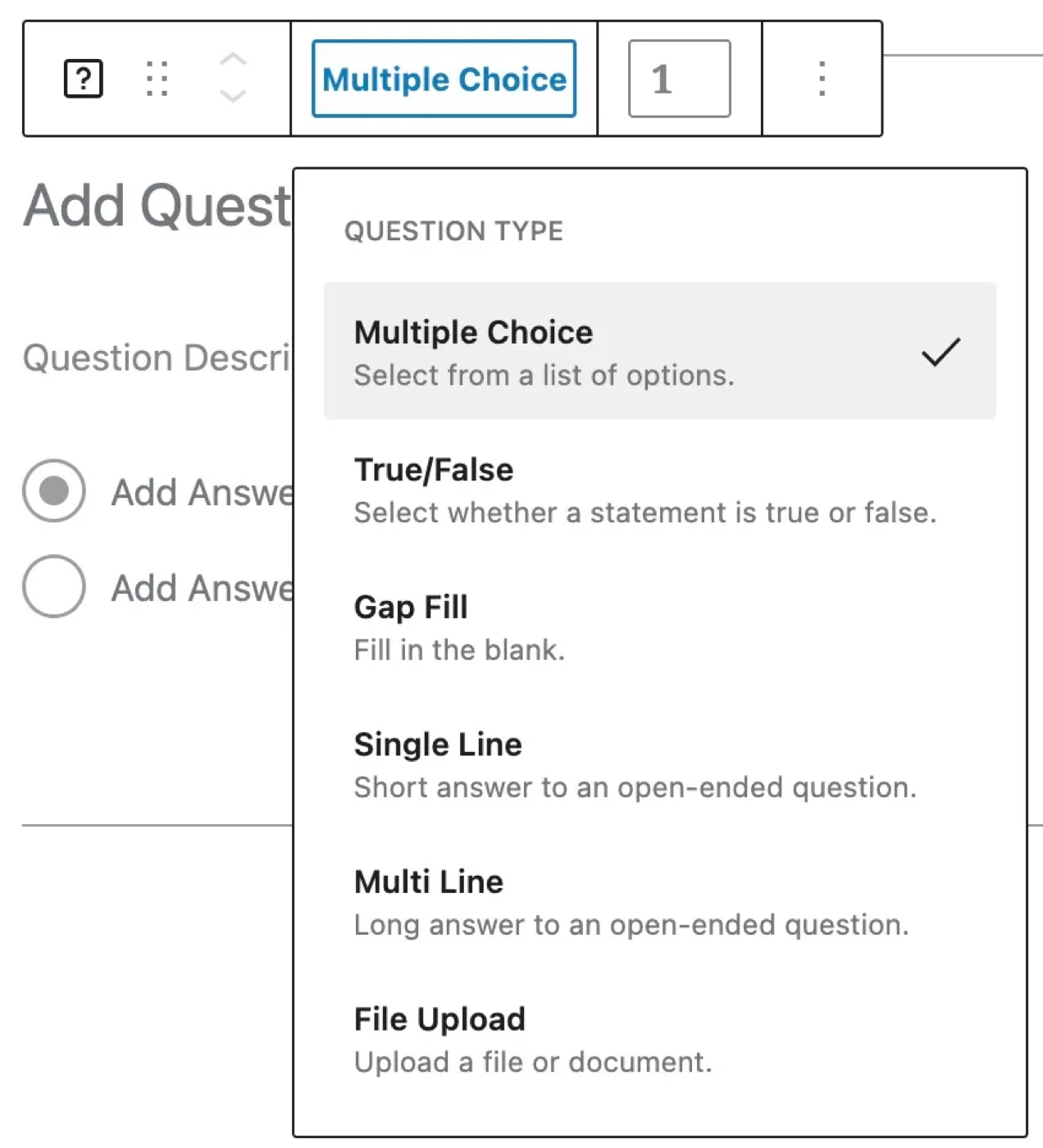 After selecting the question type, you can decide on the answers, the format of which will change depending on what you chose.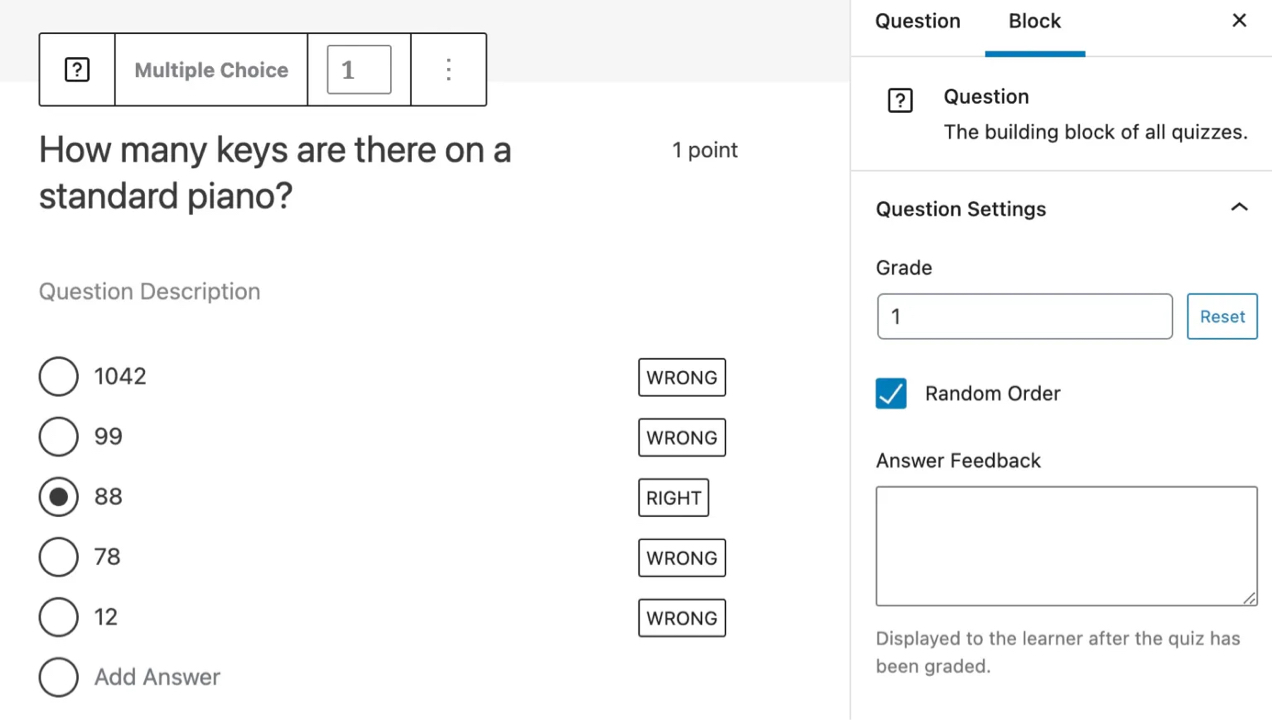 You can also add media files to the questions if you'd like. Settings for your quiz are found in the right-hand panel, after selecting the Quiz block. You can choose to auto or manually grade them, require a certain grade for a student to pass, add a timer, and more.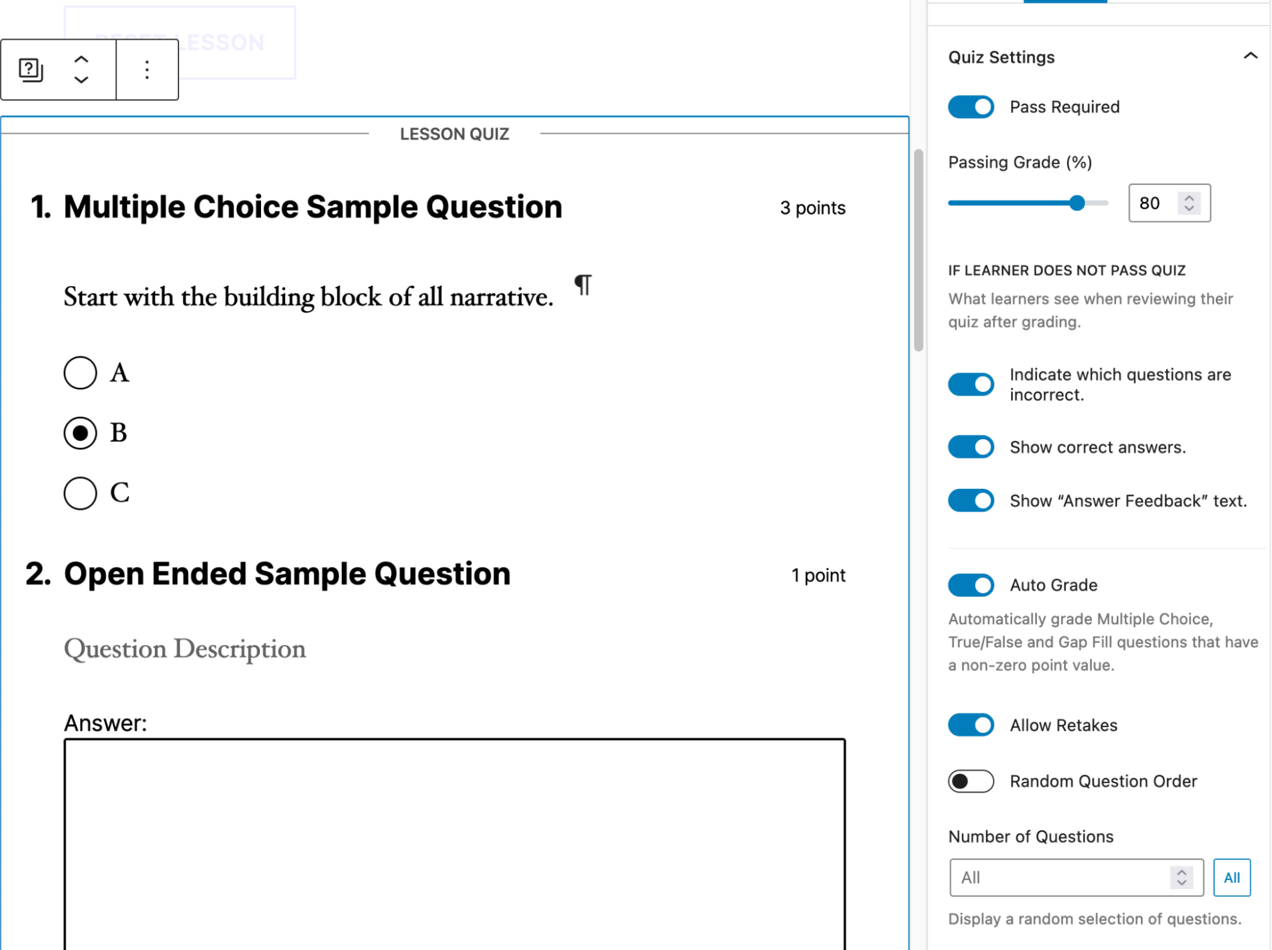 Finish creating all of the lessons and modules for your course. Now you're ready to sell!
3. Set up your store
Next, you'll need to install WooCommerce, which will provide ecommerce functionality, like a checkout and cart page, payment tools, and more. In your dashboard, go to Plugins → Add New. Search for "WooCommerce," then choose Install now → Activate.
A setup wizard will walk you through some initial settings and questions. Here, you can also choose to install WooCommerce Payments, which is going to be the fastest way to get started accepting payments. It enables you to securely charge for your courses and accept everything from credit and debit cards to digital wallets like Apple Pay and Google Pay.
Once you get everything set up, you'll need to purchase and install Sensei Pro, which will connect your courses to WooCommerce so you can charge for them. Once you purchase it, go to Plugins → Add New → Upload Plugin. Then select the ZIP file that you downloaded after purchase, and activate it.
Now, you'll want to link the online course you created to a product so that students can purchase it. To do this, go to Courses → All Courses and select the one you want to sell. In the right-hand sidebar, you'll now see a Pricing section.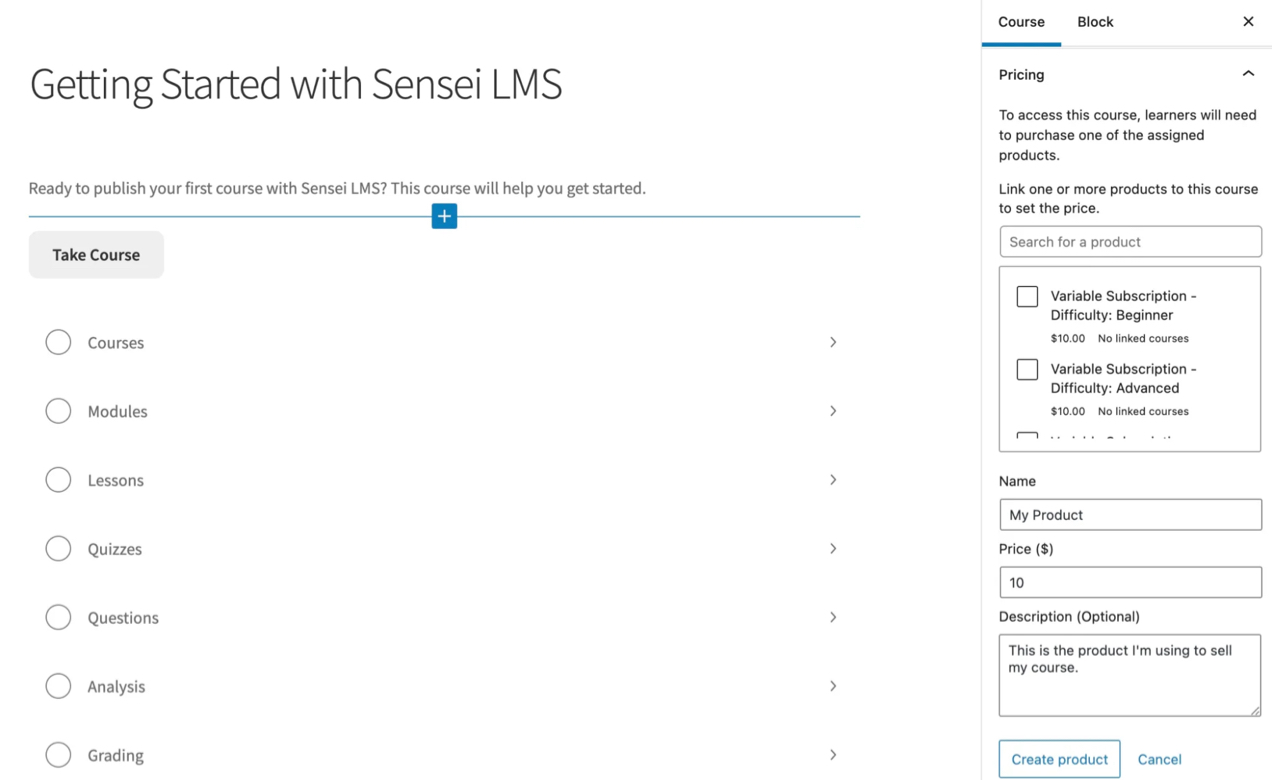 There, you can add a name, price, and description, then click the Create product button. Click the blue Update button at the top right corner.
For additional details and information about creating quizzes, adding lessons, managing students, and more, view our full documentation.
4. Secure your store
Security is important for any website, but even more so when you have an online store that handles payment information. Here are some basic security practices you can take to protect your store:
Choose secure usernames and passwords.
Only provide site access to trusted team members.
Regularly update WordPress, your theme, and your plugins.
Automatically scan your site for malware, so you can act quickly if anything is found.
Create backups of your site, ideally in real time, and store them separately from your hosting provider's server.
Block brute force attacks, which occur when hackers use bots to try different combinations of usernames and passwords until they get into your site.
Prevent comment and contact form spam.
Jetpack Security is a WordPress security plugin that provides the majority of this functionality all in one tool. There are both free and premium plans available, and this is an excellent starting point for a secure online store.
What else can I do with online courses?
Since every company, website, and customer is different, it's important that you offer courses in a way that works for your specific situation. That's exactly why Sensei LMS integrates with a variety of other extensions, like: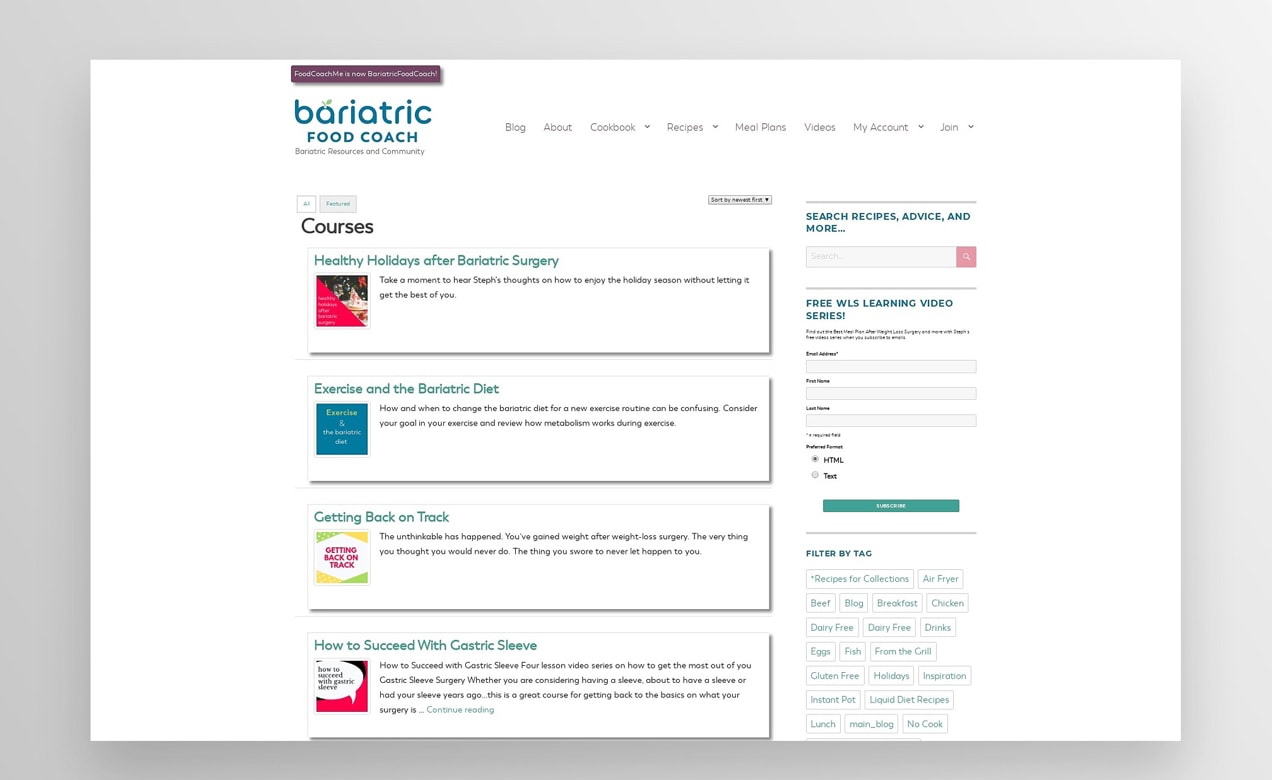 Use any of these extensions on their own or in combination with one another. For instance, Bariatric Food Coach includes courses as part of their membership program. After purchasing a membership, students get access to an online meal planner tool, grocery list generator, library of recipes, and collection of courses and videos. Customers can search courses to find exactly what they're looking for or filter them based on subject.
Be creative! Think about what your customers need and adjust your courses to meet those needs. 
How do I price my online courses?
You have two basic approaches to consider when deciding how to price your online courses. We'll look at both methods, including the pros and cons of each.
But before we get to that, you also need to consider the math of all this.
If you sell one course for $100 and another course for $20, you'd have to sell five of the second course to earn the same revenue as selling one of the first courses.
In other words, it's not always about how many sales you make. If you can make more money by selling fewer courses to students who are more committed and thus more willing to pay a higher price, that's a winning strategy. So don't get scared away from charging higher prices.
Consider the perceived value of your online courses. What does a student stand to gain? How much is that worth to them? We discussed this earlier. Gaining things like valuable skills they can use to make money turns a course price into an investment. But saving time, growing a reputation, gaining confidence, making a difficult or frustrating task easier – these are also very valuable benefits to a customer, and are worth paying for.
Don't underprice your courses, unless your primary goal is lead generation for another revenue source.
Now, let's look at your two basic pricing strategies:
Pricing strategy 1: A la carte
With this strategy, each of your online courses has its own fixed price. If you're just starting out and only have one online course, this approach certainly makes the most sense.
But even if you have several courses, and intend to continue developing new ones, charging one-off prices for each individual course has its advantages:
You can price courses differently, thus positioning some as more valuable than others.
Customers appreciate choice and having the power to select what they want.
You can offer special deals on courses now and then, because the regular price is known and published on your site.
You can bundle courses together in packages.
There's less pressure on you to continue producing new courses.
This pricing strategy is the most flexible. One course might be an introduction and take just a few weeks to complete. You use that for lead generation and charge a low price, like $29. Another course might take six months to complete. It's your signature course offering, and you charge $697 for that one.
With a la carte pricing, you can maximize this sort of flexibility. You can create unique marketing offers at any moment. You don't have to keep making more courses all the time, and you can pour extra effort into your existing courses, such as giving personal feedback to students, or adding bonuses like live webinars.
The biggest drawback of a la carte pricing is that you must continually sell courses to new customers to make money. With this model, you will have "good months" and "bad months," where your revenue swings unpredictably.
Thus, you must continually produce new marketing and keep seeking new customers. You can also market to your existing customers, but if you have only a handful of online courses, that can only go so far without producing new classes or opening additional revenue streams.
Pricing strategy 2: Memberships
With the membership approach, your customers now pay a monthly or annual price and gain access to all of your online courses.
With this pricing strategy, the perceived value of the deal skyrockets. They only have to pay something like $49 per month, and can take all of your courses. If you have a good number of classes, that kind of deal can look almost irresistible.
Other benefits of the membership pricing model include:
Higher perceived value, which can make sales easier.
Fewer swings in monthly income and more predictable budgeting due to recurring revenue.
A community of customers and an established brand identity because students are engaged for a longer period of time.
Opportunities for additional revenue streams because you're marketing and proving value to the same people over time. 
Less pressure to constantly find new customers.
The membership pricing strategy builds customer loyalty and retention far easier than the a la carte one. You become the star of the show, because the same people are hearing from you and learning from you month after month, year after year.
With this approach, you could add advanced revenue streams like live in-person events, and people will show up. That's much harder with the a la carte pricing strategy.
If you have enough courses and other products and perks, you could also break your membership up into two tiers. The lower-priced tier gains access to certain courses, and perhaps can buy the others at discounts and the higher-priced tier gains access to all of them.
The primary challenge of the membership model was mentioned earlier. With monthly members, you must continually deliver new value to keep your members happy. That means you must always be producing new courses and perhaps also other new content like webinars, live Q&A sessions, and special giveaways and opportunities.
Managing a thriving membership takes work. This is not 'set it and forget it.' If you don't keep students happy and engaged, you'll start to lose relevance in their lives, and they'll unsubscribe.
A third way to price online courses?
Those are the two primary pricing strategies. However, it probably already occurred to you that you can do both, and this, in many ways, delivers the best of both worlds.
By offering both options, the perceived value of your membership goes even higher. If an online course costs $297, and the membership is $49 per month, the average person looks at that and realizes they can have six months of membership for the same price as the course they want to take anyway.
So, if memberships and recurring revenue are your primary goal, this hybrid approach enables you to really push memberships with great success because the prices are such a great deal.
The hybrid approach also preserves the flexibility of letting customers pick and choose the courses they want to take. And those customers will pay higher one-off prices than members, so you'll still get to enjoy the occasional revenue spikes.
Which pricing strategy should you use?
Consider the state of your online business, the pros and cons of each, and the right direction should be clear. If you're starting out and have just one or two (or zero!) online courses, the membership model probably isn't quite feasible. If you have several courses and more on the way, you have additional choices.
How can I create a successful online course?
Besides marketing, which we'll get to in a bit, a successful online course depends on two things – valuable content and ease of use. You need good stuff, and technology that doesn't annoy your customers. Great content that's hampered by disastrous usability issues will just frustrate your course takers. And the most user-friendly online course platform on earth does you little good if your content is more generic than napkins.
You have to create valuable, easy-to-use content. 
The word 'value' gets tossed around far too liberally when it comes to content. Valuable content depends on more than just what you say. Yes, what you teach in your online course must be accurate and helpful. But how you teach it, how you deliver it, the experience of working through your course – this is what creates a delightful experience that your students will appreciate.
In an extreme example, if your course consisted simply of a single web page filled with 30,000 words of text, it might be great stuff, but who's going to read it? Online course takers aren't signing up to read a book. So you have to deliver your content in a way that engages, delights, and most importantly – motivates them to keep going.
Course completion rates are a good indication of the value of your content.
Here are some elements that makes your course content more valuable and easier to use for students:
1. Self-directed learning – the right pace
What's the right pace? Yes.
The right pace is whatever each person wants it to be, so make sure your online courses can be worked through at whatever pace is convenient for each person. In the online courses business, lifetime access is pretty standard.
That said, you can do things to motivate more people to work through your material on a consistent basis and increase your completion rates. By adding in features like weekly calls, or live video lessons, you will succeed in helping more people get through your courses faster.
So while it's best to make it easy for everyone to go at their own pace, others will appreciate being given a little extra kick to stick with it and actually get through the course they spent good money on.
It's also helpful to include completion times for each module and the lessons they contain. How long is each video? How long does it take to read each section and complete any worksheets? Providing estimates for each section helps your students plan their time appropriately.
2. Completion incentives
The more ways you can incentivize people to complete your courses, the better. Give rewards for anyone who completes each online course. Why? Because finishing feels good, and you want more of your course takers to feel good about their purchase.
You might provide further incentives for those who complete your course within a certain amount of time. That incentive might be a discount on their next course – especially if you're using the a la carte pricing strategy.
It could also be a free gift sent in the mail. And even though badges, certificates, and plaques don't mean much in the real world, they matter to our inner selves, because they signify an accomplishment. That badge, certificate, ribbon, refrigerator magnet, or T-shirt means something to you when you had to work hard to earn it. So don't overlook these sorts of trinkets and tokens.
Find ways to reward the people who make it all the way through.
3. Different learning styles
There's a misunderstanding out there – especially common with certain digital marketers – that video is everything. Some of this is pushed by social media marketers. But it's just not true. Many people don't learn best with video, for all sorts of reasons. Some of these have to do with cognitive capabilities and others are just preference.
Reading can be faster than watching videos for many. Plus, you can re-read sections you want to dwell on. You can skip ahead, skip back, and examine whole sections while you think about them. You can also do this with video, but when you want to repeat a small section several times or skip around quickly, it starts to be a hassle.
The best online courses provide their material in a variety of media and learning formats.
Create videos, but be sure to add subtitles. Include audio files when appropriate, because those can be listened to at the gym or in the car. Use written content, which could be web pages or PDFs. Include slides. Use photos when helpful. Use diagrams and infographics.
The more methods you can utilize to deliver your course content, the more people will get through it, because they'll engage in the manner that best suits their learning style and situation.
And this doesn't have to be too difficult. For instance, if you create a video or audio file, just have the words transcribed, and put that text below the video on that web page in your portal. Spend a little time formatting it with subheadings and paragraphs so it's easier to read, and you've now made your course accessible to more learning styles.
4. Fun, surprise, and delight
Include surprises along the way like fun polls, quizzes, and humor. A well-timed GIF animation can make everyone happy that they're working through your online course.
Another good surprise could be a celebrity or industry leader showing up for an interview or to give a motivational talk.
You can also surprise your course takers with free gifts, even before they complete the course. This could be just about anything, from t-shirts to books to branded merchandise to free access for six months to your membership portal. That last one is a great surprise to give for high-priced courses.
Just about every online course seems to come with a private group of some sort. Often, this is a private Facebook group, but it doesn't have to be. Various online course platforms offer a community engagement component where people can come, leave comments and questions, and interact with one another and with the course creator. 
Sensei LMS, for example, integrates with bbPress where students can use their account on your site to discuss various topics and interact with one another in a forum-style setting. 
6. Success stories
Don't just teach, demonstrate. One way to demonstrate is to show success stories of others who have implemented what they learned in your online course, and are now reaping the benefits.
These sorts of stories serve as motivation to keep going through the course – "If that person got through it and is having success, maybe I can too."
Remember, course completion equals course success, for you.
7. High-quality video content
Your course doesn't have to be video based, but you should consider using videos where you can. Even those who prefer to learn through written content would appreciate a quick video introduction. It humanizes you and makes you more relatable. 
But before you film a quick selfie video and call it a day, consider the price you're charging for the course and the perception you want students to walk away with. 
You don't have to be a professional videographer to produce high-quality video, but you need to keep a few basics in mind. At a minimum, you'll need:
Decent lighting
Good audio
Well-considered backgrounds
Easy-to-read text when it appears on screen
Good framing of the main subject
Enthusiasm and sincerity
How do you know if you have good lighting, audio, backgrounds, framing, enthusiasm, and sincerity?
The best way is to create a test video. Pick a topic you can talk about effortlessly for a couple minutes, and film yourself. Then, play it back on the biggest screen in your house so all the flaws will be more noticeable.
Play around with lighting and sound setups and consider purchasing a few professional items like a microphone and ring lights. A few relatively small investments can go a long way. 
Still doesn't look quite like you expected? You might find an online video course for beginners to be a worthy investment.  
How can I market my online course?
So far, we've talked about the nuts and bolts of online course creation. What to teach, why to teach it, who to teach it to, how much to charge for it, and how technology like online course platforms and various media formats equip you to deliver your course content.
But all of this depends upon the most important item – getting people to buy your online courses.
To sell online courses, your target audience must know about them, see the value they deliver, decide to make the purchase, and commit to going through the course.
You have three general categories of potential customers, and you can find your target audience in each of them. Those three categories are:
Your existing customers and leads
Other people's customers and leads
People you attract to your website, landing pages, sales pages, or online course catalog
Let's take a look at each group and examine how to market your online courses to them.
1. Existing customers and leads
If you have an existing online business, you have other products and services for sale besides your courses. You're looking into courses as an additional stream of revenue, not a new source of business.
If that's the case, you already have a group of customers who have purchased your other products and services. These are the easiest people to market your online courses to, because they're already familiar with you, and trust you to deliver something valuable.
Be aware – just because this is the 'easiest' group to market to doesn't mean that it's easy. They're not going to buy just because you want them to. But in terms of the effort and cost required to market to them, the bar is much lower than for people who have never heard of you before.
You also probably have unconverted leads. This includes email subscribers, social media followers, and website visitors you can reach through remarketing ads. These people haven't yet purchased from you, but they do know you and have some understanding of what you do and the value you deliver.
Here are a few strategies you can use to market to your current customers and leads:
Email marketing
Email remains one of the best ways to reach your existing customers and leads to sell online courses. They have opted into your list, which means they want to hear from you. So, create an email marketing series for each of your online courses, and send it out to your list.
If you have a large enough list and know enough about them to segment them into groups, send your online course email series to the segments most likely to respond. You can determine this based on things like how they've engaged with past emails, and what they've purchased. Purchases that fall in line with the content of your online course suggest a higher probability of interest in that course.
Another segment would consist of anyone who clicked on blogs related to the course topic. Maybe you sent out a survey, and a couple questions touched on topics covered in this course.
These are some of the ways to narrow down who on your list might be interested in this course, and your emails can speak more directly and personally to their needs, wants, problems, and desires for solutions.
If you don't have information at this level yet, that's okay. Send your online course email series to the whole list. Since you're offering valuable information to people who already know you, they probably won't mind an occasional message that's not hyper-relevant to their situation. You can send follow-up emails about the course to only the people who interacted and showed interest in the first one. 
MailPoet is a great email marketing tool that helps you gain more subscribers and send relevant messages to the right subscribers. Start using it today so you can unlock some of the strategies described above. 
SMS marketing
Text messages don't offer as much room to sell courses online, but with a focused message that invites curiosity, and shares enough to inspire interest, you can send text messages with links to landing pages and sales pages that provide more information.
SMS marketing is comparable to email marketing in terms of who you're sending to – people who've opted in and already expect to hear from you. The bar for engagement is much lower.
Social media marketing
In the same way, share a series of posts with your social media followers. Each one can focus on a different aspect about the value of your online course. Benefits, problems you can help solve, desirable outcomes, success stories – this is all great stuff to share on social media, and you can use photos, graphics, and videos in addition to text.
All three of these marketing channels have the great benefit of costing basically nothing to use with your house lists.
Direct mail marketing
If your other products and services are physical in nature, and you have shipped them to customers, that means you have their mailing addresses. Direct mail is another way to market your online courses to these customers, and it's powerful because it's less prone to the distractions of the online world. You will reach a more captive audience.
Direct mail does require a bit larger financial investment, but if you have the volume of customers to make it worth it, or if your course prices are high enough, direct mail is a powerful marketing channel to reach existing customers.
2. Other people's customers and leads
When you can form partnerships and joint ventures with other businesses that align with yours, but aren't direct competitors, you can leverage that for all sorts of marketing opportunities.
For example, a gym could partner with a massage clinic. These go hand in hand, but aren't competitors. If you own the gym and create an online class, such as a nutrition class, you could sell online courses to the customers of the massage clinic.
All you'd have to do is offer a cut of each sale produced by that marketing to the massage clinic owner.
The same marketing mediums work here – email, SMS, social media, and direct mail. Of course, since your partner is the brand with permission to contact their subscribers, they'll need to introduce your offering to their customers on your behalf. 
The massage clinic owner could send a message saying something like, "ABC Gym is offering a brand new nutrition class online. I've already taken it myself, and it's outstanding."
They endorse your course to their customers, and you reap the benefits. You'll need to track the purchases produced by this type of marketing so you know how many sales it produced. Be honest and fair with your partner. Give them whatever you promised and enjoy a long, fruitful joint venture. 
3. People you attract to your website
The last group of people is the hardest to convert and the most expensive to reach, but probably the largest category to help you sell online courses.
You're likely already familiar with your options for marketing to them. But let's run through the main ones that are cost-feasible for most businesses.
Paid search ads
You can pay for ads on Google, Bing, Yahoo, and other search engines. These ads show up in search results when people type in keywords that relate to the content of your online course.
If they click on your ad, it should take them to a sales page or a landing page that converts them to take the next step. We'll talk more about sales funnels in a bit.
This type of marketing can get expensive, but you can limit your monthly budget so it doesn't get out of hand. And you want to do that, because it will take some time to figure out the ad copy that most effectively motivates a click to your website.
Paid social ads
These work in a similar way in terms of cost. The difference is that with social ads, you can create your target audience based on data collected by the social media platforms. The other difference here is, unlike search ads, social ads aren't searched for by the user. They are more like TV or radio ads – interfering with the chosen activity of the viewer.
In other words, no one goes on social media to see ads. The ads interrupt them. Your ads must therefore be sufficiently engaging and intriguing so that people stop what they came there to do, and consider your offer.
With search ads, the person is actively looking for something, and your ads attempt to answer the problem, question, or need that they're searching for. So you have to approach these ad formats differently.
Paid YouTube ads
YouTube offers a great option for reaching your target audience to sell online courses because YouTube channels that relate to your niche already exist. You can create video ads that show up on channels watched by people already likely to be interested in your courses.
Back to the gym example again, there are plenty of YouTube channels creating health and exercise content. If a gym created a nutrition class, they could advertise that on those channels. Anyone watching already cares enough about their health to be seeking content related to it. So, your ads will engage a warm audience.
This will generally be more effective than social media ads. But it's still interruptive, so your ads must be very good to avoid skips.
SEO and content marketing
If you don't want to pay for ads, the other main online marketing approach is to focus on attracting organic traffic from search engines. This is where you hear the term "search engine optimization" or SEO. This is the process of providing the content that searchers are looking for and demonstrating its value to search engines so they place it near the top of results. 
A large part of a successful SEO strategy is determining what your target audience is searching (keyword research) and creating high-quality content that meets their needs (content creation). 
You'll then focus time and energy on writing blog posts, articles, web pages, and other content related to the keywords you decide to target.
With SEO, you aren't interrupting anyone's day, because they're actively looking for what you offer. And unlike paid search ads, you don't have to pay for this. But, it does take time to create content, and unless you can create it all yourself, you may have to hire someone to write and design it.
That said, content marketing has more permanence than paid ads. Effective blog posts and other content marketing can draw traffic for years after you produce it, at no additional cost.
There's a lot more to SEO, including technical elements, and it's a long-term strategy. You may want to mix it with other forms of marketing that can provide more immediate results and data to improve your efforts. 
Learn more about SEO for ecommerce beginners. 
Create a sales funnel for your online courses
No matter who you're targeting – existing customers, a partner's customers, or new site visitors – and no matter the types of marketing you produce, you'll want to build out sales funnels to more effectively convert people into customers. 
A lot can be said about this, so we're just giving a quick overview. But think about your own online experiences on other websites where you've made purchases. Or, think about your own site. You probably already have sales funnels in place.
A sales funnel is just a journey. It's a step-by-step process your leads engage with and walk through, from attraction all the way through purchase and beyond.
For example, if a lead clicks on a social media ad, what happens next? That's what your sales funnel must answer.
Here are a couple examples of sales funnels to help sell online courses:
Social ad sales funnel
Social ad → landing page → free offer → opt-in to accept free offer and join an email/SMS list → thank you page with paid course offer → welcome email series/SMS series → sales email → course sales page → course welcome email series
With that funnel, your initial offer isn't the actual online course. It's a free offer, like a video download, an eBook, a special report, a quiz – something quick, valuable, and free, that gets them to enter your world. From there, you market to them through email and SMS until they purchase the course.
Targeted ad funnel
YouTube ad → course sales page → checkout page with bonus/upgrade offers such as a membership → course welcome email series
This is a much shorter funnel, because it attempts to sell people on the course right from the start. With leads who enter from a more targeted source – like a referral from your joint venture partner or through a video on a hyper-relevant YouTube channel – you'll have a warmer audience you can succeed with more quickly. 
You can create sales funnels from direct mail, paid search ads, social ads, emails to your existing customers and to your partner's customers – any form of marketing requires some sort of customer journey that takes them from attraction to conversion.
The point is to think through the process of how someone first learns about you through the time they understand, are motivated, and trust you enough to make a purchase. Then, you want to create ideal touchpoints and messaging along the way to demonstrate your value, prove authority, garner trust, and motivate them to take action. 
This looks different for everyone and should be something you're always working on – it's always in flux and you'll get better at it over time. 
Start sharing your knowledge
You have unique knowledge and skills that your customers can benefit from – start sharing it with them now! An initial investment in creating online courses can generate reliable, passive income for years to come.