If you're looking to start an online business, there are a number of steps you'll need to take. From coming up with a winning business idea to creating a store and marketing your products, it might feel a bit overwhelming when you first embark on this journey. But don't worry — in this post, we break down all of the steps you'll need to start an online business, and provide some tips on how to be successful, including:
Why start an online business
How to start an online business

Define your audience
Choose your products
Create your business
Build a store
Market your products
Why start an online business
Starting an online business is a great way to expand a retail shop, experiment with new products, or supplement existing income. It can be a powerful opportunity for those looking to dive into entrepreneurship, with lower startup costs, faster go-to-market times, and less hassle than traditional brick-and-mortar stores. 
After all, you don't need to worry about finding the perfect storefront, hiring employees to manage that location, or, in some cases, holding inventory.
An online business allows you to reach beyond your immediate area. You can sell to your target audience across the country or even the world.
It's also a great way to connect with people where they already spend time. More than two thirds of Americans shop online, and that number continues to increase — there's no better time to jump on board!
How to start an online business
1. Define your audience
Before you go any further, take the time to go through the process of finding the right audience — the people who are the best fit for your products or services. This will improve each and every step you take throughout the life of your business and will help you identify your niche to improve future marketing efforts.
Starting with a product in mind
If you already know the product or service you want to sell, or have a great online business idea, think through who would benefit most from it. It's best to be as specific as possible. 
For example, if you're an artist who would like to sell pet portraits, your audience might be pet owners between the ages of 21-65, with disposable income. The people in your audience also likely have expressed an interest in the arts — visual or otherwise — as indicated by the accounts they follow online or past purchase behavior. 
Starting with your audience first
If you don't have a specific product in mind, start with something you care about. Are you passionate about small business owners? Do you love working with kids? Are you a car lover drawn to fellow car enthusiasts?
Once you've chosen your target market, identify their problems or needs. Do they need clothes with a better, more comfortable fit? Are they searching for a solution to reduce stress? Are they looking for ways to connect with people who share their interests?
Information about their internal motivations can be even more helpful than dialing in on demographics (age, location, gender, etc.). Why? Because it helps you write content that speaks to them, craft successful marketing messages, and make your products as useful as possible to your target audience.
Here are a few ways you can get to know your audience:
Spend time where they spend time — industry forums, social media groups, subreddits. Get involved in discussions and ask questions about what's important to them.
Learn more about them through surveys. Send out low-pressure survey requests using social media marketing and through email.
Conduct in-person interviews. While it may be more time-consuming, sitting down with people in your target market is very, very powerful. Conversations allow them to go in new directions and provide additional information you never would have thought to ask in a survey.
And remember to listen to what your target audience has to say! The better you understand their motivations, the better you can serve them. See even more tips for choosing an audience.
2. Choose your products
The next step is to decide what, exactly, you want to sell. Here are just a few online business ideas:
Keep in mind that your online business doesn't have to choose one of these five options — some of the most successful stores break the mold. Rather than manufacturing or handcrafting their own products, Kawaii Box curates the best cute items from Japan and packs them into themed boxes. 
Or you might combine multiple types of products. You could produce and sell original paintings and dropship posters that feature your designs. Or, like One Stop Map, sell digital products (vector maps) alongside services (custom map design). The sky's the limit!
No matter what product or service you decide to offer, it's a good idea to test your product viability before launching your business. This minimizes your risk, helps you align with the values of your target audience, and enables you to create the best possible version of your product.
There are a couple of different ways you can do this. Of course, you can, quite literally, pre-sell your items by offering pre-orders. Present your idea on your website or through a crowdfunding platform and charge in advance. This can give you a clear idea of interest and is a way for you to generate feedback.
Or, you can simply sell the idea of your product or service. Talk to the people you identified as your target audience. Ask them if they're interested in what you have to offer, if it meets their needs, how much they might pay for it, and how you can improve. 
After generating viable feedback, apply that to your products and services to the extent that makes sense for your business. 
3. Create your business
Once you've decided on a product, it's time to set up your online business. 
Take all necessary legal steps
Legal requirements vary based on where your business is located, but here are a few steps to consider:
Choose your business structure and register your business.
This impacts everything from your legal responsibility and taxes to day-to-day operations. It's an important part of starting a successful online business. There are a variety of business types you can choose from in the U.S., including:
Take the time to fully understand the implications of each business type, and remember that each country varies when it comes to options. If needed, don't be afraid to seek professional help.
Get tax IDs and understand the tax framework.
Typically, the structure you choose impacts how you pay taxes. You'll also need to consider whether or not you're legally required to charge sales tax, and how you need to set this up. This is based on factors like your location, where you're shipping products, and what items you're selling — it can vary widely from business to business.
We recommend working with a tax professional, especially when you're first starting your online business, to ensure that everything's set up properly. 
We'll discuss building your online store more in-depth in a bit, but there are excellent tools available to automatically calculate sales tax, which will take a lot of the complication out of the process.
Obtain any necessary licenses. 
Some areas require licenses to sell regulated products like firearms, alcohol, or CBD. Again, this varies based on your location and the items you're selling.
If your business is located in the United States, this guide from the Small Business Association walks you through everything you need to know.
Open a business bank account
When starting an online business, it might seem easy to just use an existing bank account. But there are a lots of good reasons to separate your business and personal accounts:
Professionalism. Business partners and clients can write checks to your company, not to you personally.
Protection. Separating accounts helps protect your personal assets from business liability.
Simplicity. Combined accounts makes accounting and taxes much more complex.
Extra benefits. A separate business account allows you to set up a credit card, build a credit history for your company, and apply for loans and lines of credit.
When choosing a bank account, pay attention to interest rates, transaction fees, and minimum account balances. You may also want to talk to other business owners and see what they love about their bank.
Set up accounting
Set your books up correctly at the beginning to save time and hassle down the road. Get to know the basics of small business accounting, and consider hiring an accountant to handle your finances as your company grows. A dedicated accountant may even be able to help refine your business model for better cash flow and profitability. 
Decide how you'll charge for products
Before building your website, determine your pricing strategy. How do you want to structure payments? Here are a few options:
You may also want to offer some combination of these. For example, you might offer one-off bags of cat treats while also allowing customers to subscribe and get a bag delivered every month. For bigger-ticket items, you might have the option of a payment plan in addition to paying in full upfront.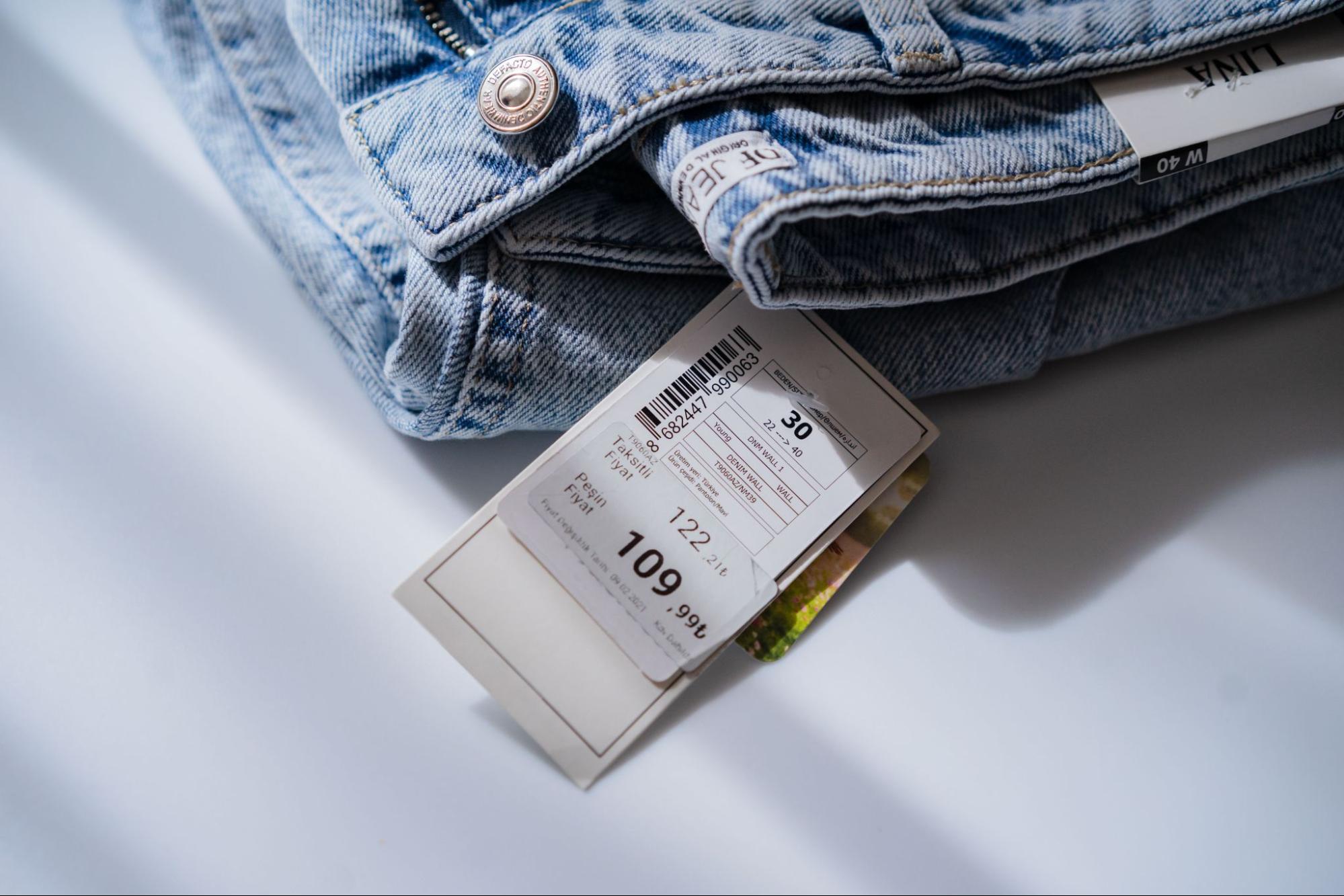 When pricing your items, start by thinking through how much it costs you to create each one. This includes more than just the cost of materials and manufacturing. Consider marketing expenses, licenses, permits, warehouse fees, and labor. Of course, not all of these will apply to every business — this is completely unique to you!
You'll also want to think about what your target audience is willing to pay for your products. What value does it bring to their lives? How does it help them? Learn more strategies for pricing products. 
For more information about setting up your business, learn what some of our store owners wish they knew before they got started. 
4. Build a store
With solid business practices in place, it's time to build your online store. 
Start with your website foundation
Purchase a domain name and hosting
Your first step is buying a domain name — the URL that customers type in to reach your website. Pick something that represents your online business, is easy to remember, and doesn't contain numbers and hard-to-spell words. Here's a guide that walks you through other important considerations.
Your host is where your website lives — it stores all of your website files and displays them to visitors around the world. Your host has a big impact on your website's security and speed, along with how your site functions as a whole. Here are some things to look for in a host:
The opportunity to scale. While you might not need lots of storage or bandwidth when you're just starting your online business, it's important that you can grow without having to migrate your site to a new host. Choose a provider with multiple plans, including VPS and dedicated options.
A price that fits your budget. Remember that a high-quality host is going to cost more than a lower-quality one. This goes back to the old adage, "You get what you pay for." But when you're just starting out, you also want to avoid high overhead costs until you're generating regular income. Think through what you can afford and what features are important to you.
Excellent support. If you run into any problems, you'll want a support team ready to help. Choose a host with 24/7 support via live chat, phone, or whatever method you prefer.
Easy WordPress integration. Many hosting providers offer one-click WordPress installations. Some even go one step further with servers optimized specifically for WordPress and include premium plugins like Jetpack.
Security measures. Your site security starts with your host. Look for features like SSL certificates, firewall, malware scans, and updated software like PHP.
Speed tools. A fast site is important for search engine rankings and user experience and, again, this starts with your host. Speed tools include things like a built-in CDN, caching, and fast servers.
For more information and details, read our post about choosing a host.
A great place to start is the WordPress.com eCommerce Plan, which includes everything you need for starting an online business. For other options and price points, take a look at our full list of recommended hosting solutions.
Install WordPress
WordPress is a free website building platform designed to be accessible for people of all technical experience levels. It includes a highly visual editor that enables you to build pages with no code experience, and is completely customizable. 
Use plugins — add-ons that provide additional functionality — to turn your website into anything that you'd like. That flexibility and ease of use is exactly why it powers 43% of the web.
Most hosting providers offer one-click WordPress installations while others, like WordPress.com, come with WordPress pre-installed. Read the full instructions for installing WordPress on all major hosting providers.
Install WooCommerce
WooCommerce is an eCommerce platform created specifically for WordPress that gives you all the tools you need to start an online business: add products, collect payments, set up shipping, create customer accounts, and more. 
It's extendable — choose from hundreds of extensions to expand your store's functionality — and can scale with you as your business grows. Plus, it's also completely free to implement.
WooCommerce is a plugin for WordPress. To install it, head to the "Plugins" section of your WordPress dashboard, search for WooCommerce, and click "Install." A setup wizard will walk you through the process.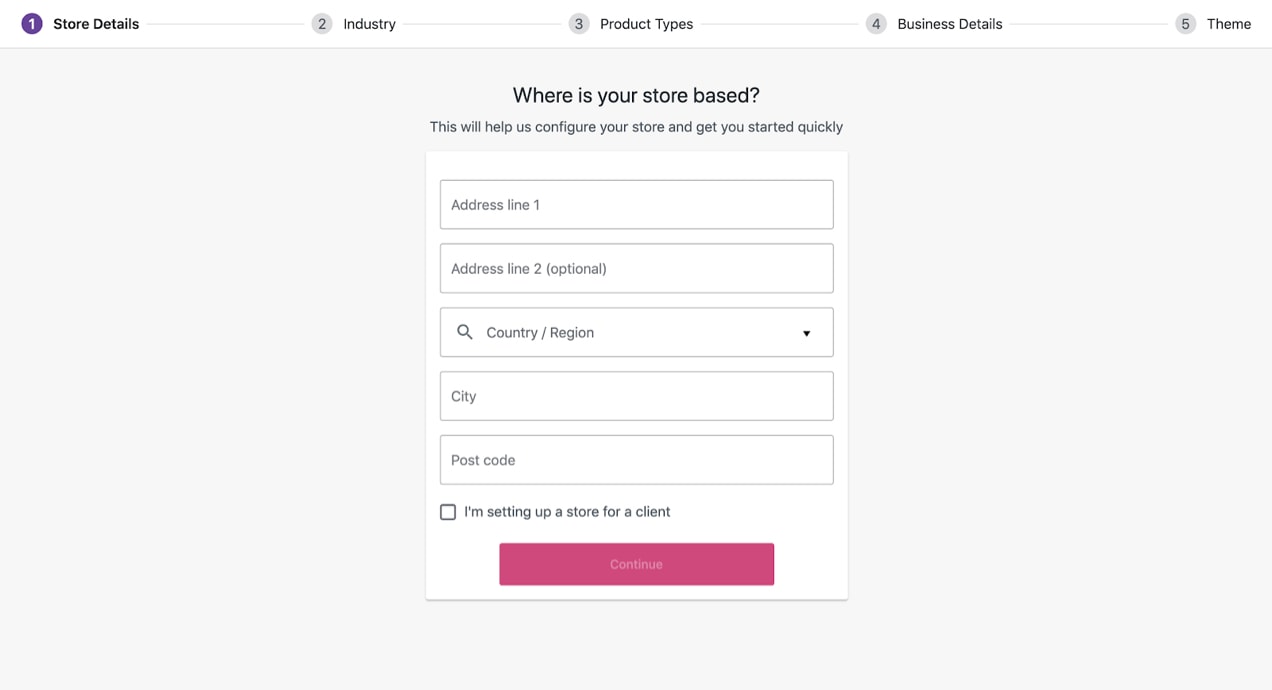 Note: the WordPress.com eCommerce Plan comes with WooCommerce pre-installed, so you can just jump into creating your site.
Choose a theme
A WordPress theme helps define the design and layout of your site. There are hundreds of free and paid options — a bit of browsing will lead you to the right fit for your online business. 
Here are some questions to ask of the theme you choose:
Is it mobile responsive? Check the theme demo and ensure that it looks great on desktops, tablets, and mobile phones. This is critical both for your site visitors and for search engines.
Does it integrate seamlessly with WooCommerce? Most themes are eCommerce-ready, but double check to ensure they'll offer a great experience.
Does it provide the level of flexibility you need? Some themes are more plug-and-play, allowing you to just switch out the content and have a ready-made site. This is an excellent option for beginners, but doesn't allow for as much customization. Others work essentially as a framework — these can have a bit of a learning curve, but allow for endless design styles.
Can you edit it easily? If you're not a developer, avoid themes that require coding to make them look the way you want. Instead, choose one that relies upon the WordPress Block Editor for drag-and-drop content creation. Some even include demos that you can import as a starting point.
Does it include support? Make sure that the one you choose includes support in case you run into any issues. Free themes typically include a support forum, while premium themes often have a ticketing system. If you choose a free theme, visit the forum to see how regularly the developer responds and how helpful they are. 
Is it updated regularly? Look for a theme that's updated to meet the latest WordPress requirements. This is important for both functionality and security.
For more considerations, read our post about how to choose a theme.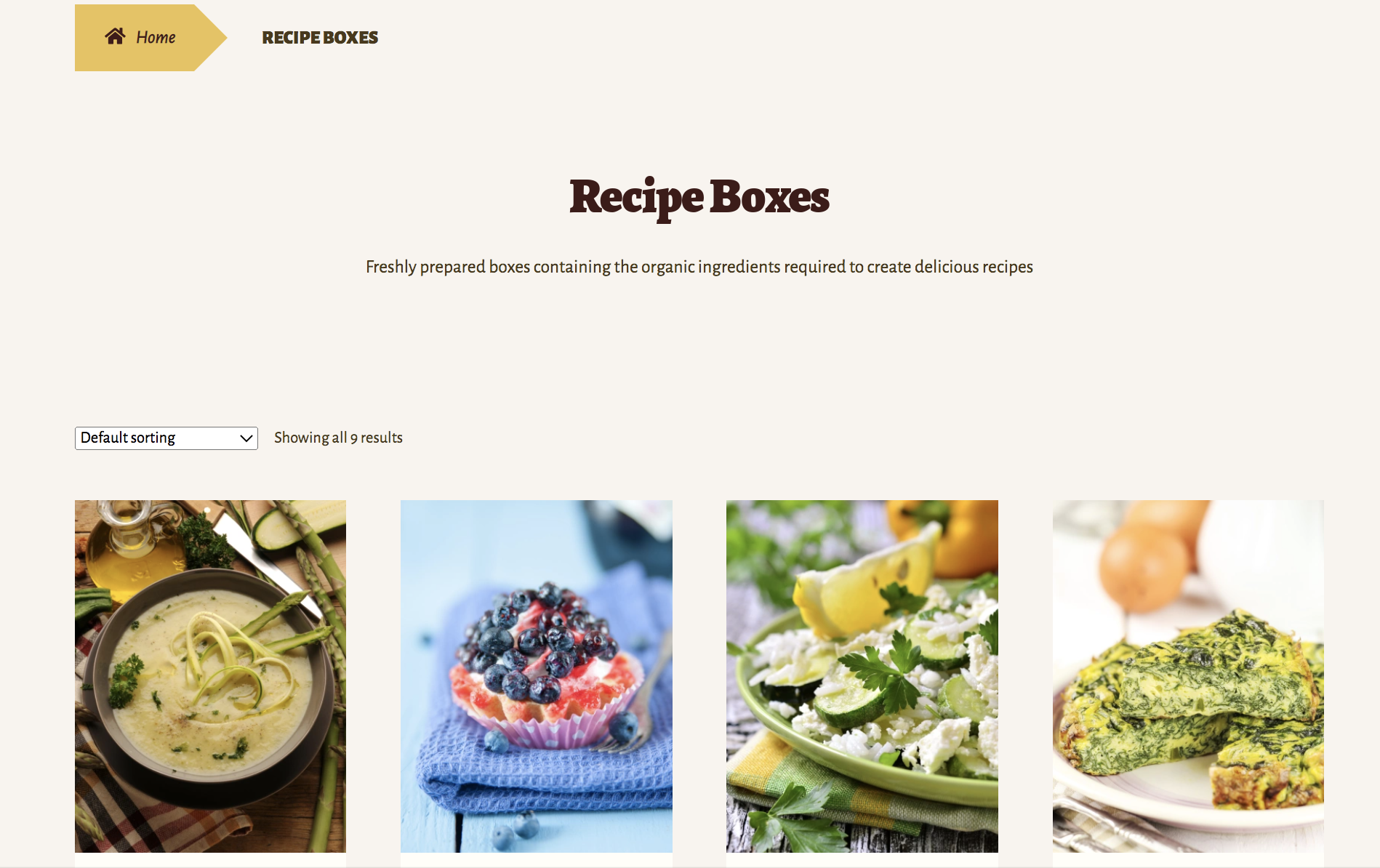 Looking for a good starting point? The Storefront theme and Block Shop theme are excellent options for modern, clean sites of any kind. 
But there are also themes designed around specific purposes. For example, the Hotel theme is great for accommodations, the Bistro theme has features perfect for food shops, and Artisan was created with handcrafted products in mind. 
Check out our full theme library for even more options.
Choose a payment gateway
A payment gateway is what processes credit card payments and transfers the money to your bank account — you may have heard of PayPal or Stripe, two common options. WooCommerce integrates with more than a dozen payment gateways, so the setup process is seamless. 
When choosing one, ask these questions:
What fees do they charge? Are they per payment or per month?
How easy do they make the checkout process for customers?
Do they keep customers on your site or redirect to their own platform?
Do they accept international currencies?
Do they allow for recurring payments?
How quickly can you access the money you earn?
How do they handle payment disputes?
Consider the specific needs of your business. If you sell subscriptions, you'll need a gateway that accepts recurring payments, but if you only need to take one-time payments, that won't be required. 
One great option is WooCommerce Payments, a free extension that enables you to manage payments, refunds, and more right in the same dashboard where you manage the other parts of your store. Plus, it includes top-notch features like multi-currency support, express pay options, and instant transfer capabilities. 
Ultimately, this means a smoother process for your customers, more conversions, and easier management for you and your team.
Learn more about choosing the right payment gateway.
Set up taxes
Depending on your local regulations, you may need to charge sales tax. While you can define your own tax rates using WooCommerce default settings, an extension like WooCommerce Tax automatically determines the correct sales tax based on the city, state, and country you ship to. Plus, it's free to set up.
We touched on this briefly earlier, but you may want to work with a professional to determine the exact setup for your situation.
Extend your store
The WooCommerce marketplace has hundreds of free and premium extensions that offer additional functionality for your online store. Here are just a few things you can do with extensions:
There's no end to the possibilities to fit your business model! And each extension includes detailed documentation and unrivaled support, so you'll never find yourself wondering what to do next.
Build website content
Now it's time to build the content of your site, the information you'll use to sell your products and bring back customers time and time again.
Create pages
Pages contain the key content of your website — information about you, your store, and your policies. While the exact pages will differ based on your products, mission, and target market, there are a few pages that every website needs:
A homepage summarizing your company and offerings.
An about page with information about your business, mission, and history.
A contact page to help customers get in touch.
An FAQ page with answers to common questions.
A privacy policy page for details about how you handle customer data.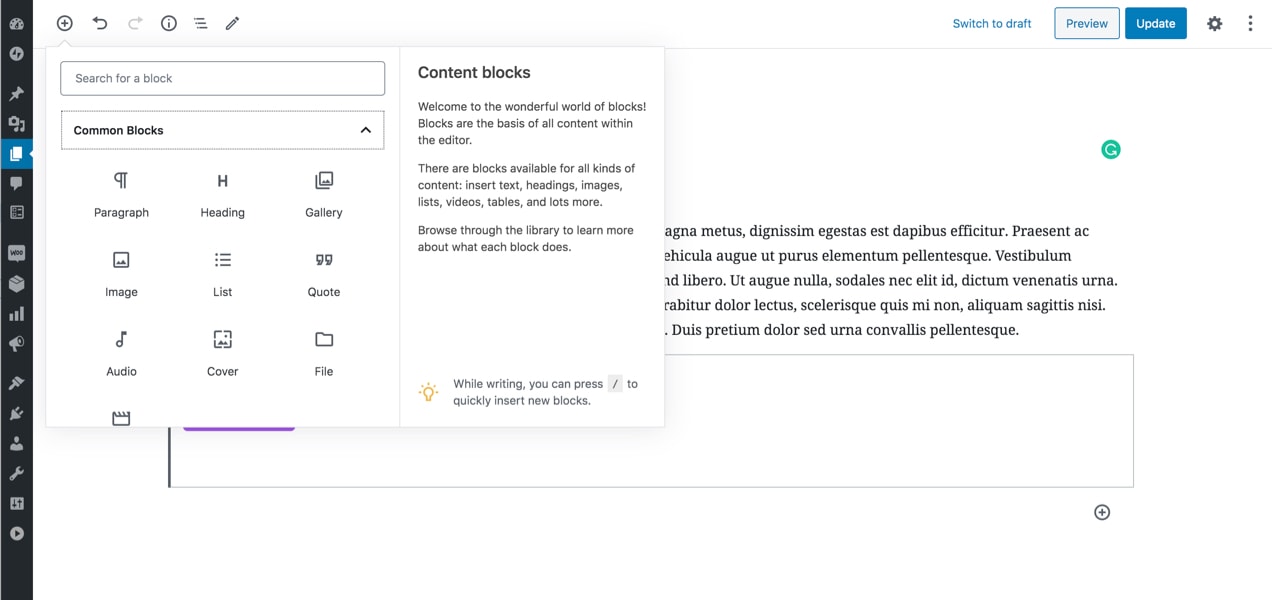 Use the WordPress Block Editor to add text, images, videos, buttons and more to your pages. You can either scroll through the block library to find the element you're looking for, or search for something specific. 
There are also block patterns that you can use to create beautiful, ready-to-go sections (e.g. a pricing table, FAQs section, or product grid.
See the full documentation for step-by-step details on creating pages.
Create products
Unlike pages, products aren't created with the Block Editor. Instead, they contain specific settings for selling online: prices, inventory levels, sizes, categories, etc. You can add products to pages in order to display them to customers on your site.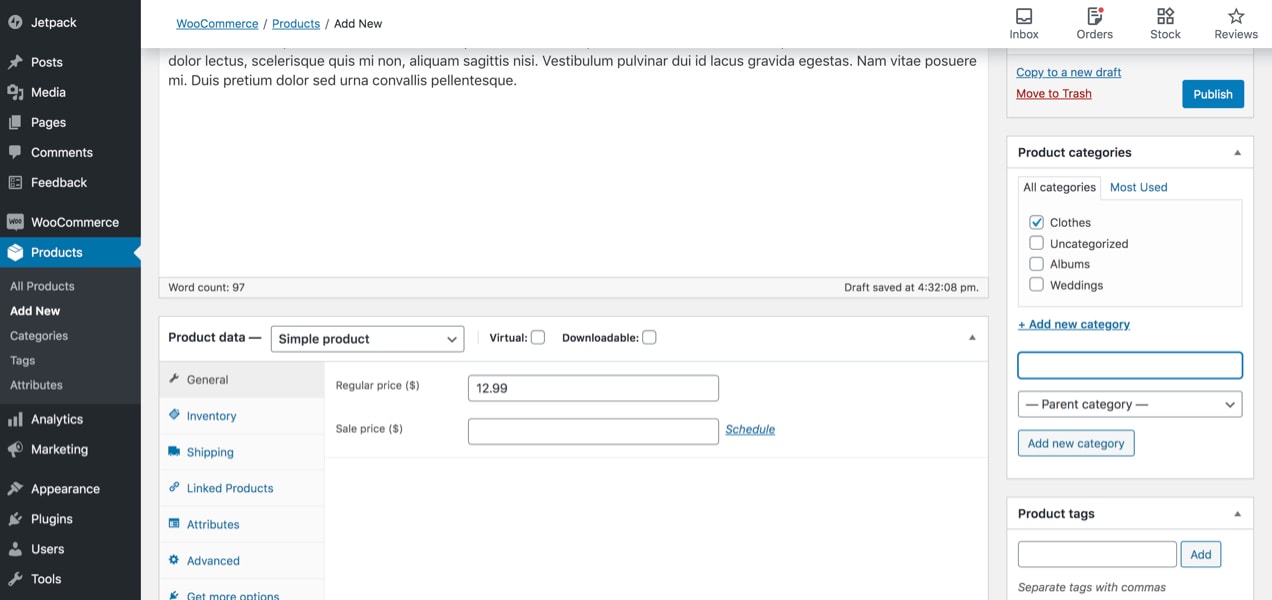 There are several types of products you can set up, including:
Simple products: straightforward products with no options, like a book.
Variable products: products that have options that customers can choose from, like a t-shirt with multiple sizes and colors
Virtual products: items that aren't physical. These can be digital downloads, like eBooks, or things like services and consultations.
Downloadable products: virtual products that customers can download, like eBooks, templates, and music files.
Subscriptions: products that customers can order on a recurring basis, like subscription boxes or maintenance plans. This product type requires the WooCommerce Subscriptions extension.
Memberships: products that provide access to members-only content, discounts, products, and more. This product type requires the WooCommerce Memberships extension.
Bookings: reservations for specific dates and times, such as hotel accommodations or jet ski rentals. This product type requires the WooCommerce Bookings extension.
For a simple product, for example, you can add information like the product title, description, price, sales price, inventory level, and shipping weights. You can also add a primary image and gallery images, and set related products to recommend to shoppers. 
The best part? There's no code required at all! Learn all the details of creating products in our documentation. 
If you sell services rather than physical products, the setup process is very similar. Learn more about selling services with WooCommerce.
Want a professional to take care of all this for you? Our WooExperts marketplace is full of vetted agencies ready to help! You can filter them based on time zone, budget, and more to find the perfect fit for your needs.
5. Ship products and fulfill orders
Once your online store is almost ready to go, your next step is to determine how you're going to manage and ship products. 
Here are some things to consider:
Inventory management
How do you want to store products? Since you won't have a brick and mortar location, you'll need some other way to handle this. Options include:
Self-storage. Store products at your home or place of business. This is great for new or small businesses but, of course, can get a bit overwhelming as you grow. You probably don't have space for hundreds of items in your garage!
Traditional warehousing. Store products in a dedicated space like a warehouse or storage unit. This gives you more space and control, but is more expensive than self-storage.
Dropshipping. Store products with a third party, who will also manufacture and ship them to customers. This is an affordable solution, but you lose a lot of control over product quality, delivery speed, and packaging. See the pros and cons of dropshipping.
Print on demand. You send your designs to a third party, who prints them on products like t-shirts, mugs, and stickers as customers order them. This can be a very affordable and easy way for artists and designers to start an online business. But, again, you lose some level of control. Learn more about print on demand.
Then, take the time to set up an inventory management system that ensures you never sell an item that isn't in stock. That may involve simply staying on top of the inventory that's listed online or syncing your warehouse with your online store so everything's always up-to-date. Here are a few tips for improving your inventory management.
Shipping
If you sell physical products, you need to get them to customers safely, quickly, and affordably. You can set fixed prices, offer free shipping, or charge based on factors like weight, size, distance, or delivery speed. You can even automatically pull in live, updated rates from common carriers like USPS, UPS, or Fedex.
To create your ideal shipping setup, follow these three steps:
Get to know shipping methods and fulfillment options.
Decide on a shipping strategy.
Implement your shipping strategy using WooCommerce and any necessary shipping extensions.
This is another thing that's going to be very particular to your online business and target market. However, almost any store can benefit from the WooCommerce Shipping extension, which simplifies the entire process. 
It enables you to print shipping labels directly from the WooCommerce dashboard, and even secures you hefty discounts from USPS and DHL.  
After you get your shipping details figured out, spend some time considering your packaging. If you sell breakable items, make sure they're protected during the shipping process. 
If you sell perishable items, make sure to pack them with dry ice or ship using refrigerated trucks. Packaging is also an opportunity to delight your customers — consider branded boxes, thank you notes, and fun surprises.
6. Market your products
You're almost ready to officially start your small business online! It's time to get your products and business idea in front of potential customers. There are lots of marketing methods, and it'll take some trial and error to find the right combination for your products and target audience. 
Here are a few common (and effective!) options:
Finding the right marketing strategy can take time and experimentation, so don't get frustrated if you don't see positive results right away! Focus on reaching your target market with relevant, useful content and you'll make an impression that will lead to sales.
Start selling online 
As an online store owner, you can do what you love, solve customer problems, and connect with people who love the same things as you. And starting a successful online business doesn't have to be complicated — WooCommerce provides all the tools and information you need to launch your store and reach new customers.
Get started with WooCommerce or get to know fellow store owners at a meetup near you.