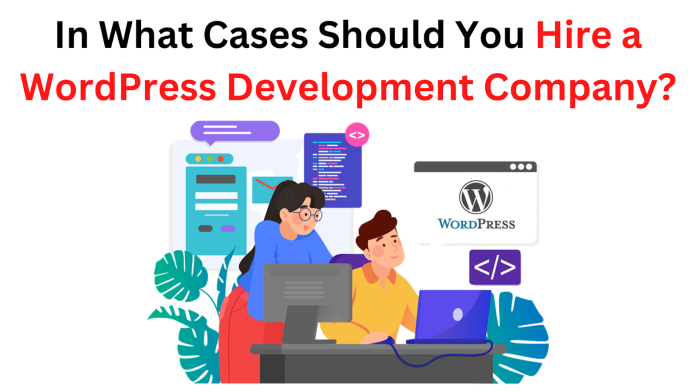 WordPress powers over 43.2% of websites on the internet, making it the most popular content management system worldwide. Started as a blogging platform, it has evolved a lot in the past few years and now can be used to develop any kind of web solution, whether it is a business site, eCommerce web solution, enterprise-level sites, and others.
The quality of your website largely impacts your business growth and is a major source of establishing a reputable online presence. If you don't have know-how about WordPress development, a professional WordPress development company can help you in creating a high-performance and user-friendly WordPress site.
Let's see the cases when you should hire a WordPress development partner for your business
When You Have a Complex Project
In the case of having a large, complex project with custom features, hiring a development partner is worthwhile to handle it. Their team of professionals can tackle the most challenging projects and can deliver high-quality results. 
A complex WordPress development project that requires 100% customization to meet your unique needs can be achieved by a competent WordPress developer. As you go about doing this, it is good to outline your project's goals and objectives, such as what you want to achieve to improve your business growth. 
When You Have Less Time and Resources
Building and maintaining a web solution takes proper time and resources. In such a case, a WordPress developer can reduce this burden. They can free you from handling the development part to focus on other vital aspects of your business. 
An experienced WordPress professional focused on delivering quality work. As well-experienced, they are already aware of the challenges and the solutions that consume less time to develop your WordPress website. So, by hiring them, you can expect quality work delivered on time with user-friendly features.
When You Require Special Expertise Like Custom Theme/Plugin Development
By hiring a WordPress development company, you will not be required to compromise your web development requirements. 
However, WordPress offers various themes and plugins to fit into your business website. Still, when it comes to custom WordPress development, a company can personalize and optimize your WordPress website or web app. 
So, with a WordPress developer, you will have expertise in different areas like custom plugin development, theme customization, and third-party integrations. Whatever expertise you require, a company can bring that into your web development project. 
If You Want to Improve the Performance and Security of Your Website
A skilled and certified WordPress developer focuses on re-rendering high-quality work. It will result in efficient, scalable, and robust website development. A professional company provides you with support to ensure that everything on your site keeps running smoothly. 
Moreover, they can develop the site by keeping security features in mind ensuring that your web solution is free from security issues. With regular maintenance, they can keep your site up-to-date and secure. 
To Upgrade an Existing Website or Web App
Suppose your current website is not performing well or is outdated; in such a case, you can hire a WordPress development company. They can help you improve its performance or upgrade it to a newer WordPress version.
To Migrate Your Existing Website into WordPress
Apart from upgrading the site, you can also hire a WordPress development partner to migrate your existing web solution into WordPress. 
Now, after going through the various cases of hiring a WordPress development company, let's see how to hire a reliable one for your business.
How to Hire a Reliable WordPress Development Company?
Be Aware of Your Needs First
The foremost step before hiring a WordPress development partner is to be properly aware of your website development needs. If required, do brainstorming and take various references to determine the kind of web solution you require for your business. Then, make a list of your requirements and document them to explain what you actually want to develop for your business.
Consider Their Portfolio
After properly getting aware of your needs, the next step is to visit their website and check their portfolio to get an insight into their past work. It will provide you with an idea of their work quality. Look for the features and functionalities of their site to understand whether they can cater to the requirements you want for your business or not.
Check Their Social Proof
After visiting their portfolio, now the time is to check their credibility. To do this, you can visit different reviews and ratings platforms like Clutch, Goodfirms, and many others. Content posted on these platforms is either from their past clients or from any third-party individual that somehow dealt with the firm. From their client satisfaction to on-time delivery, you will get a lot of information by considering such feedback.
How Unique Their Web Solutions Are?
Do they just make ordinary sites or consider the latest WordPress development trends during development? How can you understand that? You can do it by asking them for the latest WordPress development project they have delivered. Then, check whether they are incorporated with current trends or not. It will let you understand their expertise in WordPress website development. 
Post Development Support
Now, one more significant thing to consider is the company's post-development support. Suppose there is a scenario after your website launches, like encountering various issues related to responsiveness, performance, and others. If you are a non-technical guy, whom will you contact in such a situation? 
There will be a need for post-launch site support. So, hire a WordPress development partner that can fix your site issues even after your development contract ends.
Conclusion
It was all about when you should hire a WordPress development partner and how you can do that. Remember, a website can help you reach your business to new heights of success, so making it perfect is somehow a vital thing to perform. 
In this regard, hiring a competent WordPress development company can help you achieve your website development objective. By catering to your WordPress development requirements well, they can help you develop a unique WordPress web solution for your business.
Author Bio
Adam Parker is a web developer at HTMLPanda – a reputable WordPress development company. He loves to read about learning new technologies and sharing information on the internet by writing articles and blogs.