Are you wondering whether it's safe to install and use an outdated WordPress plugin?
Sometimes when you are searching for a plugin to add a new feature to your website, you may find one that looks perfect, but it hasn't been updated for a while or hasn't been tested with your version of WordPress. Often times this leads to beginner readers asking the question can I use it without breaking my website?
In this article, we'll discuss how to determine whether or not you can safely install outdated WordPress plugins.
How Do WordPress Plugins Become Outdated?
A WordPress plugin can become outdated if it hasn't received any updates for a while, or if it hasn't been tested by the plugin author to ensure it's compatibility with the latest 3 major releases of WordPress.
We always recommend our readers to keep the plugins in your WordPress website up to date. These updates keep the plugin compatible with changes made to WordPress core, add new features, fix bugs, and address security vulnerabilities.
But what if a plugin that you are using or want to use hasn't been updated for some time? Or what if it hasn't been tested with the latest version of WordPress? Is it still safe to use?
The short answer is, it depends on the plugin.
Sometimes outdated plugins simply will not work correctly with newer versions of WordPress. Or the plugin may have even been abandoned by the developer, so that no new features will ever be added.
The biggest concern with outdated plugins is that there may be security issues that can come up. If the plugin isn't maintained or updated, it might become a target for hackers.
However, just because a plugin is outdated doesn't mean that it has any of those issues. Some outdated plugins are perfectly safe to use. However, we recommend that you thoroughly test the plugin before installing it on your live site.
With that being said, let's take a look at how to tell if a WordPress plugin is outdated, and how you can decide whether it is safe to install.
Checking Whether a Plugin Is Outdated
The WordPress Plugin Directory displays a lot of useful information about each plugin. For example, it clearly shows the date each plugin was last updated, and the latest version of WordPress it was tested with.
If a plugin has not been tested for several versions of WordPress, then a warning will be displayed at the top of the plugin page, similar to this one:

This plugin hasn't been tested with the latest 3 major releases of WordPress. It may no longer be maintained or supported and may have compatibility issues when used with more recent versions of WordPress.

Where does WordPress get this information? Plugin authors are required to provide it in a readme file when submitting plugins to the WordPress plugin directory.
Unfortunately, busy developers don't always update the readme file when a new WordPress update is released. Sometimes a plugin was tested more recently than its plugin page shows.
Now that you know how to check if a WordPress plugin is outdated, let's take a look at how to tell whether it is safe to install.
Checking Whether an Outdated Plugin Is Safe to Install
Just because a plugin hasn't been updated or tested recently doesn't mean that it won't work. How can you tell if the plugin is safe to install on your WordPress site?
Check User Ratings and Reviews
You can click on the 'Reviews' tab on the WordPress Plugin Directory to see user opinions and complaints about the plugin. If there is a compatibility problem with a recent version of WordPress, then other users may have mentioned it on this page.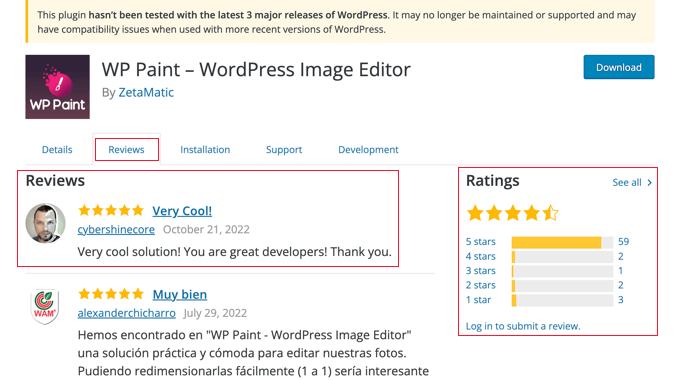 You can also check the user ratings. If the reviews are recent and five stars, then it's safe to assume that you can use the plugin on your website.
Check the Plugin Support Page
When you click the 'Support' tab, you will be taken to the support forum for the plugin. Here you can see any issues that users have been having with the plugin.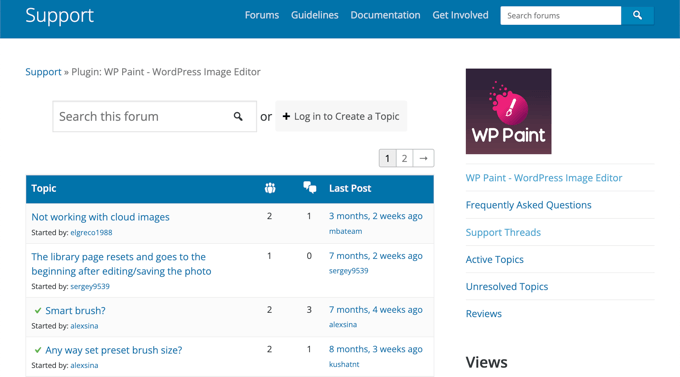 You will also see how responsive the plugin's developer is, and whether they successfully solve issues in a timely manner.
If you decide to install the plugin, this is where you should come if you need support. You can learn more in our guide on how to properly ask for WordPress support and get it.
Check the Plugin Development Page
Another way to check whether it's safe to install the plugin is by going to the plugin development page. This shows you how active the plugin developer is.
Simply go to the WordPress plugin page and click on the 'Development' tab.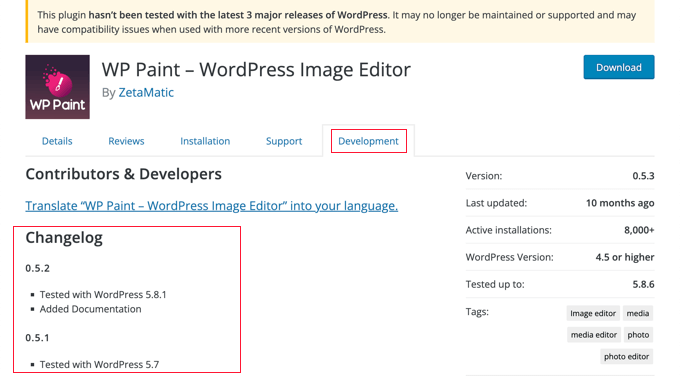 In particular, take a look at the 'Changelog' section to see how often the plugin is being updated and what recent changes and improvements have been made.
If the developer is actively updating the plugin, then it usually means the plugin is high quality and safe to use on your WordPress website.
On the other hand, if a plugin hasn't been updated in more than two years, then it may mean the plugin has been abandoned. In that case, you shouldn't install the plugin since the developer is not actively maintaining it.
Check for WPBeginner Tutorials on the Plugin
You can also check whether the plugin is safe to install on the WPBeginner blog. You can look for tutorials on the plugin by navigating to the Blog » WordPress Plugins page or by using the search feature.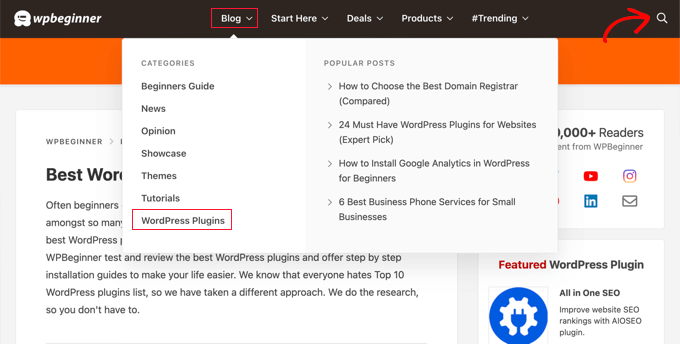 If we recently published a tutorial on a plugin, then this means the plugin was compatible with the latest version of WordPress when we tested it.
Testing the Plugin on a Staging Site or Local WordPress Installation
Let's say that you've gone through the steps above and decided that an outdated plugin looks safe to install. What should you do next?
Instead of immediately installing the plugin on your live site, you may wish to first test it on a staging site or local WordPress installation.
A WordPress staging site is a test site that you can use to safely test a plugin for problems before going live.
The staging site lives on your web hosting server, so you can be confident that if the plugin works there, you won't encounter problems on your live site.
Some of the best WordPress hosting companies such as Bluehost, SiteGround, and WP Engine offer one-click staging websites. You can also create a staging site manually or by using a plugin.
You can learn how in our guide on how to easily create a staging site for WordPress.
As an alternative to a staging site, you can install WordPress on your own computer and test the plugin there. You can follow our guides on how to install WordPress locally on Mac or Windows, or using XAMPP.
If the plugin works fine on your test site, then it's safe to install it on your live website.
Final Thoughts
While it's not a good idea to use outdated plugins, sometimes the plugin you're looking for is the only one that does what you need. In that case, you will need to do your due diligence as we mentioned in our guide.
Other things you can look for is author's reputation. If it's a popular plugin author, then you can email them and ask whether they have plans to update the plugin.
Some plugins are so simple that they don't need any updates, and this is why the author may not push out an update because they know it still works. The popular Page Links To plugin is a good example of that.
It's written by one of WordPress core contributors, Mark Jaquith, and the plugin has been around for a long time. It doesn't need any active development because it does one thing and does it well. So even though it shows the outdated error on WordPress.org, this plugin would be something that you can safely install.
The downside though is that if you were hoping to have more advanced redirection features, then it's going to be lacking in the plugin which is why many users switch to the All in One SEO plugin because it includes this feature and many more powerful SEO features in the plugin.
We hope this tutorial helped you learn whether it's safe to use outdated plugins with WordPress. You may also want to learn how to register a domain name for free, or check out our expert pick of the must-have WordPress plugins to grow your site.
If you liked this article, then please subscribe to our YouTube Channel for WordPress video tutorials. You can also find us on Twitter and Facebook.