Stocking your store with high-quality, desirable products is only half the battle. Shoppers also need an easy way to discover what you sell.
Fortunately, it's possible to climb the Search Engine Result Pages (SERPs) and potentially claim that number one spot on Google. By applying Search Engine Optimization (SEO) techniques to your online store, you can increase your visibility and your sales.
In this post, we'll discuss what SEO is and why it's vital for every online store. We'll then cover the SEO basics for eCommerce sites. Let's get started! 
What is SEO and why is it important?
SEO is the process of improving your website's visibility on search engines when people are actively looking for what you have to offer. 
This involves fine-tuning your site's performance, security, and navigation. It also requires on-page optimization. The first step is to identify the words and phrases that you want to rank for, called "keywords." You'll then use these keywords in your store's headings, image alt tags, and other prominent areas. 
SEO is a big task, but it can draw huge amounts of traffic to your store. In fact, 98 percent of people use a search engine every month. And it's estimated that Google users perform over 3.5 billion searches every single day.
You can examine your traffic using a tool like Google Analytics. Chances are that organic search will be a top source.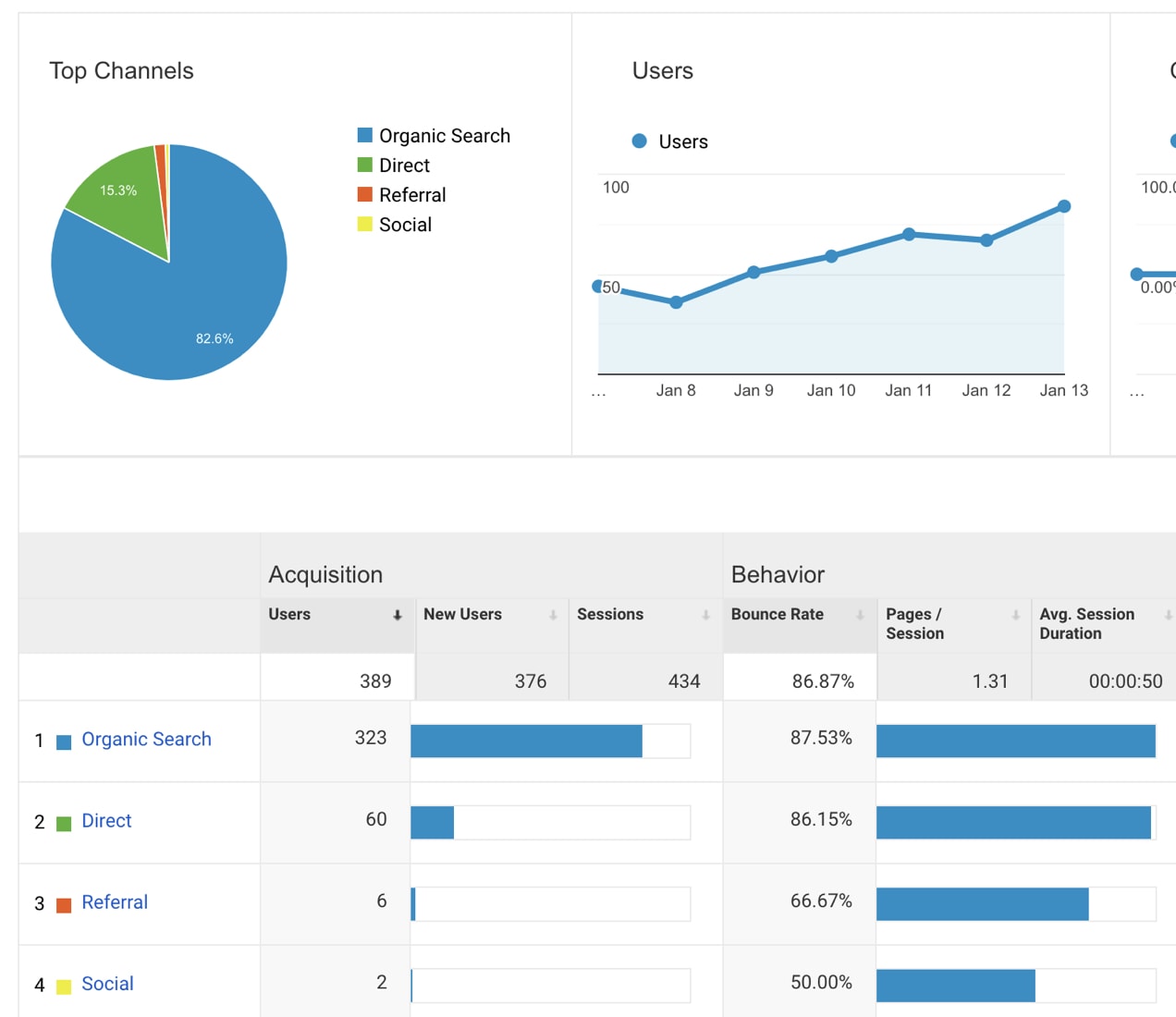 If you successfully fine-tune your site, you may experience a boost in traffic. This can translate to more sales. 
According to research, 39 percent of online purchases are influenced by a relevant search. In addition, most stores can attribute over 40 percent of their revenue to organic traffic. 
And perhaps the best news of all: you can do much of the work to achieve organic rankings on your own and it doesn't require a continual advertising budget. If you're looking to boost sales on a shoestring budget, SEO is a great option. 
How does SEO work?
Search engines use a combination of crawlers, indexes, and algorithms to determine where your content will appear. The process starts with 'crawling.' This is where search engines send bots to discover new and updated content.
Whenever bots discover fresh content, they add it to a database known as an index. Every time someone performs a search, the engine will scour its index for content that matches this particular query. 
The search engine will then arrange this content in an attempt to resolve the searcher's query as efficiently as possible. This process is known as ranking. 
When it comes to determining your content's ranking, search engines consider lots of different factors, including the user experience. As part of this process, they examine important metrics like bounce rate and click-through rates (CTRs).
Google has recently placed a renewed focus on performance, with the launch of Core Web Vitals. This project measures how users perceive the speed, responsiveness, and visual stability of a webpage. While it's difficult to decipher exactly how search engines rank content, we recommend that you pay special attention to your store's performance. 
An introduction to SEO terms
Let's take a look at some of the most common terms you'll hear when it comes to SEO.
Keywords: The words or phrases that potential visitors enter into search engines. If you sell handmade cat onesies, you'd want to show up when someone searches that phrase on Google. 
Alt text: A description used by search engines to understand images. Screen readers also read alt text aloud to those with visual impairments so they can understand the picture.
Meta description: The short preview (usually 155-160 characters) that Google shows underneath your page title on the results page. This is your chance to convince a searcher to click through to your page. So include an enticing summary, your target keyword phrase, and even a call to action for people. 

Page title: The title of your page or post, shown in the search results. Google typically displays 50-60 characters.
Backlinks: When an external site links to your eCommerce store. Search engines count these backlinks as an endorsement of your store's content, making them a valuable addition to any optimization strategy. 
Internal links: Links between two different pages of your eCommerce store. These links can help visitors find related content and can therefore boost ranking criteria like session duration. They also help Google better understand how your content is related.
Ranking factors: Criteria used by Google to determine rankings. These include the content on the web page itself, the number and quality of backlinks to your site, and technical aspects like the user experience — speed, security, and how your pages are structured.
Choosing the right keywords
If you're going to excel at SEO, it's vital that you use the right keywords. This means identifying the words that people use when searching for content that's related to your store.
You may already have a few keywords in mind, like your most popular products or the brands that you stock. These can be a great starting point for your keyword research. You can enter these words into a tool like Semrush's Keyword Magic or Keyword Overview.
These tools will then display the average search volume for each keyword and suggest some alternatives. This can help you pinpoint potentially lucrative words and phrases.
When performing keyword research, it's important to keep search intent in mind. As an online store, it's smart to focus on transactional search queries. These are queries that users make when they're looking to purchase. For example, it typically makes sense to target budget laptops for sale, rather than budget laptops. 
Additionally, you'll want to avoid using keywords that have very few searches. If no one is interested in a particular keyword, then it's unlikely to deliver significant traffic.
Instead, we recommend focusing on highly specific keywords that have a decent search volume. As a general rule, the more popular the term, the greater the competition. With this in mind, you'll want to evaluate how difficult it will be to beat sites that currently rank for these keywords.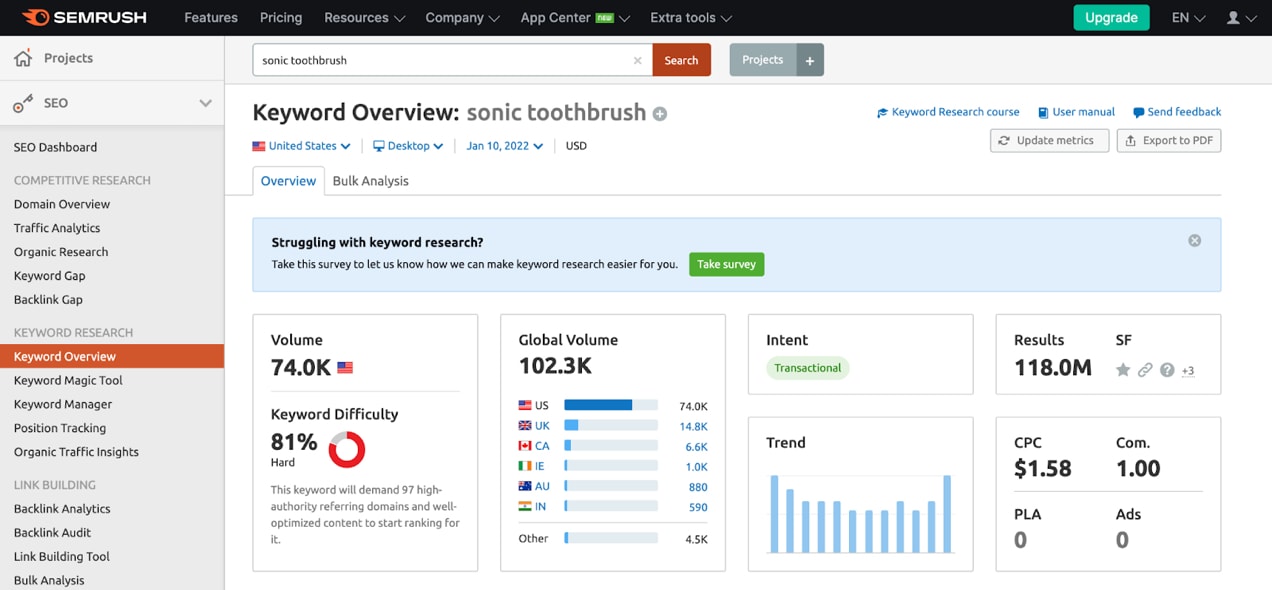 For most eCommerce stores, it makes sense to opt for keywords that have a decent search volume and low competition. 
Optimizing pages and products for your keywords
Once you've identified the keywords that you want to rank for, you can use them throughout your content. This will signal to the search engines that your content is a good fit for these keywords.
Most pages start with a title. While this is a perfect opportunity to include relevant keywords, the title also needs to convince visitors to check out your content. It's unwise to prioritize keywords at the expense of creating an eye-catching title.
WordPress automatically generates a URL based on your page's title, but you'll want to optimize this link by removing common stop words, like the, an, and that. These words contribute little to your SEO, and eat into your character allowance.
You can optimize this URL in the WordPress settings panel. Simply click to expand the Permalink section, and you're ready to edit the link.

When shopping online, customers cannot physically touch your available items. To compensate, you'll want to provide lots of high-resolution product photos. But you'll also need to add alt text to these images so search engines know what they are.
When adding alt text, we recommend including keywords wherever possible. This will help search engines understand the image's content, which increases its chances of appearing in relevant Google image searches. However, the most important thing is that your alt text is descriptive. Remember: screen readers also read alt text aloud to people who have visual impairments, so you want them to be able to understand the images as well.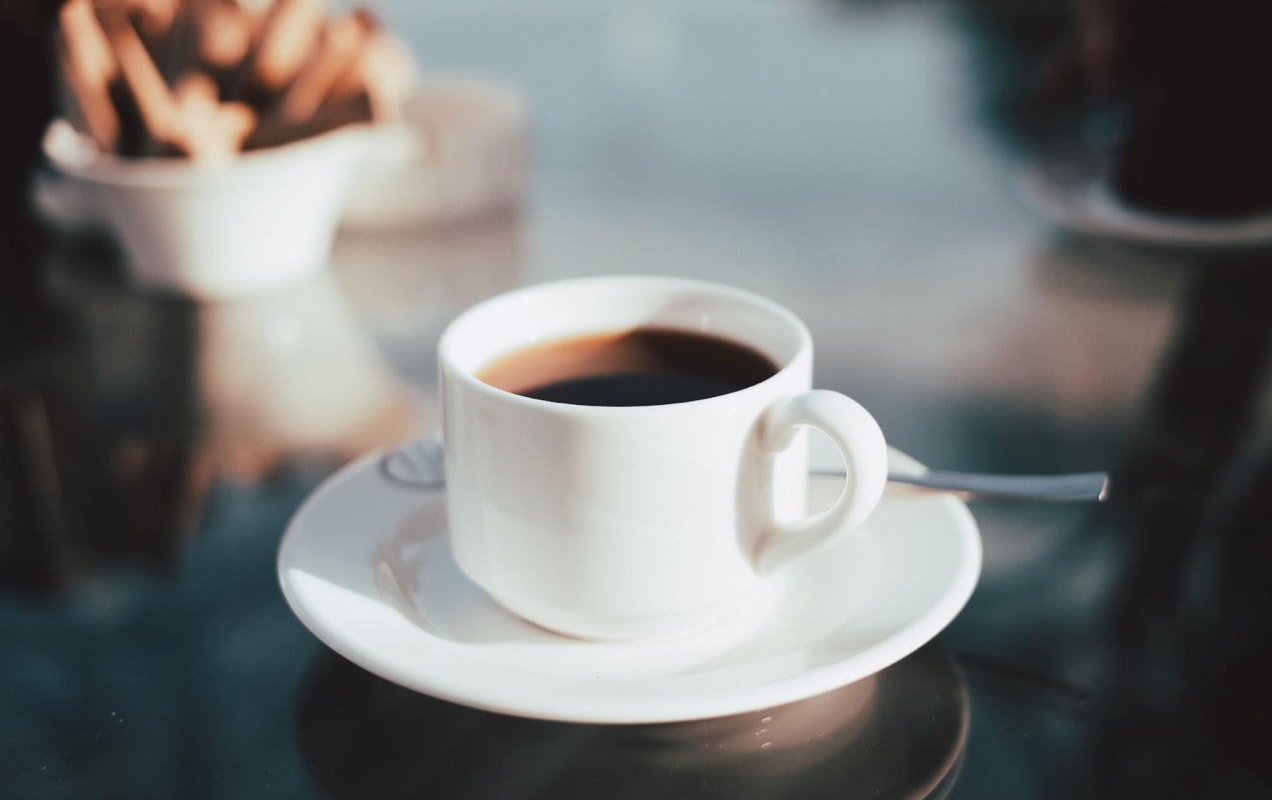 For example, you might use the following alt text for the image above: A reflective glass table with a short white coffee cup filled with black coffee, sitting on a white saucer.
You can add alt text inside the WordPress media library.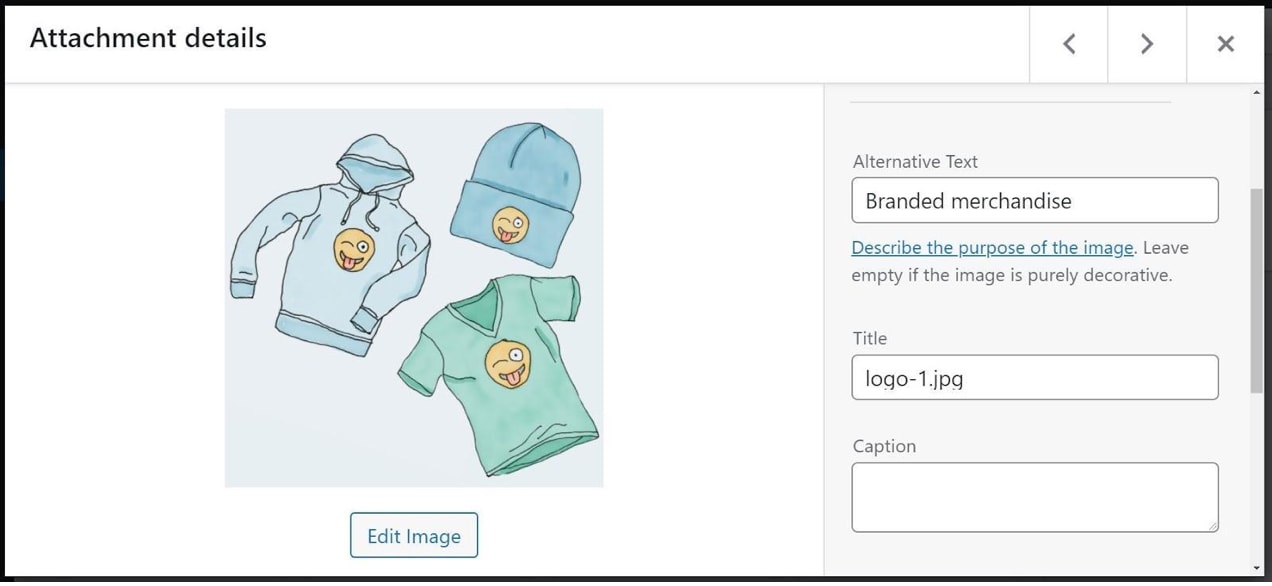 Alternatively, you can add this text after embedding an image in the WordPress editor. Simply select the image in question and click on the Block tab.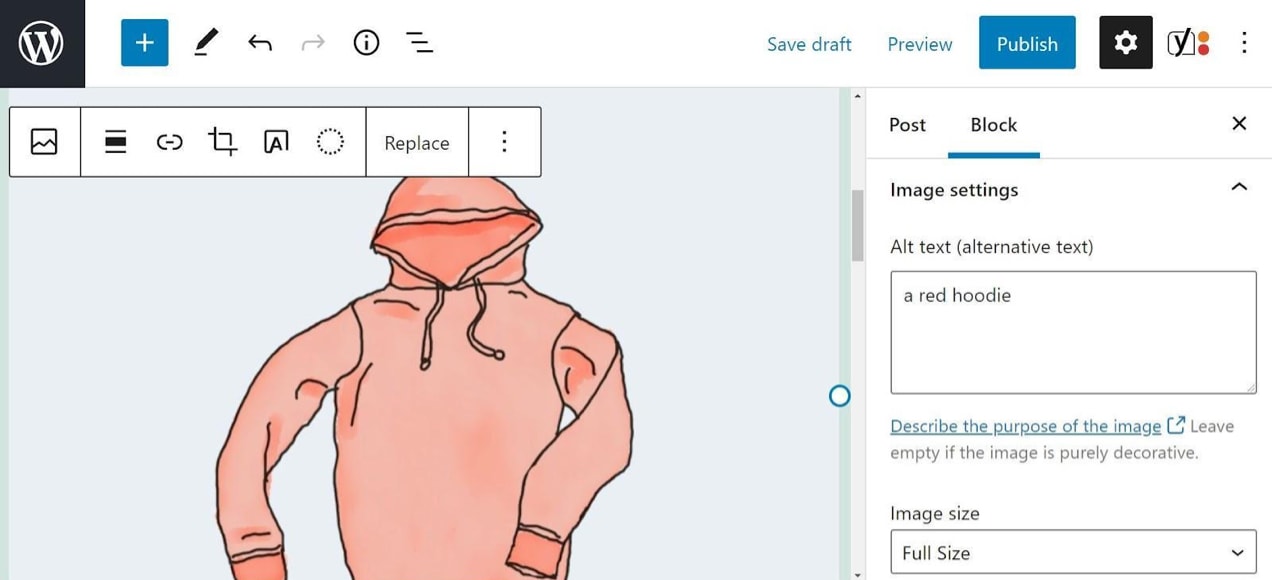 Next, click to expand the Image Settings section. You can now add your alt text. 
1. The Yoast SEO plugin
WordPress offers plenty of SEO features, but you can get even more control over your on-page optimization, using a tool like Yoast SEO.
Yoast adds a new section to the WordPress page and post editor. Here, you can add your target keyword.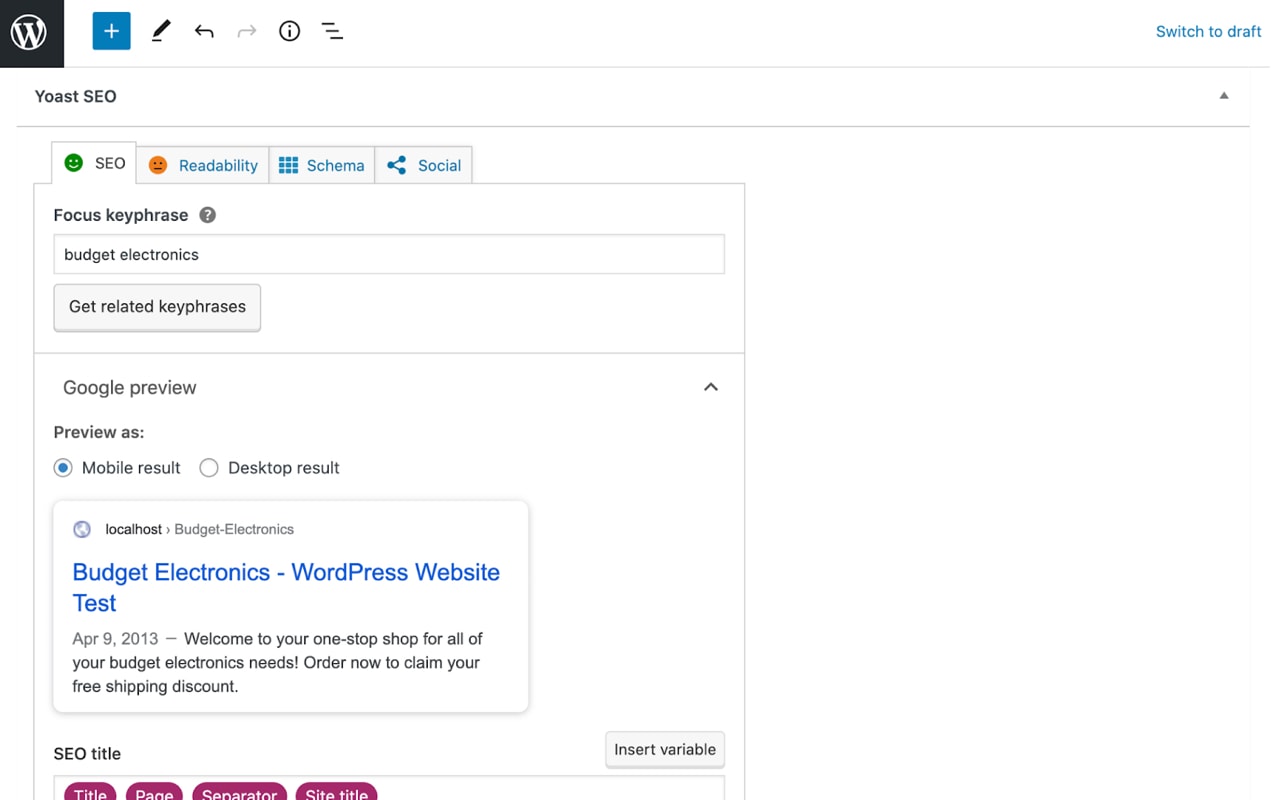 You can then modify your on-page SEO to target this phrase. This includes adding a custom meta description that features your keyword.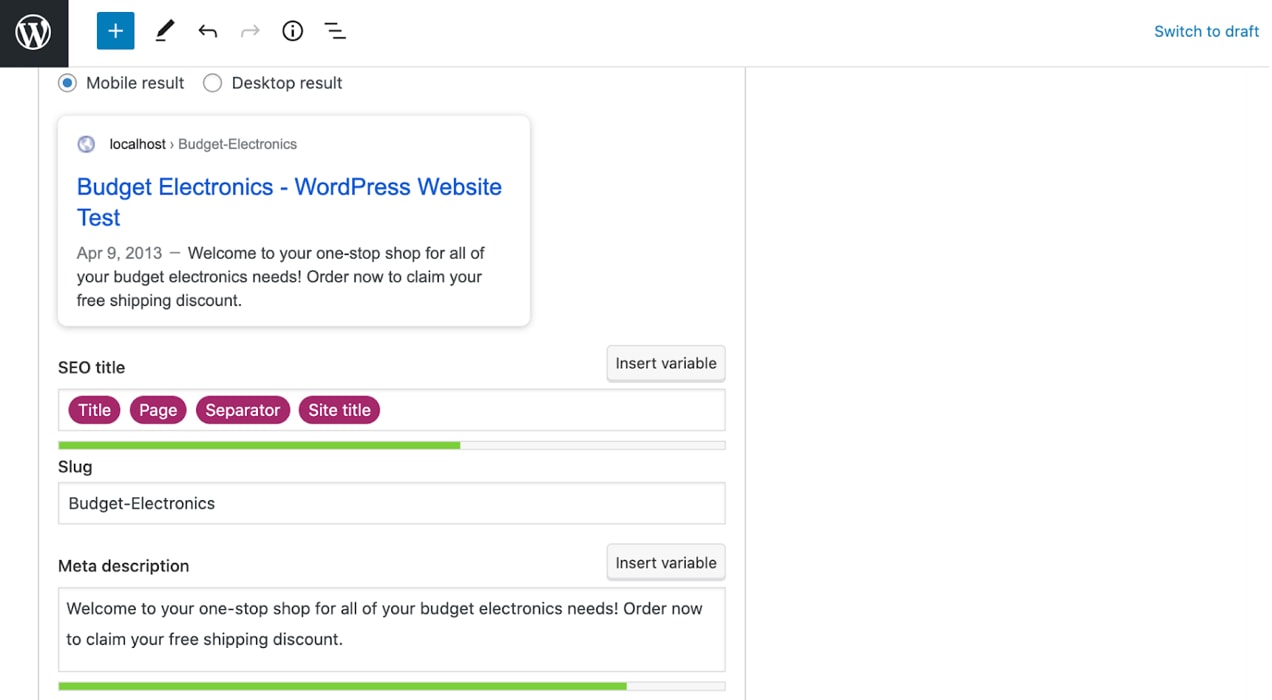 This text will appear in the SERPs, so it also needs to appeal to your target audience. Therefore, you may want to highlight incentives like low prices or free shipping. 
Yoast SEO also provides suggestions for how to improve your ranking and displays your keyword density.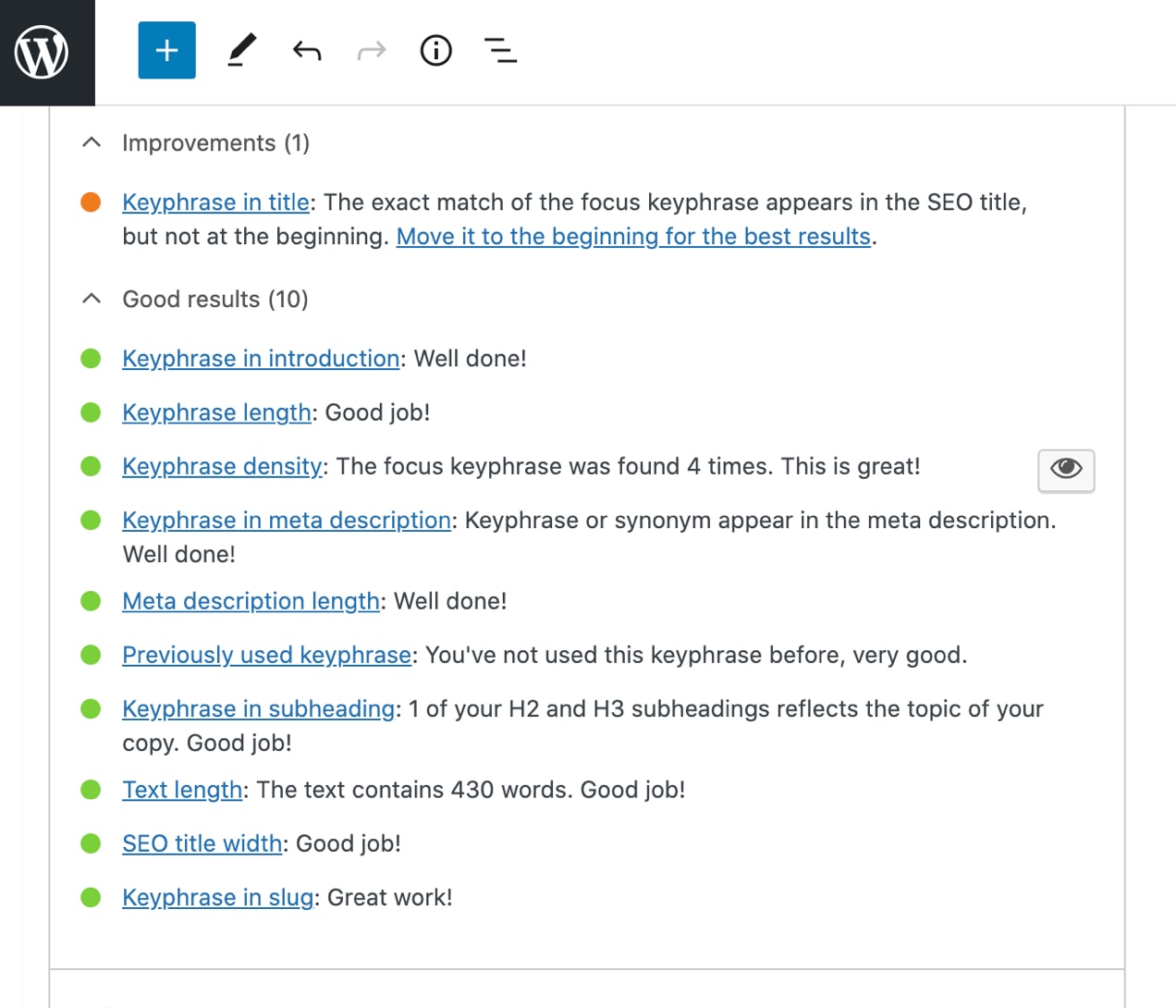 This is the number of times your focus keyphrase appears in your copy, compared to the total word count. For the best results, you'll want to meet Yoast's recommended keyword density.
2. The Jetpack plugin
The Jetpack plugin comes with powerful functionality. This includes features that can help you optimize your site.
As previously mentioned, your site's speed plays a huge role in your search engine rankings. Jetpack comes with a Content Delivery Network (CDN) that can deliver your content from the server that's geographically closest to the shopper. This can reduce latency and cut your page load times.
Search engine algorithms also hate spam. If your comment section is flooded with spammy content, then it may impact your ranking. The good news is that Jetpack can also examine incoming comments and place any suspected spam into an approval queue. 
Finally, Jetpack Boost is a free feature that can instantly improve some of the technical aspects that impact user experience. As Google puts more emphasis on this when determining rankings, it will continue to grow in importance for SEO best-practices. Jetpack Boost optimizes your site's CSS structures, defers non essential javascript, implements lazy loading images, and more. 
Basic SEO dos and don'ts
SEO is a huge topic that spans many different areas. With this in mind, here's a quick guide to the crucial SEO dos and don'ts.
Do: Publish frequent, relevant content
By consistently publishing great content, you can build a library of unique information that shows Google you're an authority on a given subject matter. Google's goal is to serve results to searchers that will be the most useful to them. If your site has the largest library of information about cat-themed onesies, Google will be more likely to send people to your store when they make a related search. 
A consistent publishing schedule also demonstrates that you're regularly contributing valuable, unique content to the web — another quality signal for Google. 
Do: Optimize your site for speed
Google has used site speed as an official ranking signal since 2010. You can check your site's overall performance using a tool like PageSpeed Insights. 
There are many steps you can take to boost your site's performance. This includes choosing a hosting provider that prioritizes speed and installing a caching plugin like WP Super Cache. You can also use the Jetpack tools we mentioned above, like their CDN and lazy loading features.
Do: Add an SSL certificate
Secure Sockets Layer (SSL) is a protocol that encrypts the information exchanged between the customer's browser and your store. This can prevent malicious third parties from stealing sensitive data, including payment information. As an online store, an SSL certificate is essential for protecting your customers.
Most modern web browsers display a padlock whenever a site is using SSL. This can encourage visitors to trust your store, which is great for conversion rates.  
Although ranking criteria can be difficult to decipher, Google has confirmed that they use Hypertext Transfer Protocol Secure (HTTPS) as a ranking signal, which results from having an SSL certificate.
Many hosting providers include an SSL certificate as part of their offerings. Alternatively, you can generate a free Let's Encrypt certificate and add it to your site using Really Simple SSL. 
Do: Build links
Having lots of external links from respected third-party websites will pass authority, relevancy, and trust to your store. This can boost your position in the SERPs. 
The best way to earn backlinks is to produce engaging and shareable content, like videos, quizzes, and infographics. You can also perform a link gap analysis, using Link Explorer's Link Intersect tool. This is where you identify domains that link to your competitors. You can then reach out to these sites as part of your link-building strategy.
Internal links can also impact your SEO. A logical internal linking structure makes it easy for customers to find related content. This can boost session duration and the number of pages visited per session. According to SEMrush, these are two of the most important ranking factors. 
Don't: Stuff keywords
Keyword stuffing is the practice of loading your content with keywords in an attempt to manipulate your store's ranking. This can damage the customer experience, particularly if you use these phrases out of context, or repeat them in a way that feels unnatural. 
Most search engines use algorithms to sniff out websites that engage in this blocklisted technique. If you're found guilty, then expect to drop in the search engine rankings. Google may even remove you from their SERPs completely. 
Yoast SEO will warn you if your keyword density is too high. You can then take action to resolve this problem, like replacing instances of your primary keyword with synonyms.
Don't: Focus too much on bots
It's difficult to pinpoint all of the criteria that search engines use to rank content. They're also prone to changing their algorithms.
While it's tempting to try and crack the code, you'll often get far better results by focusing on the user experience. For example, cutting your page load times will boost your Core Web Vitals score. 
Even if your improvements don't directly impact your SEO, a good user experience encourages people to spend more time on your site. This will contribute positively towards your position in the SERPs.
Don't: Forget about security
Search engines want to keep their users safe. Therefore, any malicious activity or content can undo all of your SEO wins.
Fortunately, there are plenty of WordPress security tools that can protect your site against hackers, including Jetpack. This plugin boasts protection against brute force attacks, which occur when a malicious third party bombards your login page with hundreds of username and password combinations. It also offers features like automatic updates, malware scanning, real-time backups, an activity log, and two-factor authentication. 
How to increase eCommerce sales with SEO
If you're lagging behind in the search engine results, then you're almost certainly missing out on sales. By optimizing your online store for Google, you can climb those all-important search engine rankings and increase your revenue.
Keyword research is the cornerstone of any successful SEO strategy. To help you identify high-converting keywords, we recommend using a tool like Keyword Overview. You can then deploy these phrases throughout your content, including your URLs, meta descriptions, and the alt text of your images.
For more SEO advice, check out SEO tips for eCommerce stores and our advanced guide to product-based SEO. If you're trying to drive more local customers to your store, then you may be interested in our ultimate guide to local SEO.