26
Mar
2021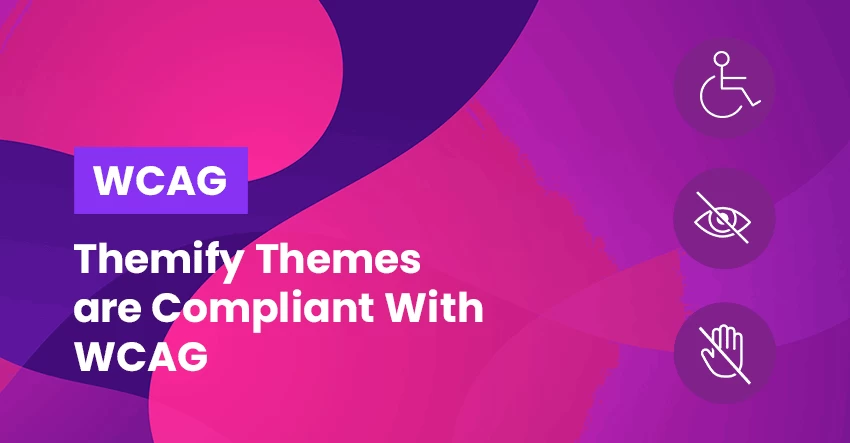 For any users creating a website, accessibility should always be prioritized as part of your process from the very beginning. Themify has put significant efforts to ensure that all of the themes are WCAG compliant, paying special attention to accessibility in theme design. By being compliant with WCAG (Web Content Accessibility Standards), users using Themify themes can be assured that they can build and maintain a website that is compliant with the accessibility standards.
What Is WCAG and Why It Is Important
The WCAG is part of a series of accessibility guidelines which are published by the Web Accessibility Initiative (WAI) of the World Wide Web Consurtium (W3C) which is the leading standards making body for the Web. An overview of these guidelines can be accessed at W3C, explaining how to make web content more accessible to everyone, especially those with disabilities.
Although we know that the WCAG is the gold standard or benchmark in accessibility, it is also very important to understand that conforming with the WCAG may be required by the law and that site's owner may get fined if it fails to be compliant. The Standard on Web Accessibility in Canada requires the adoption of WCAG 2.0 across its websites and Web applications. The WCAG 2.0 states: "Following these guidelines will make content accessible to a wider range of people with disabilities, including blindness and low vision, deafness and hearing loss, learning disabilities, cognitive limitations, limited movement, speech disabilities, photosensitivity and combination of these. Following these guidelines will also often make your Web content more usable to users in general."
Accessibility legislation in the United States also ensures equal opportunity for people with disabilities, as covered in the Americans with Disabilities Act of 1990. According to the Information and Communication Technology (ICT) Standards and Guidelines, electronic content shall conform to Level A and Level AA Success Criteria and Conformance Requirements in WCAG 2.0. Equivalently, the European Union also passed regulations and requires that "the public sector bodies take the necessary measures to make their websites and mobile application more accessible" as set out in Article 4 of the Web and Mobile Accessibility Directive. This is further justified in the European Accessibility Act, aiming to provide regulations and administrative provisions in regards to web accessibility using WCAG guidelines.
With WCAG being upheld to provide an acceptable level of accessibility, it is important for websites providing information to the general public to be accessible, and compliance to WCAG is the best way to achieve that goal. 
How to Check if Your Site is Compliant With WCAG 
Even though the HTML code output by Themify themes are WCAG compliant, it is still recommended to audit your site with the compliance tools because there might be content inserted by you or other plugins are violating it. Below are some checker tools that you can use to audit your sites.
Accessibility Features in Themify Themes
Beside of being accessibility compliant, we've also added a few nifty features to make our themes better.
Tab Keyboard Navigation – With keyboard navigation, you can navigate the site without using a mouse. You can press the tab key to go through the links on the page. The tab key navigation works on our themes' dropdown menu and mega menu.

Skip To Content Link – The skip to content button is visible when you press the tab key. It allows you to jump to content area without having to scroll.

Link Focus Outline – Link focus outline indicates when the link is on focus state. We offer an option to have no outline, thin or thick outline.