If you own a service-oriented business and want to sell services online, you'll find an array of different solutions that can help. It can take a while to sift through them all and find the right one for you. You may even wonder if the benefits are worth the learning curve, hassle, and expense. But if you're looking to save time, grow your business, and improve your customers' experience, there's really no better way to do so than with WooCommerce.
Offering clients the ability to browse your services, book appointments, sign up for subscriptions and memberships, and make payments through your website can streamline your administrative process, help you get paid more quickly, and improve client satisfaction. However, if the platform and tools you are using are too limited or not quite the right fit for your business model, you may end up with more pain than progress.  
WooCommerce, on the other hand, provides a highly customizable solution for almost any service-based business. Read on to learn how to sell services with WooCommerce and expand the functionality of your store to best serve your clients.
The benefits of using WooCommerce to sell services
It offers customizable design and functionality
There are many great reasons that you should use WooCommerce to sell services online, but chief among them is its flexibility and extensibility. You can create virtually any design and add endless functionality to your website thanks to WooCommerce's extension library and database of experts. You can build a stunning, customized solution tailored to your specific audience.
You can keep everything in one place 
Rather than using several different platforms to manage your business, you can control all of it from your WordPress dashboard. Edit your website content, add posts to your blog, and manage your clients' payments without switching windows. And, if you also sell physical or digital products, you can see all of your orders on the same screen. This means less confusion, fewer mistakes, and an easier workflow.
For more detailed client relationship management, you can install Jetpack CRM. Designed specifically to work with WooCommerce by the people behind WordPress.com, the Jetpack CRM extension helps you manage your leads, customers, quotes, invoices, and transactions all from within the WordPress dashboard.
Unlike other CRMs, Jetpack CRM doesn't limit the number of contacts or users and the most expensive license is only $17/month (billed yearly).
You can make payments easy for your clients
The easier the payment process is for your clients, the faster you get paid. With WooCommerce, clients can add a service to their cart and check out on their computer or phone, no matter where they're located.
WooCommerce also integrates with all the major payment processing services you may already use, like Authorize.net, PayPal (including Venmo), Square, and Stripe. If you haven't set up a payment processor yet for your business, WooCommerce Payments offers quick checkout and recurring payment processing for a variety of currencies and payment methods.
You can display services more effectively
With WooCommerce you can display and list your services in a visually-appealing way. You can also make it easy for your clients to filter your services and search your store so they can find exactly what they're looking for.
You can upsell and cross sell
Without downloading or installing a single extension, WooCommerce gives you the ability to make suggestions for related services and offer clients upgraded service plans when they're checking out. Learn more about how upselling and cross-selling can boost your revenue. 
It enables you to charge recurring payments
Do you charge monthly for services or put clients on a payment plan? Use the WooCommerce Subscriptions extension to automatically charge your client's account. No more manual invoices or reminder emails!
You can integrate with existing tools
WooCommerce offers its own extensions for many of the things you might need to run your business. Already have tools you love? WooCommerce likely has a quick integration. 
Most major email marketing platforms, payment processors, accounting software, and client management tools have extensions that connect to your WooCommerce store. 
Not sure if your platforms will integrate with WooCommerce? Start by browsing the extension library. If you don't see it there, reach out to your software's customer service team to see if they offer an integration of their own. 
You can also typically use a tool like Zapier to make the connection or check the WordPress.org plugin repository to see if another developer has created something.
That's the beauty of working with WooCommerce – there's always a solution!
How to set up services with WooCommerce
Start by installing WooCommerce on your WordPress website and navigating through the Setup Wizard. This will walk you through the process of selecting a payment gateway, setting up taxes, and other important first steps. In this case, you only need to set up shipping if you're also selling physical products. 
After setup is complete, it's time to create your services. In your WordPress Dashboard, navigate to Products → Add New. In the Product Name field, set the name of your service. Then, add a description and short description in their respective fields. Learn more about writing effective descriptions.
If it makes sense for your services, add an image to the Product Image field on the right-hand side of the page. You can also add more images and a product video to the product image gallery if you'd like to further showcase your services. 
Add categories and tags to help organize your services to make them more easily discoverable by your customers. For example, if you offer photography services, you can categorize them as Newborn Sessions, Weddings, and Headshots.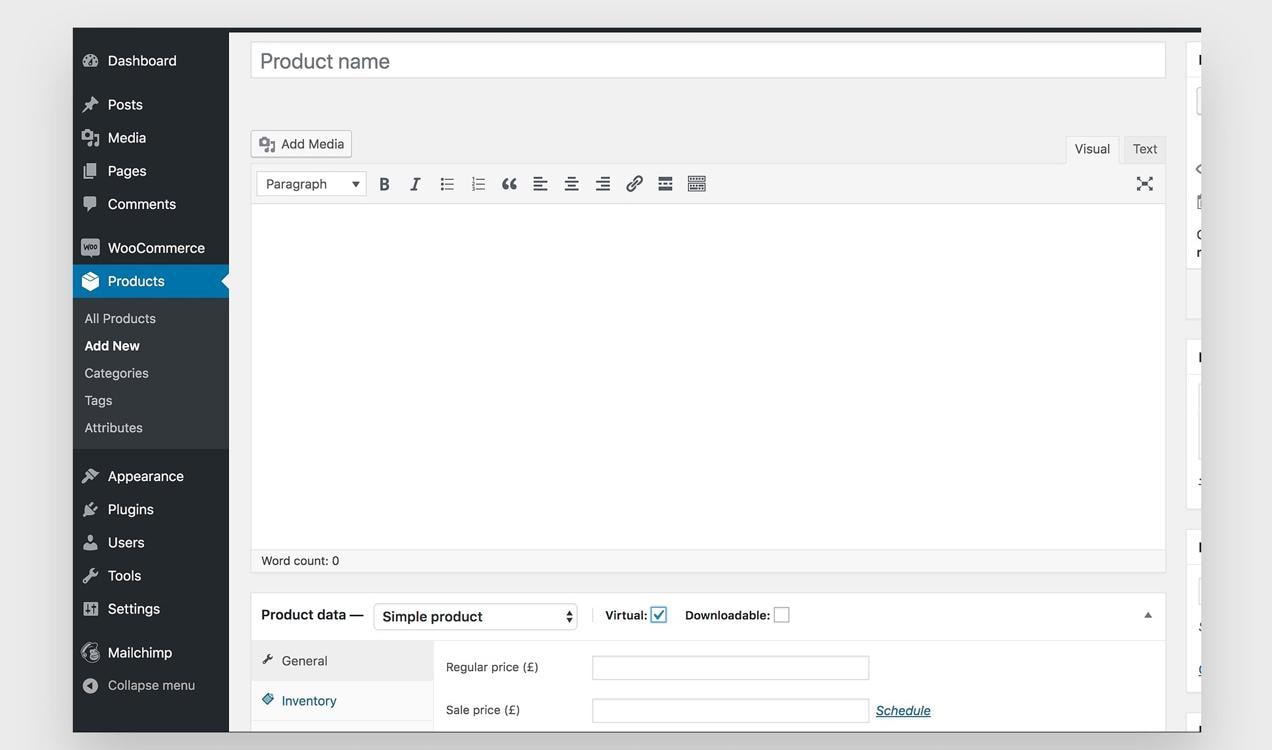 Then, navigate to the Product Data section and check the box beside Virtual. If your service has several options that customers can select from, choose Variable Product in the dropdown box. If not, leave the auto-filled Simple Product. You can use product variations to allow clients to select a term length, type of service, length of time, type of rental, or other options.
In the box titled Regular Price, go ahead and add the price for your service. Or, if you selected Variable Product, follow the steps in this guide.
While there are other service options you can set up, for a basic service offering, you're good to go! Click the blue Publish button in the top right corner.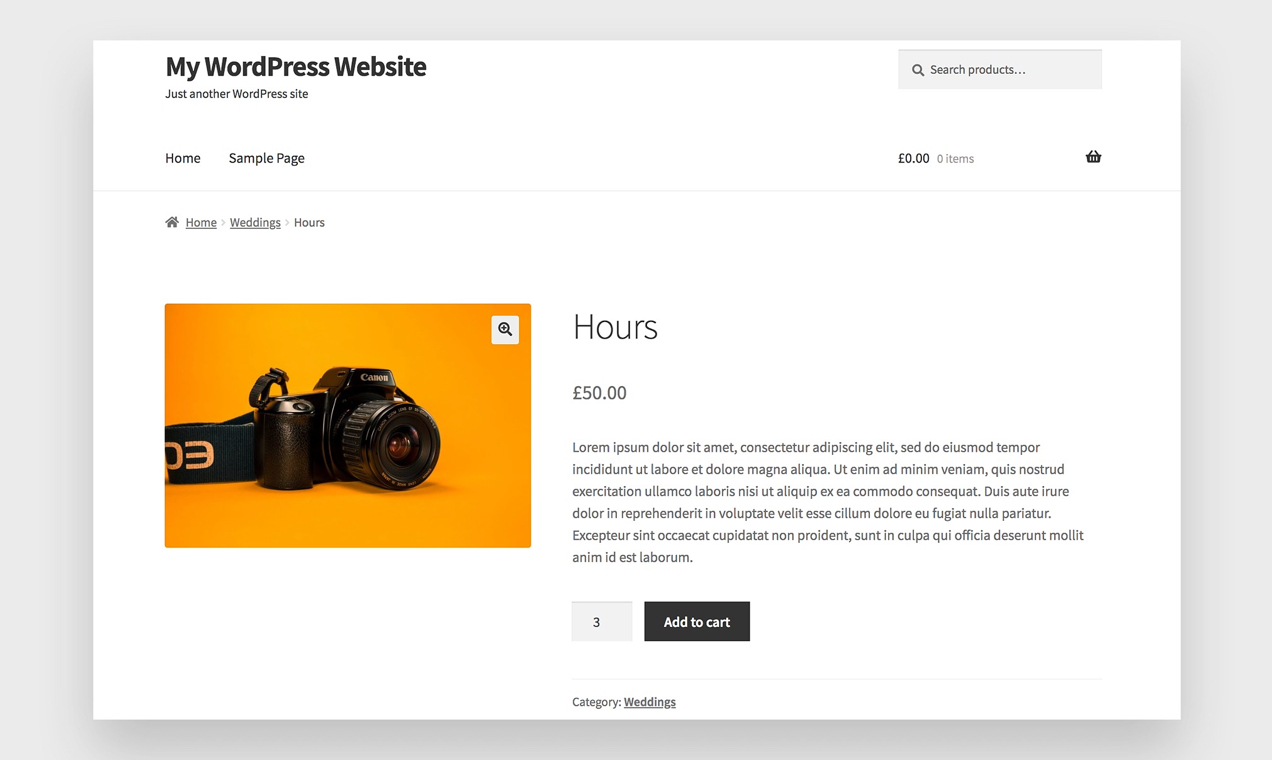 One other option you have is to sell blocks of hours using the WooCommerce quantity field. Let's say you charge $50 per hour and want to allow your customers to buy whatever number of hours they'd like. Create a simple product titled, "Hours," or whatever you'd like, and set the price to $50. When your customers check out, they can use the quantity selector to choose one hour, five hours, or fifty hours.
Choose the layout of your services
WooCommerce allows for virtually endless design possibilities when it comes to displaying the services that you've created.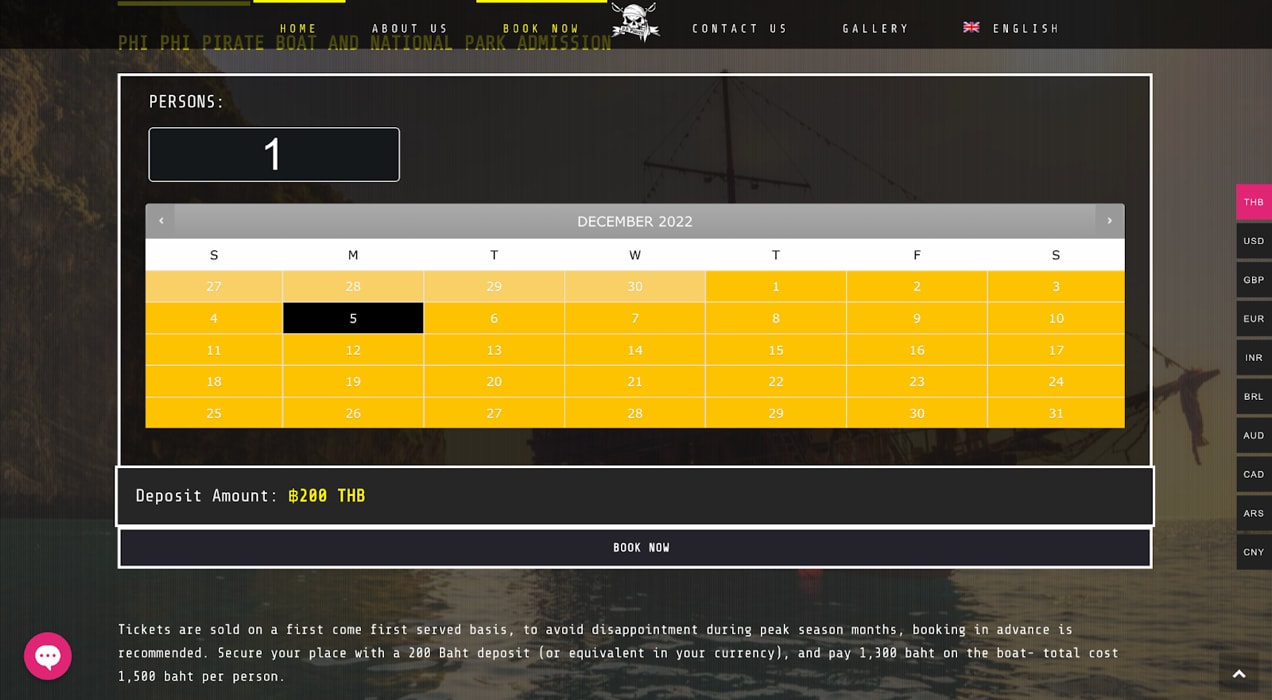 Phi Phi Pirate Boat tours, for example, chose to lay out their reservations in a calendar.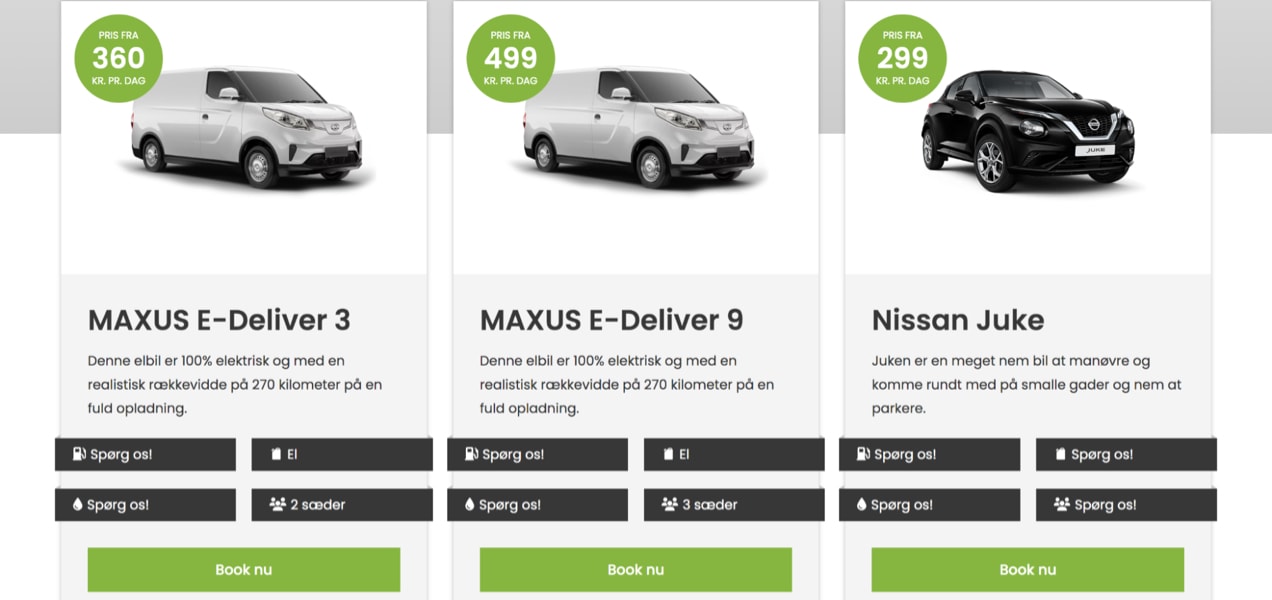 Car2Go went with a grid format instead, which highlights the photos of their available rental cars.
WordPress themes that were built for WooCommerce often provide layouts and settings to showcase your listings. One great option is the Storefront theme, developed by WooCommerce, which even offers a child theme built specifically for hotels and accommodations.
You can also use WooCommerce shortcodes to add your product listings to any page and customize their design without needing to edit complicated code.
If you're looking for an alternative layout and images aren't very important to your offerings, try the WooCommerce Product Table plugin. You can set up easy-to-consume tables of your services and add one-page ordering.
Accepting payments from clients
Whether you're a graphic designer, marketing expert, tour guide, or private chef, accepting payments is an important part of your business. WooCommerce integrates with accounting services like Xero and Quickbooks, which will automatically sync payment data and keep your accountants happy – even if that accountant is you! 
WooCommerce core provides built-in functionality for straightforward, one-time services, but there are a lot of additional ways that you can expand your invoicing and payment functionality to fit your exact needs.
1. Allow clients to name their price
The Name Your Price extension allows your clients to pay an amount of their choosing for your services. So, for example, you can email them a digital invoice with a link to a "name your price" product page. The client can then fill in the amount of the invoice and pay right on your website. There's no need to create individual products for each and every invoice!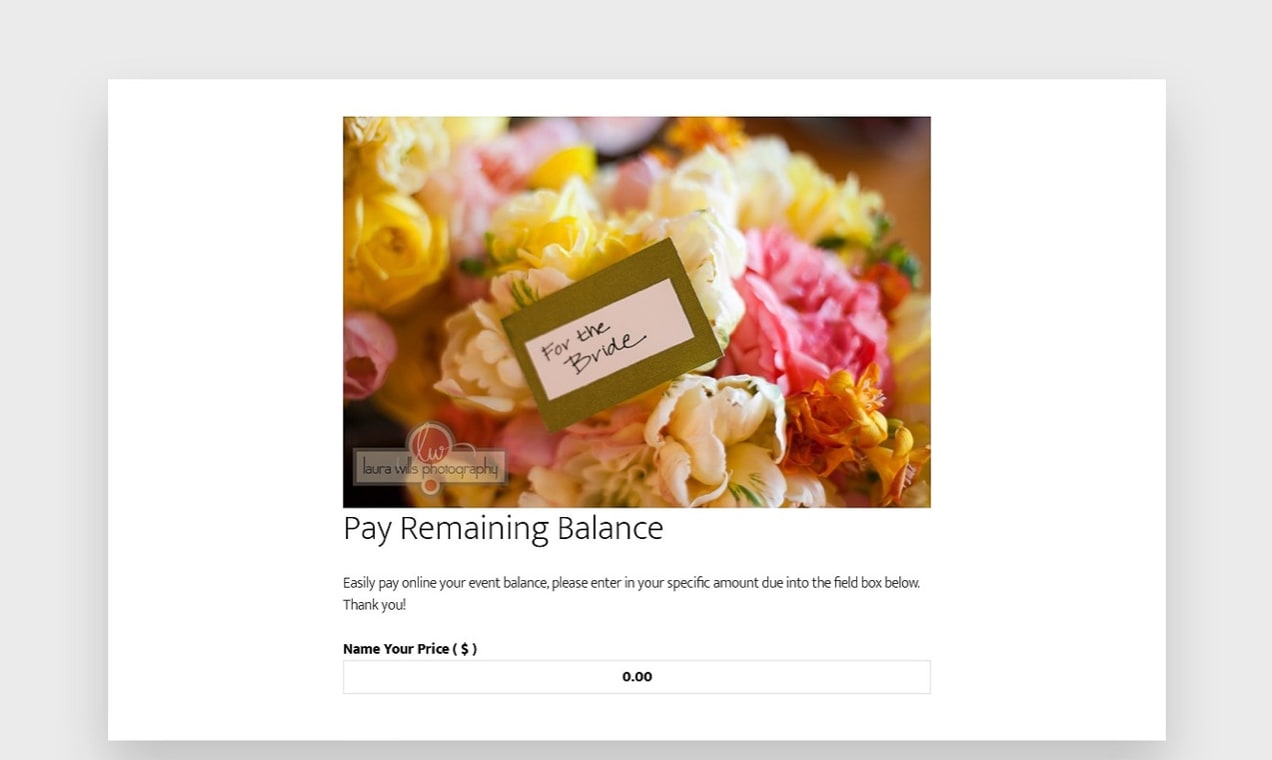 For example, Poppy Floral charges a set deposit for their floral services, then uses Name Your Price to collect the remaining balance. This makes the invoicing and collection process much easier.
2. Send PDF invoices
With PDF Invoices' customizable, branded email invoices, you can automate the billing process. Your clients can log into their account, download, and print previous invoices.
3. Accept deposits
Allow your clients to make a deposit or use a payment plan with WooCommerce Deposits. This is a great option if your clients pay over time or if you require an up-front payment before delivering your services.
4. Offer subscriptions
Do you offer maintenance plans or service subscriptions? Automate recurring payments and avoid the hassle of billing every week, month, or year with WooCommerce Subscriptions. Your clients can also upgrade or downgrade their plan without any effort on your end.
Allow customers to book appointments or accommodations
If you sell experiences, book accommodations, or make appointments with your clients, WooCommerce offers several extensions that were built just for you.
1. WooCommerce Bookings
WooCommerce Bookings adds a booking calendar that allows your clients and customers to pay directly on your site. You can block off dates that aren't available, set a minimum and maximum number of participants, and even offer discounts for certain days or for large groups. Send out reminders that help reduce no-shows and allow customers to cancel their appointment online. 
Plus, WooCommerce Bookings syncs with Google Calendar, so you can keep everything in the same place.
If you're a home inspector, for example, you can use this extension to allow your customers to book appointments based on your schedule. Use WooCommerce Deposits to collect a fee upfront, and then send a reminder to your customer 24 hours before their appointment. You can even make valuable information like warranties available to your customers through their dashboard.
If you're a consultant, your clients can easily book sessions with you based on your schedule, and reschedule if something comes up on their end. The possibilities are endless!
2. WooCommerce Accommodation Bookings
A free add-on for WooCommerce Bookings, WooCommerce Accommodation Bookings is designed specifically for hotels, bed and breakfasts, and other types of accommodations. It allows your guests to book overnight stays in just a few clicks, with full control over check-in/check-out times and special rates for holidays or weekends.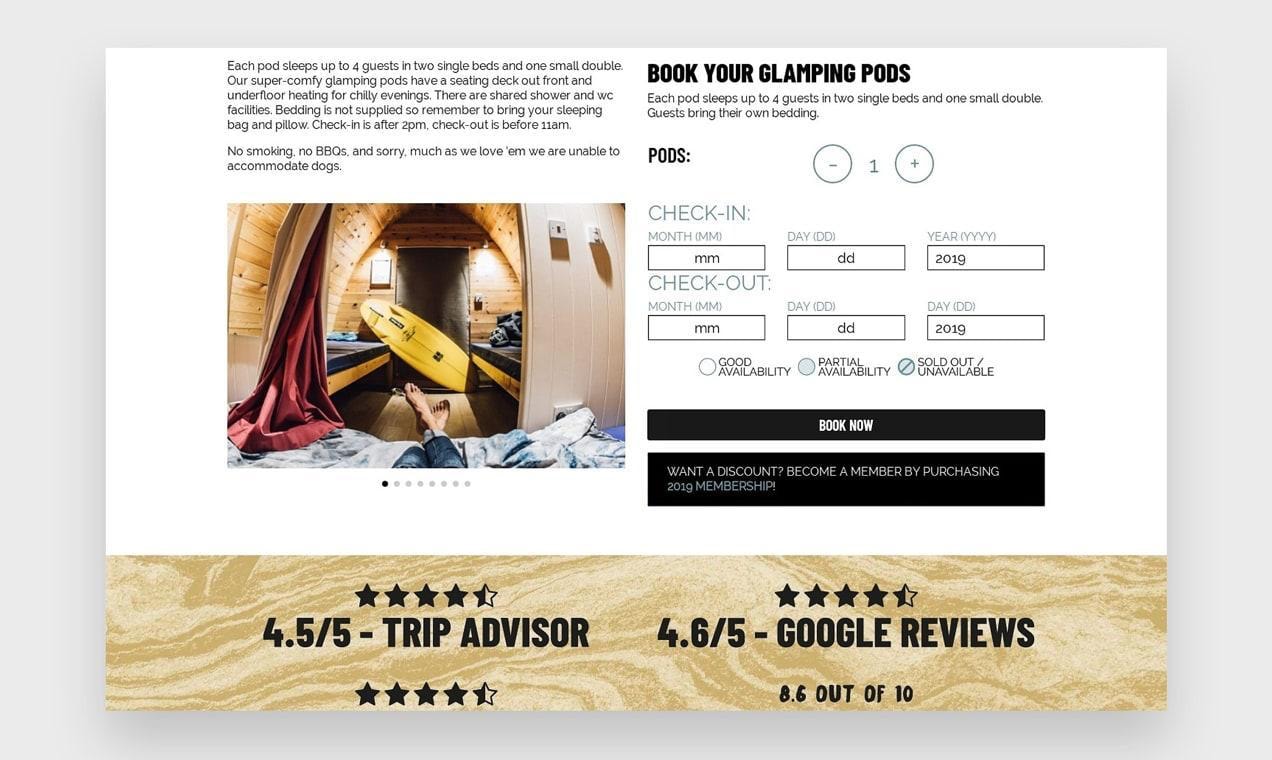 Adventure Parc Snowdonia allows customers to book activities, reserve glamping pods, and even purchase gift cards all in the same place. When someone selects an activity, they can choose between various experience levels and lengths of time. For both activities and accommodations, a calendar is available for visitors to choose their desired dates. It's a seamless, well-designed process that keeps customers coming back.
Market to service-based clients
When you sell services online with WooCommerce, you have full control over marketing to your customers and clients. Reach out to them before, during, and after the buying process with these helpful extensions:
1. Follow-up Emails
Send emails to segments of your customer base with a coupon, sale, or thank you note with Follow-Ups. Set reminders to touch base at a later time and send personalized coupons based on your clients' actions.
2. Social media extensions
Quickly integrate with Facebook, Pinterest, and Instagram using a social media extension. Set up social media ads, list your services on Facebook and Pinterest, and even create a seamless support system with Facebook Messenger directly on your site.
3. Email marketing integrations
WooCommerce integrates with many popular email marketing platforms, including trusted solutions like MailPoet. 
Allow your clients to subscribe to your email list, send targeted emails based on your clients' actions, and encourage them to upgrade their plans or purchase additional services. Segment your audience based on age, gender, amount spent, and more. Analyze your email campaigns by tracking conversions and sales to determine their lifetime value. 
Collect valuable information prior to completing services
If you sell services online, you can collect additional information from your customers before they make a purchase. You might need details about their needs so that you can determine the right solution for them. Or, you might want them to send files, like signed waivers, logos, or website content.
WooCommerce integrates with Gravity Forms, one of the most powerful form plugins available for WordPress. You can create custom forms for your services with radio buttons, checkboxes, file uploads, and more.
These forms can be as complex or as simple as you'd like. So if you need your client to sign a document or upload an image, just insert an upload field. Or, you can create forms with dozens of options and even add conditional fields, which change based on your client's previous answers. This level of customization allows you to build a personalized onboarding process that meets the specific needs of your business.
Another great option is the WooCommerce Product Add-Ons extension. You can add extra fields and options for your customers with checkboxes, dropdowns, and image selections. Plus, it integrates with WooCommerce Bookings and WooCommerce Subscriptions.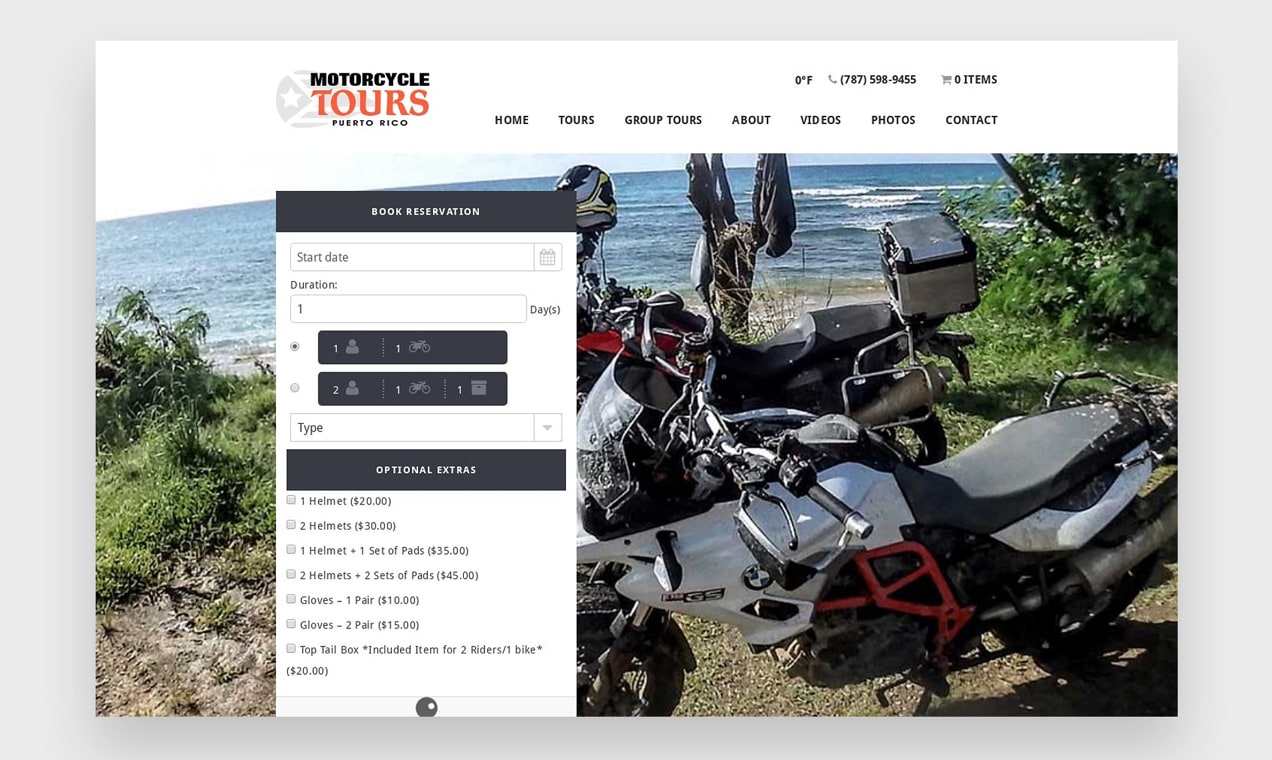 Motorcycle Tours Puerto Rico uses Product Add-Ons to offer extras for their customers, like helmets, pads, and gloves. The price changes based on each selection and site visitors can choose more than one option based on their preferences. 
Use the customer account page as a client hub
The WooCommerce customer account page is available to any logged-in user after they've made a purchase. Typically, it's used to allow customers to review and edit their orders, view shipping information, etc. but, with a little creativity, it can become a hub for your clients.
Without making any modifications, your clients can manage recurring payments and subscriptions, edit their bookings and reservations, access downloads that they've purchased, and change their account details. This is an excellent starting point and, in many cases, all you'll need.
If you do want to turn your dashboard into a client portal, you can make PHP modifications to the myaccount.php template or use Jetpack CRM with the Client Portal add-on. Adding important information and policies, documentation downloads, tasks, and links to your client portal can provide an excellent way to connect with your clients and give them a seamless experience.
Don't wait to sell your services online
No matter what type of services you offer – from medical and professional services, to auto repair, guided tours, and everything in between – WooCommerce provides a solution. Check out our showcase to see more sites selling services with WooCommerce and visit our extension library to learn more about the unlimited functionality that WooCommerce offers.
When you sell services online with WooCommerce, you'll grow your business and provide a better experience for your clients and customers. Managing your website, blog, customer relationships, and payments under one roof will also save you time and drastically improve your workflow.
If you're ready to get started selling online, check out our documentation or build your store today.