Automattic is the company responsible for the development of the open source CMS WordPress (the most used on the Internet today: by 43% of websites), as well as the owner of Tumblr and the WordPress.com blogging platform. It was also one of the—few?—technological ones that, Until now, they had not announced any launches related to artificial intelligence.he. Until now.
And it is just a few hours ago that the company announced the launch of Jetpack AI Assistanta complement to its popular free Jetpack plugin that will allow you to insert text blocks generated by artificial intelligence in WordPress blog articles, integrating naturally with the editor.
What can you do?
Once the block is added, the user just has to enter a natural language prompt, and the wizard will start generating text based on it; a text that can be formatted as plain text or in the form of lists or tables.
Automattic has given the following prompt as a practical example:
"Write a list of Tokyo's must-see destinations and give me a table with exchange rates from JPY to USD and Euro."
But it is not only useful for creating text from scratch: it is also capable of change the tone of it (to make it more formal or informal, for example), of generate a summaryof propose a titleof identify possible spelling and grammar errors (and suggest corrections)…
…or of translate a text. Yes, translate, because you were wrong if you were thinking that this was only available in English: Jetpack AI already has support in Spanish, as well as in 11 other languages (including English, French, Chinese, Hindi, and Korean).
As always in these cases, voices have already been raised warning of the risk of the rise of 'fake' content on the Internet
not quite free
But, be careful: the fact that Jetpack is a free plugin, available both for users of the CMS WordPress (self-installable) and the proprietary platform WordPress.com, does not mean that the use of 'Jetpack AI Assistant' is also 100% free…
…because, like Midjourney, Automattic has adopted a "limited time" freemium model– This plugin will allow users to submit 20 requests as a free trial and after that they will have to pay €11 per month to continue accessing the said feature.
"And this is just the beginning! We're working to expand the capabilities of Jetpack AI Assistant, so stay tuned for even more exciting features in the coming weeks."
How to start using it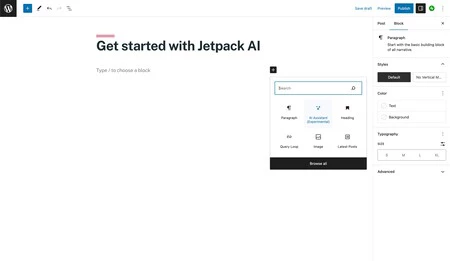 From the 'Plugins' area of ​​your WordPress blog administration, update Jetpack to the latest version (or install it) and access the block editor.
Add 'AI Assistant' block in any post or page on the site, and tell Jetpack AI what to do. Automattic advises using the "/ai" shortcut to quickly access the content block.
And that's it.
In Genbeta | How to turn your WordPress website into a blog network