Building a website for your business? Writing a blog or crafting an artist's portfolio? WordPress is a fantastic platform to promote your work or sell merchandise. And to make the best out of it, you're going to need the best WordPress plugins to kickstart it. If you want your site to look professional and optimize it to the fullest, these plugins can help immensely.
They will make your site run faster, add layers of security, and help you analyze data to monitor its performance. In this guide, you will find the most essential plugins and how you can install them to make your website become a booming success.
What Is WordPress?
For non-web developers, WordPress may look just like any other blogging platform but it can do so much more than that. Through this platform, you can build any website that you want for any purpose. An incredible percentage of websites all over the world are powered by and even hosted on WordPress. While you may have to pay for some of its more advanced features, it is mostly an open-source platform which means anyone can use all of its basic features for free.
This makes building a website accessible to anyone, even those with zero experience in web development. It has probably the most user-friendly interface and is packed with tools that make it easy for you to manage your website even if you are not a programmer. However, it has two types of formats and in terms of WordPress plugins, it makes all the difference in the world.
You can either build your site directly from your browser or download the WordPress app and install it on your computer.
WordPress.com vs. WordPress.org
It's easy to confuse the two because they basically have the same name, just different domains. While this topic requires a more in-depth discussion, in terms of plugins, WordPress only allows you to use them in the ".org" site.
WordPress.org allows you to create a self-hosted site for free but it's not as simple as it sounds. As with most ".org" websites, it is a non-profit, open-source software but the term "self-hosted" needs some explanation. To create a website under the .org format, you need to have a hosting service. If you want to use a custom domain, you need to purchase one from a registry. You will then use the platform to build the site and use whatever tools are available, both free and premium ones.
WordPress.com is a for-profit business that still has a free tier but with limited access to tools. You will have to choose a subscription from the available WordPress plans in order to use a custom domain. One of the key differences between the two is that you cannot install plugins under the .com platform unless you subscribe to a paid plan. WordPress will serve as your hosting service and this is why many people still choose to use the .com software so that they can manage everything in one place.
What Is a WordPress Plugin?
A plugin performs a set of functions that can enhance your website. Whether it's for content management, search engine optimization (SEO), web security, or e-commerce, a plugin adds features to your site that are not included in the service. There are free ones and paid ones. Why not just include all the free features for everyone? It's because not everyone will need every feature. If WordPress packs all these free plugins for every user, each will be stuck with a bunch of features that they don't really need and it will just be confusing. It makes much more sense that these plugins remain optional.
You have a multitude of plugins at your disposal when it comes to WordPress. This is why it's important to know how to choose the best WordPress plugins that will work best to your advantage.
Installing plugins that you can't really use will only be a waste of your time and storage space. To narrow down your options, take a look at the list below and see what type of websites they are most suited for. To make it even easier, we've compiled the plugins into categories so you can immediately look at the ones that you need.
Best WordPress Plugins for Content Creation
These WordPress plugins help you shape or design the look and feel of your site. You can use them to build more professional-looking pages and apply themes that fit your website's purpose. These are the best WordPress plugins for those who have never dealt with back-end programming or non-developers in general.
Elementor
This plugin is an almost completely fool-proof drag-and-drop tool. With this, you can design beautiful websites using WordPress templates if you want, without even knowing how to code. Visitors will hardly know if you hired a professional to do it no matter how complicated your site looks. Believe it or not, even professional developers and web designers use this plugin.
You can edit your web pages and see how they look in real time even without using the preview. You can design and edit elements on the exact page you're working on. This allows you to build your website with a designer's touch. You can add hover effects, funky headlines, use unique fonts, backgrounds, and more. Another great thing about Elementor is that if you don't want to customize all that on your own, you can simply choose a theme, and voila! Apply different themes on different pages or use the same one, dealer's choice.
Envira Gallery
If you're a creative looking for the right plugin, Envira is for you. You can create stunning photo galleries with this plugin. It's best for photographers, actors, musical artists, and painters, and anyone who wants to display their work through images. Why use a gallery? Uploading a ton of photos one by one is time-consuming, and it also doesn't have a very appealing visual effect. With a photo gallery, you can create a seamless user experience and allow your visitors to browse through your photo collections with ease. WordPress does have its own photo gallery feature, but it's not as flexible as Envira.
You can drag and drop your photos to your web pages and speed up their load times once your website goes live. It is also optimized for SEO which means you can add tags and alternate texts to your photos so that they help increase your search rankings on Google. An alternate text is a description that you write on your photos which will appear in case the photos don't load. These texts also affect your search rankings. Using Envira, you can build your gallery, arrange it, and add special effects within minutes. It is also mobile-friendly, which means you don't have to tweak anything for your photo gallery to look nice on mobile browsers.
Smart Slider
This WordPress plugin is also great for creatives but will also be beneficial for e-commerce sites. It works almost like a gallery except that you can make images and videos move as in a slide show as the name suggests. It's an excellent way to showcase media on your website. Pros and beginners alike use this plugin. It is powerful and intuitive and is also SEO-optimized. Why install this plugin even if you're not a photographer or an artist? It lets you tell stories of what your business is about. If you own a food business or an online shop, you can easily display your products creatively.
You can add buttons, rows, and columns to your slides, and make them look professional. Absolutely no tech skills necessary. Just pick a template and start building your slide show! You can choose whether you want your visitors to swipe through the media, scroll through them, or use keyboard navigation, or all of them.
TablePress
This is perhaps the best WordPress plugin for those who want to display any type of data on their website. It lets you create Excel-like tables and integrate them into your site. You can design them to fit perfectly with your website's theme. This is incredibly useful if you want to manipulate data within the table. You can use formulas, sort, and filter entries.
Popup Builder
While this plugin is more like a marketing tool, it also helps make your web pages look great. As the name suggests, it allows you to design popups for any purpose you like. You may need popups so visitors can easily subscribe to your newsletter or schedule an appointment. With this tool, your popups will look more suited for your website's theme.
The goal is to grab your visitors' attention to make them take action whether it's to subscribe, purchase a product, or view another piece of content. You can choose from a huge variety of themes. It is so easy to use. You can set the location of where the popups appear, add animation and effects, and set how many times they appear and for how long. You can also add sound effects.
Other uses for adding popups include prompting visitors to log in, confirm their age if your site has an age restriction, chat with a representative, or fill out a form.
Smash Balloon Social Post Feed
A lot of business transactions now happen on social media, and it will help your business grow if you create social media pages in addition to your website. If you want to integrate your social pages to your site, Smash Balloon is one of the best WordPress plugins to use.
Using this plugin, you can display your Facebook posts on any page on your site. If you have a Facebook group, you can also display posts and conversations from that group on your pages. Take note that your Facebook group's privacy must be set to "Public"; otherwise, it will not show up. You can set it to automatically show photos, videos, and comments from your page to your site simultaneously.
The social feed will also automatically be designed to match your website's theme so you don't have to worry about it looking out of place but you have the option to change it. What's great is that even your Facebook feed's content will contribute to your SEO rankings! It features built-in caching, which means that displaying your social feed will not slow down your site. The plugin will load them at lightning speed. Your visitors can also hit "like" on your posts directly from your site.
FooGallery
An alternative to the Envira Gallery Smart Slider plugins featured above is FooGallery. Like Envira, this plugin is a gallery management tool perfect for creatives. Easily add stunning photos to your site and arrange them in unique and eye-catching layouts. You will be able to see how your gallery looks like in real-time. No need to save and preview.
You can pick a template and then make as many custom changes as you want. Adjust the size, spacing, and alignment of your photos. You can also add borders, shadow effects, and hover effects to make it look more interesting. It is perfect for those without experience in web development because you can simply drag and drop photos within the gallery to rearrange them. Even pros will enjoy this plugin because it allows you to use or add your own lines of code as well.
Best WordPress Plugins for Security and Performance
These are the best WordPress plugins to protect your site from cyber attacks and improve your site's performance. Performance means how fast your web pages load including media content. It is important because it improves the general user experience of your visitors, makes your site load faster on mobile devices, and also improves your rankings.
Really Simple SSL
This security plugin allows your site to automatically move to Secure Sockets Layer (SSL). It adds a layer of security to your site. When you visit different websites, you may notice that some of them start with an HTTP (http://) URL and some have the extra "s." This extra "s" means that the site has a secure connection. The plugin detects your settings and configures your site to run on HTTPS. All incoming requests—the number of times a website visit "requests" to load a page, are redirected to HTTPS. It will fix any insecure content you have on your site.
Wordfence Security
Wordfence is one of the best WordPress plugins to set up a firewall and scan malware on your site. Its malware scanner detects threats and malicious IP addresses to keep your website secure. This plugin is quite a comprehensive security tool. It blocks suspicious traffic but unlike other cloud-based malware software, it does not break encryptions.
It also prevents data from leaking, protecting both you and your visitors. Wordfence is true to its name because it builds a "fence" around your site by scanning for vulnerabilities. It even scans files, comments, and any dangerous links within comments. Other tools included in the plugin are live traffic monitoring as well as detecting hack attempts.
UpdraftPlus Backup Plugin
It's not just threats that you have to protect your site from. You also need to protect your content from getting deleted in case something goes wrong. This plugin simplifies the backup process and lets you restore any lost data easily, making it one of them. Easily create a backup and restore them with a click. It lets you schedule regular backups as well as manually backup your site whenever necessary. You have the option to keep your backup files into other cloud services. These include Dropbox, Google Drive, OneDrive, etc.
This WordPress plugin may come in very handy not only if your site gets hacked but also if your servers crash or your hosting service goes down. It's so important to keep a backup of your files and this plugin is one of the most reliable ones. It has been tested on over three million websites.
Smush
One of the best WordPress plugins out there in terms of speeding up your site's load times is Smush. It features "lazy load" and compresses images to improve your site's speed. Lazy load optimizes media content on your site so they appear faster on the browser; it defers offscreen images so they don't add to load times.
This plugin resizes and compresses your images without reducing their quality. It can compress multiple file types including JPEG, PNG, and GIF. It works with any WordPress theme and is easy to set up.
Login Lockdown
This is the best WordPress plugin for websites that require users to log in, hence the name. What it does is record every failed attempt done by any user. It tracks their IP address and quickly disables the login function if they enter the wrong password too many times within a short time frame. This will prevent hackers and bots from using password detection tools. You can modify how long this block is enforced.
Best WordPress Plugins for Web Analytics and SEO
Web analytics is crucial to gauge your website's success when it comes to specific goals. It involves collecting data and reporting so you can measure its performance. An example of a goal is to reach a certain amount of users that click on your calls to action (CTA). Web analytics tools will provide you with those pieces of information. SEO plugins help your site rank higher on search engines.
Yoast SEO
The most popular and also one of the best WordPress plugins when it comes to SEO is Yoast. It is the default SEO tool for WordPress.org websites. This software has helped millions of sites rank on Google and other search engines. It has a complete set of tools and features that you can use to manage your SEO. The plugin helps visitors find you by optimizing keywords found on your posts and pages. It offers templates for content titles and meta descriptions. It also helps you write SEO-friendly content. Aside from SEO analysis, it also analyzes the readability of your content. Readability is how easily understandable your written content is. Yoast supports multiple languages including German, French, Spanish, Arabic, etc.
It also features automatic internal linking so you don't have to search for pages and pages of posts to see which internal links are applicable to your articles. The plugin will suggest relevant posts related to any article that you're writing. It will alert you if any post doesn't have any links directing to it. Why is internal linking important? It allows "site crawlers" to keep finding content on your site. This increases your search rankings and performance. How? It makes sure that visitors don't get to a dead end while browsing. Once they are on a page, they will keep finding relevant content and keep reading. The longer they stay on your website and the more links they click, the better.
MonsterInsights
This plugin is powered by Google Analytics. It's a powerful tool that can help you double your traffic and even sales. With MonsterInsights, you will see exactly how many people are visiting your site, which pages they are viewing, and how much time they spend on posts and pages. It provides you with the stats that matter most. Using this tool, you can craft data-driven strategies to drive your business to success. If you're an artist or a professional blogger, it will help you find the right audience. The plugin lets you use all of Google's advanced analytics tools. You can generate reports and even print them. It's so easy to use and understand so you don't have to know all the technicalities of web analytics to use this plugin.
Its features include Behavior Report. This shows you exactly how people discover your site, which search terms they used on search engines, and which websites referred them to you if any. It also includes content reporting, which gives you insights on which content is performing best. But it has so many other features that will help you analyze what's going on in your website.
Broken Link Checker
As the name suggests, this WordPress plugin can detect broken links on your site. Internal and external linking is crucial strategies to make your website grow. As you can imagine, it would be extremely tiresome to check each and every page or article to see if there are any broken links.
This plugin tests all links on your content and fixes broken links to improve your SEO. These include links on posts, comments, and even custom fields. If it detects bad links, it will notify you through your dashboard. It also prevents search engines from following those broken links so it doesn't pull down your rankings. The great thing is you don't even have to manually update each post with a broken link. You can fix it directly from the plugin's dashboard!
Matomo Analytics
If you want to use an analytics tool outside of Google Analytics, Matomo is a great alternative. This plugin will give you an easy way to look at customer insights on your WordPress website to help grow your online business. It is packed with various web analytics features that provide the stats that you need while also protecting the privacy of your visitors. By using a highly ethical data gathering method, you can develop trust with your customers.
This is especially important for those running businesses that require gathering personal information like credit cards and addresses. It allows you to run web analytics on your own servers. There is no third-party software involved so both your site's and your customers' data are safe. Data is stored in WordPress, ensuring that there's no cross-selling of information involved.
Rank Math
Though not as popular as Yoast, Rank Math has a lot to offer in terms of SEO tools. This WordPress plugin helps drive more traffic your way. It gives you practical recommendations to optimize your posts with its intelligent SEO automation features. You will operate your WordPress website as if you have a full SEO team working for you. This is perfect for those who are only learning about SEO and are not yet very familiar with it. It's easy to set up using Rank Math's Setup Wizard, which will configure everything for you with just a few clicks. You can optimize unlimited focus keywords and guide you in using them effectively on your posts and pages.
You also have the option to add a search widget where you can integrate a Google Search Console. Your visitors don't have to leave your site to search for information on the web. This is a powerful strategy to make them stay on your website longer. Remember, the longer a customer or visitor spends time on your site, the faster your rankings will increase. The plugin will also perform detailed SEO tests so you will know which keywords give you the most traffic. It also features 404 monitoring, internal linking suggestions, and translation support.
Best WordPress Plugins for Marketing and E-Commerce
These WordPress e-commerce plugins provide you with marketing tools that will help you build a seamless e-commerce website to increase your sales and reach your marketing goals.
AddToAny Share Buttons
Social media integration has become an essential marketing strategy. In today's culture, businesses both brick-and-mortar and online will barely survive without a strong social presence. This plugin will help you increase engagement on your social media pages. Your visitors can share your posts on Facebook, Twitter, and other platforms in one click without leaving your site. You can set up floating share buttons on any page. This encourages them to share your content.
It also features Follow buttons so they can instantly follow you on Instagram, YouTube, etc. You can customize these buttons to fit your WordPress website's theme. This plugin is especially useful to social media influencers and those who want to build a website for their vlogs. It is currently the most popular social media share button plugin used on WordPress.
MailChimp for WordPress
Another powerful marketing strategy these days is email marketing. The MailChimp plugin for WordPress lets you integrate MailChimp's features and customize everything on your dashboard. This plugin lets you build an email list. It allows visitors to subscribe to your email newsletter instantly. You can design professional-looking signup forms that are user-friendly and are optimized for mobile. Integrate it with other WordPress plugins that are used for creating contact forms, registration forms, and events manager. By integrating MailChimp's service, you can easily send out campaigns to up to 2,000 subscribers.
WooCommerce
Currently the most popular open-source e-commerce software, WooCommerce is also one of the best WordPress plugins for e-commerce websites. It's a great plugin for your online store that will help you manage your business and grow your client list. But it's not only for online businesses, it is also being used by brick-and-mortar stores that are taking their businesses online. WooCommerce allows you to create enticing storefronts using themes that perfectly fit your site's look and feel. You can customize the design of your online shop in minutes. Display and arrange your products in a few clicks.
The plugin also allows you to conveniently set up and manage your payment methods. You can set up your store to accept not only credit card payments but also other methods. These include online wallets, PayPal, Square, and even cash. All transactions are secure. The plugin also lets you set up your shipping methods. You can print USPS labels directly from your WordPress website's dashboard.
impleCode Product Catalog
Another great way to display your products and make them enticing is by using the impleCode Product Catago plugin. It's a simple catalog but has a lot of e-commerce functionalities. By adding this plugin, your customers can request a quote with one click. The design is fully customizable. You can use the available templates or if you want, you can also use CSS codes.
Organize your products into categories. You can also activate the feature that lets them filter through the products. This way, your customers can easily find what they are looking for on your site.
ShopMagic
If you want to get serious about your marketing campaign, the ShopMagic plugin can be a tremendous help. This WordPress plugin features automation of follow-up emails. It's an extremely effective marketing automation software for WordPress websites. One example of its automation feature is cart recovery.
This means that it will automatically send an email to customers who have abandoned their carts on your site. It is designed to convert sales and improve customer retention. Take note that this is a WooCommerce extension. So, make sure that you have the WooCommerce plugin featured above as well.
Best WordPress Plugins for Advanced Users/Web Developers
These are the best WordPress plugins for those with experience in programming or web development. These plugins let you tinker a little bit more on the backend side of things.
Advanced Custom Fields
By installing this plugin, you can take full control of designing your site. It lets you edit screens and as the name suggests, add custom field data. You can add these custom fields on any page on your site including posts, media, and comments. It features over 30 field types. Even the preset templates are developer-friendly!
Code Snippets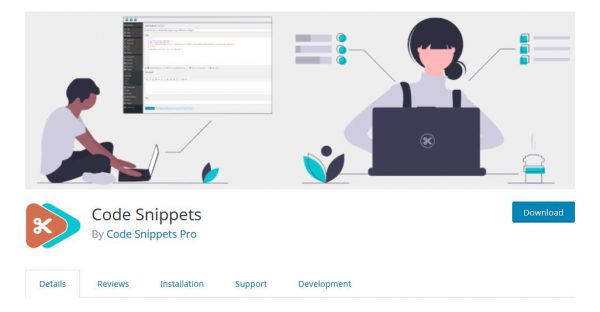 Though this plugin is designed for professionals, it has a clean and simple interface. It lets you run Hypertext Preprocessor (PHP) snippets on your site. By adding PHP codes, you can extend your WordPress website's functionalities. The plugin has a graphical interface. You can easily activate and deactivate it anytime.
Query Monitor
This is an advanced developer tool panel that enables you to debug database queries. Fix PHP errors, enqueued scripts, broken HTTP API calls, and more. You can quickly detect functions that are not performing properly. It also shows you warnings when the plugin detects errors on your site. You will have detailed information on your database and web server.
BuddyPress
If you want to add community features to your WordPress site, BuddyPress is one of the best WordPress plugins for that. You can build a modern, sophisticated social network within your site. This is specifically designed for website builders and developers. It is focused on easy integration and extensibility. You can get your visitors to signup for a membership, create user profiles, and interact with other members.
Header, Footer, and Post Injections
While WordPress has its own header and footer functionalities, advanced users may want more customization. This plugin provides that level of flexibility. It also provides you a centralized point to manage all of your other plugins. You can add codes anywhere on any page. It also enables shortcodes.
Where to Find WordPress Plugins
Whether you are using WordPress.com or WordPress.org, the plugin menu is accessible from your dashboard. On the left menu, open the submenu of the Tools section and click on Plugins. From there, you will see plugins under different categories. Remember that you have to be subscribed to a Business Plan if you are on the ".com" platform to install them.
How to Install a WordPress Plugin
After navigating to the Plugins page described above, click on the plugin that you want and click install on the upper right of the page. You can then immediately find the plugin on your dashboard. You have the option to deactivate any plugin anytime.
Final Word
Adding WordPress plugins is a remarkable way to enhance your website. Even if you have the native WordPress features at your disposal, a plugin makes it incredibly easier to customize your site. So, pick from the plugins above and create the best WordPress website today!