Even the simplest of WordPress websites needs extra input to flourish. Setting up a theme, picking the right graphics for your pages, and thinking of new post ideas – it's all part of the job for WordPress users. However, what if you could outsource some of these tasks for just a few bucks? Enter Fiverr WordPress gigs.
Fiverr enables you to outsource just about any 'gig' (as tasks are referred to), including a myriad of WordPress-related chores, for just five bucks a pop.
The platform does get a bad rap among freelancers and clients alike, and it's easy to understand why. Quite often, you will get exactly what you paid for. That being said, there are plenty of high-quality Fiverr WordPress gigs you can purchase to help build a successful WordPress website. If you're still unconvinced, let's make our case in five simple ways – including examples!
What to look for in Fiverr WordPress gigs
To find the best WordPress workers on Fiverr – or for most types of freelance work – we need to keep our eye on four criteria:
Each worker and gig on Fiverr has their own unique ratings – both of them should be high. In addition, there should also be some decent reviews from satisfied users.
Check the turnaround time for any gig you're interested in. A good freelancer will keep these within a reasonable time frame.
Some gigs will offer revisions for your orders. You want to make sure they're adhered to, in case there's any misunderstanding concerning your instructions.
Any gig you're interested in should have a solid description. This doesn't mean they have to be five pages long, just enough to enable you to know what you're getting, and show you that your freelancer is familiar with WordPress.
If you keep these criteria in mind, finding great Fiverr WordPress gigs should be simple.
5 ways Fiverr can help you build a WordPress website
While there are a multitude of gigs on Fiverr, we've chosen five that we think will be of use to WordPress users. Let's check out a few examples of the kinds of work you could consider outsourcing.
1. Get your WordPress installation up and running
This is a simple one. Setting up a new WordPress installation is not complicated, but the process may overwhelm some first time users.
Ideally, we want to find someone who will not only install WordPress, but also set up a custom theme of our choosing, install an assortment of basic plugins – think Jetpack and Yoast SEO – and perhaps even create a child theme. A quick search through a few hundred Fiverr WordPress gigs led us to a good example of this exact service: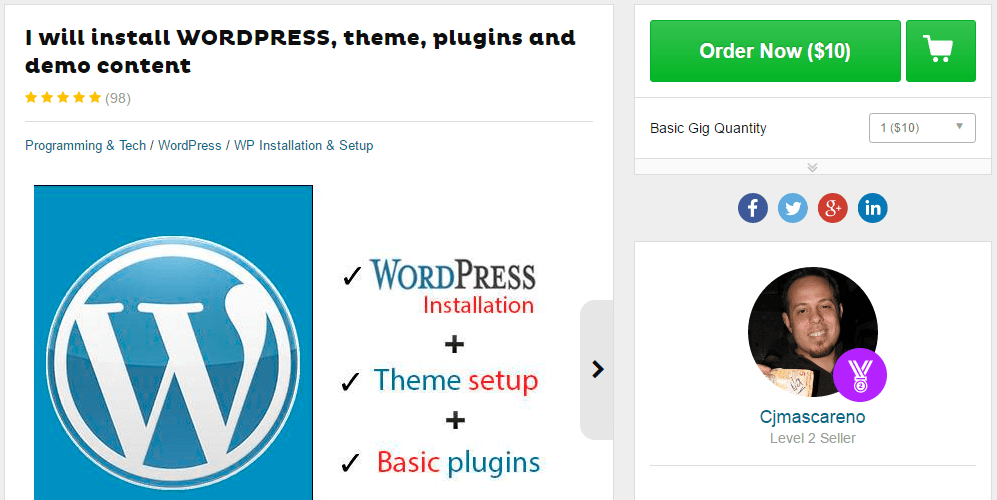 When searching for a similar offer, remember to select a theme beforehand and have a list of free plugins you want ready – this will help your freelancer complete your order sooner.
2. Obtain custom graphics for your posts
Using unique images instead of clichéd stock images for your posts goes a long way towards giving your site a more professional look. We're not talking about logos or significant design overhauls, think smaller – such as featured images or simple graphs.
Sure, you could always opt for a subscription to a premium stock image site (like Shutterstock), but this can be a hefty expense for a fledgling WordPress site. Finding the right Fiverr gig can help you save some money, while still getting all of the benefits of custom graphics. Here's a good example: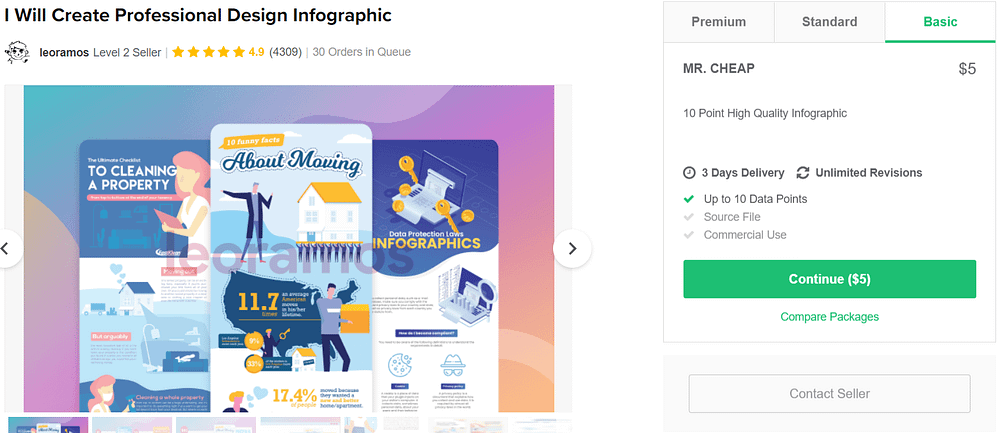 Do remember to keep your searches specific when looking for these kinds of gigs, otherwise you'll spend time wading through hundreds of logo design offers, rather than the gigs you actually want.
3. Fix simple WordPress errors
A lot of people aren't comfortable messing around with their WordPress core files, and that's entirely understandable. However, if you happen to run across nasty bugs such as the white screen of death, there's no other recourse but to get under the hood and do some tinkering. That is unless you don't mind doing a quick search on Fiverr for someone with experience troubleshooting WordPress: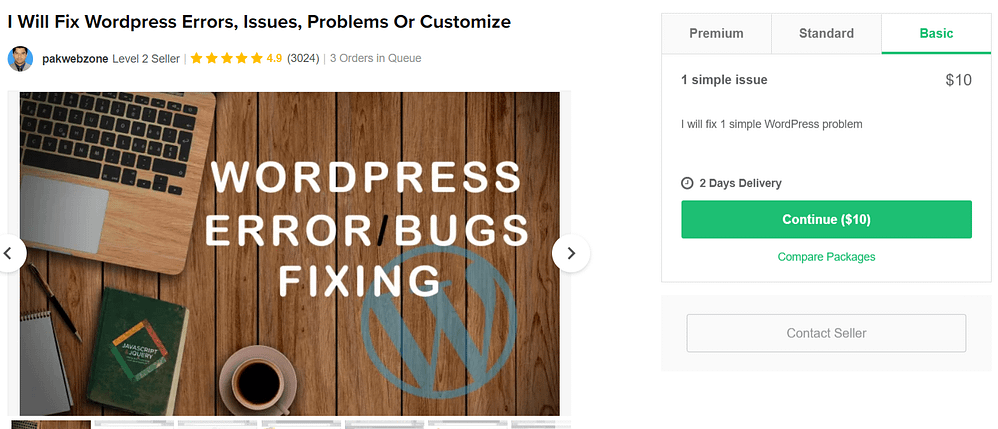 This gig caught our eye because the author references plenty of common WordPress errors using the correct terminology (albeit with a few typos). However, if you fancy yourself as more of a do-it-yourself kind of person, we've covered how to troubleshoot several common WordPress errors in the past, including 404 errors and internal server errors.
4. Optimize your site for search engines
Going over your posts and pages to account for Search Engine Optimization (SEO) can be a huge time-sink – more so if you have a big archive of content.
Using a plugin such as Yoast SEO can cut down on the time needed to get the job done, but it still requires you to micromanage a lot of settings. Enter Fiverr – here you can find freelancers willing to go through your archives and optimize your scores without substantially modifying your content: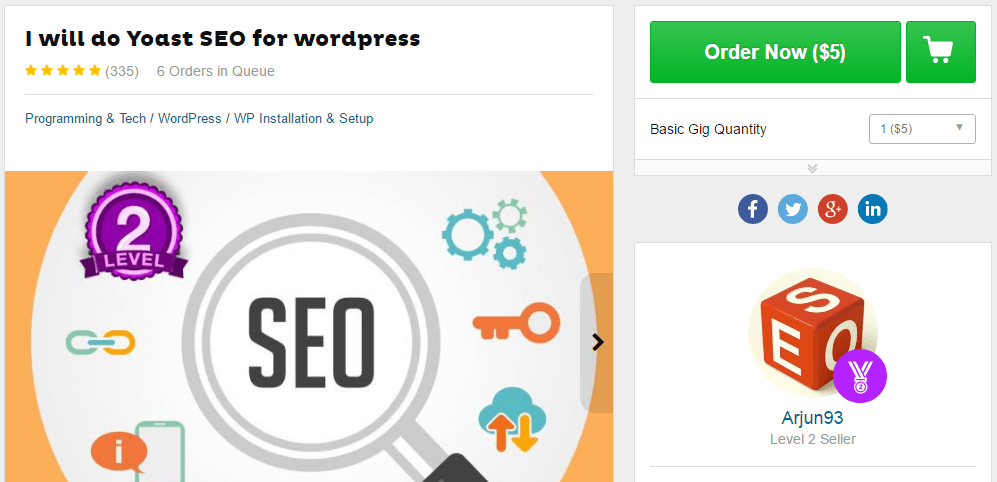 Our tip is to keep an eye out for offers that explicitly mention they refrain from keyword stuffing, or those making reckless promises such as catapulting your site to the top of the search engine rankings overnight.
5. Perform simple CSS customizations
While we would recommend that you shy away from Fiverr when it comes to actual web design, it's a great place to look for freelancers who can perform simple Cascading Style Sheets (CSS) customizations and fixes.
This could include adjusting elements of your site not displaying correctly, your layout breaking on mobile displays, implementing simple animations such as hover effects, and much more. Here's a perfect example of a gig for WordPress CSS fixes: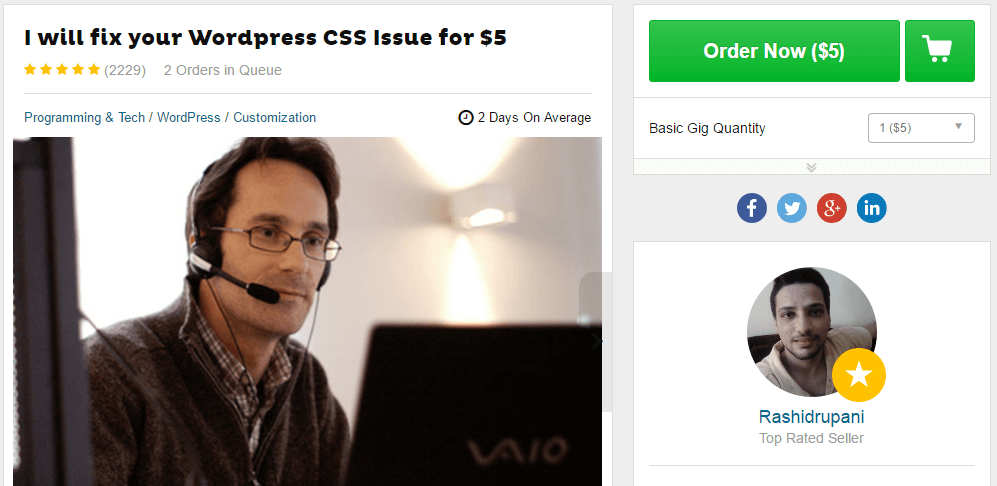 It's important to note that despite CSS being a universal language, you should stick with WordPress-specific gigs here – workers familiar with the platform and its theme structure will have a much simpler time implementing your customizations.
Conclusion
Despite being in the bottom tier of freelancing sites, you can still find reliable professionals on Fiverr. What's more, you might even end up building long-term work partnerships with some of them – if their work lives up to your standards.
However, you should try to stick to simple Fiverr WordPress gigs to minimize the risks involved, such as:
Setting up a WordPress installation and all the subsequent tasks this entails.
Creating custom graphics for your posts and pages.
Fixing simple WordPress errors.
Carrying out Search Engine Optimization.
Performing simple CSS customizations.
Have you ever struck gold looking through Fiverr WordPress gigs? Share your experiences with us in the comments section below!