06
Sep
2021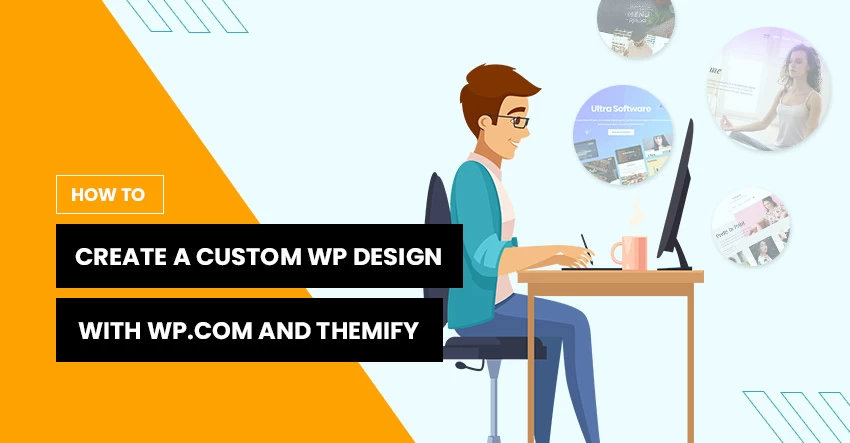 Are you looking to create a stunning custom WordPress design? If so you're in the right place. We're revealing how to achieve exactly that with WordPress.com and Themify Ultra!
Whether it's the first time you're creating a website or you frequently work on custom WordPress design for clients, beautiful aesthetics are a must-have.
If you're brand new to the web building game, you're likely wondering: which website builder will best suit my needs? But even veteran web designers are continually looking for new ways to simplify customization, site responsiveness, SEO – the list goes on…
There are loads of website builders out there that provide everything you need to build a fully functioning website. But as well as basic web design features, there are other significant factors to consider.
For instance, an ideal website building platform should:
Simplify web hosting and domain management

Convey credibility with clean, professional, good-looking, and responsive themes

Provide easy navigation and UX to delight your end-users

Boast high performance and quick page load times

Offer tight security to keep both your, your customers', and your team's data secure

Empower you to customize and manage your SEO, user support, and more.
So, suppose you want to create an attractive website without losing too much time or compromising quality and performance. In that case, you're in the right place.
In this article, we're revealing how to enjoy the best of all worlds with the most flexible website builder on the market: WordPress.com. Then we'll explore how to combine WordPress.com with Themify to create a stunning website for yourself and/or your clients.
WordPress.org vs WordPress.com
Internet giant WordPress hardly needs any introduction. Most people have heard of this powerful CMS platform, and we can almost guarantee you've visited sites powered by WordPress many times before.
However many people confuse WordPress.org and WordPress.com. Before going any further, let's see how they differ:
WordPress.org usually refers to plain, simple "WordPress." This is the original open-source software that's used as an operating system for blogs and websites. It comes with all the functionality you associate with WordPress and allows you to access endless extensions. WordPress.org is free to download and use. The cost of running a WordPress.org website comes from having to purchase hosting, domains, third-party plugins, and more. With WordPress.org, you're all responsible for managing and updating your site and its security.
In contrast, WordPress.com is a managed web solution that takes care of hosting. You don't need to download any software, shell out for third-party hosting, or manage a web server. You just need to create an account with WordPress.com and choose a pricing plan that suits your needs. WordPress.com is free to get going with, but many of its best features are only accessible with its premium packages. In fact, we recommend upgrading to the Business plan as this unlocks access to loads of powerful themes and extensions that make it easier to extend the design and functionality of your site.
The WordPress.com Business Plan – Easily Create a Highly Customized Website
If you don't have any tech know-how and want to jump into website creation, WordPress.com is your best bet.
As we've already hinted at, with the right pricing plan, you benefit from all the customization options you could ever need. Plus, it's easy to extend your website's functionality.
This is where WordPress.com's Business plan comes in.
You can easily configure your entire website on the Business plan and use third-party services such as custom plugins. This allows you to install themes like Themify Ultra and use code-flexible customization to finetune your site's design.
The Business plan also comes with 200 GB of storage. Plus, you don't need to worry about any of the following as it's all included in the package:
Purchasing powerful third-party hosting and a domain name

Enhanced performance and security

Automatic backups

Easy navigation and UX

Mobile-friendly design

A system that allows you to optimize content for SEO
If you're unsure about WordPress.com, sign up for their free plan to test the platform and see its features in action. You can upgrade anytime to start creating your own highly customizable website with WordPress.com and Themify.
How to Create a Great-Looking Custom WordPress Design with WordPress.com
If you're unsure how to get started, we've got you covered. We'll explore step by step how to get your site up and running and customize it to suit your needs:
Step 1: Sign up to WordPress.com
The first step is, of course, creating a WordPress.com account. As we just hinted at, you can start for free and, if you want, upgrade to a paid plan later. Premium plans unlock more storage, better support, extra functionality and remove WordPress.com's ads from your site.
That said, here are WordPress.com's pricing options:
Personal: The Personal plan is intended for new blogs and personal websites. There's a 6GB storage limit, you can link your own custom domain, and your site doesn't display any WordPress.com advertisements.
Premium: With the Premium package, you get access to premium website templates, more advanced design and social media tools, and you benefit from Google Analytics and PayPal integrations. This plan is a good starting point for anyone looking to create a small business website and monetize their content.
Business: The Business plan is suited to those wanting to host a full-fledged online business and turn their website into a source of real profit. It enables you to install third-party plugins and themes like Themify Ultra, which opens up new customization potential and functionality for your WordPress.com site. The Business plan also comes with better support and automatic backups, so you can always re-access previous versions of your site.
eCommerce: If your goal is to create an online store, this is the plan for you. The eCommerce package allows you to accept payments from over 60 countries and integrates with top shipment carriers. You'll also get access to premium starter themes you can customize for your store.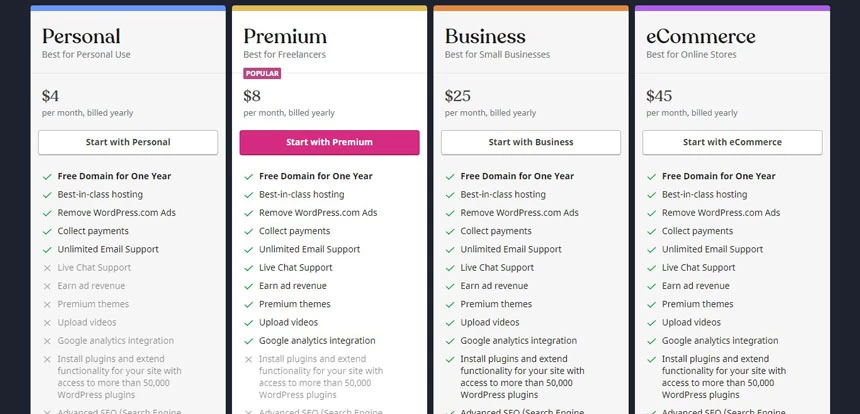 Step 2: Choose Your Website Name and Domain
Once you've chosen a pricing plan, it's time to set up your site by selecting a website name and domain. If you're on the Premium package or higher, you'll get the option to connect your own domain. In contrast, if you've opted for the Personal or free plan, you're given a WordPress.com subdomain.
Your domain acts much like a street address for your website. That's why it's essential to choose something professional and easy to remember. Ideally, your domain name will provide some indication of what you do. It's also worth double-checking that similar names aren't already being used – you don't want visitors to accidentally mistake competitors for your brand!

Step 3: Choose a Theme for Your WordPress.com Website
To lay the foundations for your WordPress.com site, you need to choose a template. This will determine the basic visuals and layout of your website. If you're on the Business plan, you'll have thousands of premium themes to choose from. Some come with extra customization options and/or in-built functionality that will suit your niche particularly well. So, it's worth spending some time researching your options.
There's more good news, too. With WordPress.com, you can change your theme at any time, so you can try a few templates for size before settling.
There's more good news, too. With WordPress.com, you can change your theme at any time, so you can try a few templates for size before settling.
To change your website's theme, head over to the left-hand side of your WordPress.com dashboard and press "Appearance." Select "Themes" and switch to a new design by finding and activating your new theme.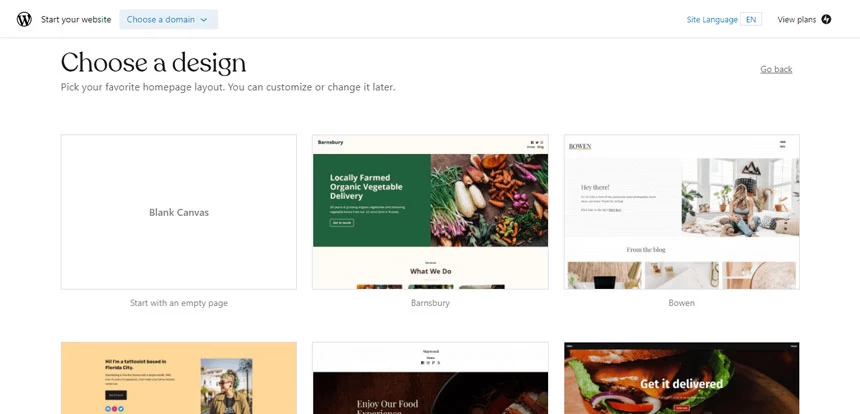 Enjoy Full Control Over Your Website with Themify Ultra
A good theme does exactly what we discussed in the intro: it helps you create a stunning website for yourself and/or your clients.
This is where Themify Ultra is worth its weight in gold.
Ultra is a potent and flexible WordPress theme created by Themify. It makes it easy to create any site quickly and beautifully by enabling users to take complete control of their site's customization from header to footer. It's a must-have theme for designers and developers looking for a better way to create.
Custom design a theme for your WordPress.com website with Themify Ultra is easy. You get access to an intuitive drag-and-drop builder where you can preview all changes from your website's front end. You can style every website element using the customization panel. Just point, select, and choose from the options you're presented with – no coding required.
Customize Pre-Made Websites
Creating a website for your and/or your clients has never been easier. Ultra comes with design skins and pre-made demo sites for a wide variety of industries and purposes, making it possible to create a functional website within minutes.
Ultra comes with site custom WordPress designs for yoga, fashion, restaurants, construction, churches and foundations, software, agencies, lifestyle blogs, and more. There are 32 pre-designed websites to choose from, with more on the way. Each theme imports the settings, content, menus, widgets, and more, just like the demos dictate.
However, if the pre-made website templates aren't what you're looking for, there are still over 60 professional layouts you can import and use. All they need is fresh content, and you're good to go.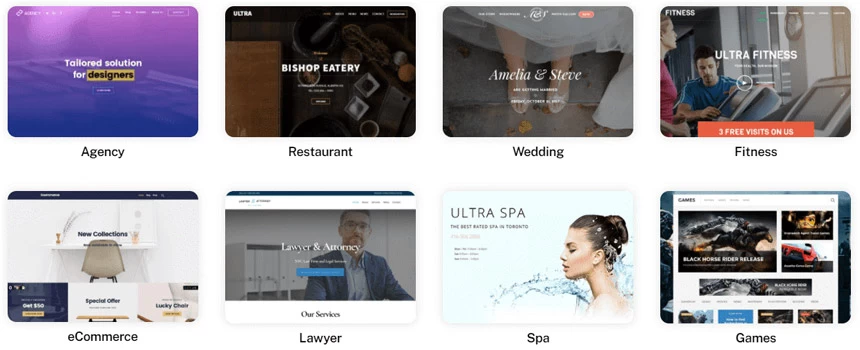 Design Your Header and Page Styles
Choose from 17 header and page styles that can be applied site-wide or per individual page. With Themify Ultra's header layouts, you can quickly implement website navigation that best suits your business and customers. This includes horizontal and vertical headers, slide-out navigation, minimized bars, overlay navigation, split menus, and much more.
You can customize the header with six advanced background options to chose from. You can set an image, create a transparent background, add a slider carousel, play a video, or animate a color progression of your choice.

Choose the Right Fonts for Your Site
Ultra comes with preset typography, including sans-serif, serif, and slab font presets. But we promised ultimate customization – with its Google Font integration, you can choose from over 600 fonts in just a few clicks.
Import Widgets
The next step to customizing your website is importing widgets and adding the website functionality you need.
Ultra comes with 12 add-ons that append extra flexibility and customization to your WordPress.com site, including:
A progress bar widget

A timeline to showcase how your business has grown

Pricing tables for your store or software offer

Countdown timers to announce new releases

Maps Pro

Image Pro

Slider Pro

The counter widget

A customizable contact form

A typewriter widget to animate typing text on the screen

An audio module to share tracks from your website
Widgets can easily be toggled on and off, same as your site's logo, menu, social links, and search.
Customize Section Scrolling
Themify Ultra empowers you to customize your visitor's site experience even further with its section scrolling option. You can enable visitors to scroll vertically or even horizontally like a slideshow presentation – the choice is yours!
Create a Consistent Visual Style for Your Site with Filters
Ultra enables you to auto-apply image filters without editing the original image. You can even apply filters site-wide to ensure consistency amidst your photography and imagery.
Building Sites for Clients? Here are Some Extra Steps to Consider
If you're using WordPress.com and Themify Ultra, you have everything you need to create a range of client sites – fast! But, here are some further steps to consider as you go about completing custom WordPress designs for your clients:
1. Install Plugins
Plenty of brands rely on extra website functionality for the smooth running of their business. With thousands of plugins to choose from, WordPress.com offers something for everyone. So, check with your clients to see which features they need and install the relevant plugins. This could include email marketing tools, appointment scheduling, maps, and more.
2. Add forms
Most businesses need at least one basic contact form to convert leads, but some may have more specific requirements. Use Themify Ultra's form widget to create custom forms for your clients. This includes newsletter sign-up forms.
3. Establish Payment Solutions
The businesses you're providing custom designs for will likely need to process online payments. If that's the case, set up payment solutions to enable them to monetize their website. At its most basic, this is achievable with WordPress's PayPal integration.
4. Optimize for SEO
WordPress.com provides plenty of control over your site's SEO. For starters, all WordPress.com websites are fast-loading, fully crawlable, and you can edit meta tags and descriptions.
You can further optimize your website's SEO by:
Conducting keyword research and using this to fuel your SEO strategy

Including images and media to grab your visitor's attention

Posting a mixture of long and short-form content

Updating your meta descriptions

Installing Yoast SEO for its useful SEO wiz. This provides easy-to-follow and actionable steps for enhancing your website's SEO

Using post names as URLs – you can adjust this in your WordPress.com settings.

Adding alt-text that includes the keywords you're looking to rank for in your images.
Are You Ready to Enjoy Complete Control Over Your Custom WordPress Design?
As you can see, WordPress.com makes it easy for anyone to get started with custom WordPress design – either for themselves or their clients. It's a robust platform with plenty of customization potential, providing everything from hosting to security – it's all taken care of for you!
To unlock even more powerful features, beautiful designs, and premade layouts, upgrade your design experience with Themify Ultra. Themify enables you to create exactly the website you envisioned and simplifies the steps it takes to create practical and beautiful client sites.
Sign up to WordPress.com today to try its core features with the free plan, and upgrade whenever you're ready to kickstart your site's profitable career!